VCaaS is financially and strategically beneficial to both the corporate partner and to the startup as the operating costs and time required for the company are significantly lower than if it were to train and pay its own team of venture capital investors.
Venture Capital-as-a-Service (VCaaS)
Anis Uzzaman, Ph.D. CEO | Pegasus Tech Ventures
Tell us about Pegasus Tech Ventures.
Pegasus Tech Ventures is a global venture capital firm based in Silicon Valley that invests in emerging technology companies around the world and works with them to expand into new markets, leveraging its global corporate network. Our portfolio companies target disruptive opportunities in IT, HealthTech, Artificial Intelligence, IoT, Robotics, Big Data, Quantum Computing, FinTech, and other next-generation technologies. By helping entrepreneurs break down geographical barriers and enter new markets, Pegasus Tech Ventures is bridging innovation ecosystems around the world.
​Pegasus also founded and sponsors the Startup World Cup, one of the biggest startup competitions in the world. Startup World Cup extends to over 50 countries across six continents, with a Grand Finale in Silicon Valley featuring a $1 million investment prize.
Can you elaborate on what you mean by VC as a Service?
The main issues surrounding corporate venture capital are that 1) many corporations lack resources or expertise to establish their own venture arms; 2) corporations are unable to have enough channels to generate solid deal flow; 3) there are often misalignments in goals between the investment arm that needs to generate returns and corporate HQ to make strategic investments; 4) corporations don't have the experience to help the startups they invest in, grow to the next level or drive towards successful exits. Therefore, many of their portfolio companies aren't able to sustain until they establish meaningful partnerships.
To address this, we've incorporated a Venture Capital-as-a-Service (VCaaS) model into our offering, which means we manage multiple funds for well-known, global corporations that wish to partner with cutting-edge technology startups. We, as professional investors, conduct all functions of a VC firm, including vetting investment opportunities for our partners and managing the investments, while connecting portfolio companies to global corporate partners to create synergetic opportunities for both the startup and the corporate investor, taking the benefits of a traditional VC and a CVC.
VCaaS is financially and strategically beneficial to both the corporate partner and to the startup as the operating costs and time required for the company are significantly lower than if it were to train and pay its own team of venture capital investors, while maintaining optimal outcomes for financial gains and business developments.
Where are you seeing the greatest area of interest for tech investments?
We will continue to see developments and investments in the AI sector. Technology impacting healthcare will continue to be a strong area for investment in 2020 given continued increasing costs and an aging population across many major markets. Quantum computing will also likely see a strong uptake in investment activity given the validation of the technology from Google's recent supremacy announcement. We also anticipate FinTech will continue to be a major area for funding activity.
What about specifically for robotics?
It should come as no surprise that the robotics industry is also on the rise. Specifically, robotics will have a breakout moment in the following year in the manufacturing space as AI software companies, such as Vicarious, Osaro, and Kindred.ai, will pioneer the industrial motion planning AI technology and enable robots to automate much of the productions in factories. Within the next six years, the global marketplace for robotics will almost triple, accelerating from $98bn in 2018 to surpass $275bn by 2025, according to GlobalData. Robotics will also have a play in unique use cases. For example, robots (such as Abundant Robotics) that automatically harvest plants and fruits or that assist in surgery is the way of the future.
Will funding be tougher in 2020?
Funding will be tougher for companies that do not have strong revenues and clear paths to profitability that support their valuations. The largely conventional strategy in recent years of out-raising and spending the competition in search of a monopolistic advantage is being questioned as inflating valuations beyond what would normally be priced for comparable companies in their relative market.
Women in tech and robotics has been a topic of discussion. Do you have any tips for closing the gender gap?
While women have earned 57% of all bachelor degrees, they have only a quarter of the science and engineering jobs. To help minimize this gap, it's important to have a two-fold approach - diversity in the hiring process, but also looking from within for employee growth opportunities. Organizations should foster growth and opportunity within their divisions, so an entry-level hire has the chance and desire to work their way up to partner one day, for example. A diverse and balanced office is key to success and important in staying innovative in competitive markets.
About Anis Uzzaman
Anis Uzzaman, Ph.D. is the CEO & General Partner of Pegasus Tech Ventures, overlooking overall management, investments, and operations. Located in Silicon Valley, Pegasus Tech Ventures provides early stage to final round funding. Anis has invested in over 170 startups across North America, Europe, and Asia. Anis is also the Chairman of Startup World Cup, a global startup pitch competition with 50+ regional events across the 6 continents, leading up to $1,000,000 in investment prize.
The content & opinions in this article are the author's and do not necessarily represent the views of RoboticsTomorrow
---
Comments (0)
This post does not have any comments. Be the first to leave a comment below.
---
Post A Comment
You must be logged in before you can post a comment. Login now.
Featured Product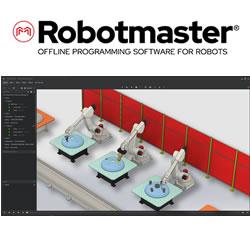 Program multi-robot cells and automatically solve robotic errors with ease. Hypertherm Associates announces a new version to its robotic programming software. Robotmaster 2024 addresses key market trends including the support for programming multiple robots in a single work cell and the demand for automatic trajectory optimization and robotic error correction.