When your clients face unique challenges using AMRs in their processes, a conveyor attachment may help their process to be more efficient. Here are seven important questions to ask before selecting a manufacturer for your AMR multi-strand conveyors.
7 Questions to Ask When Choosing an AMR Multi-strand Conveyor Manufacturer
Article from | Glide-Line
As an integrator, it is important to choose the right manufacturer for your AMR conveyor application. When your clients face unique challenges using AMRs in their processes, a conveyor attachment may help their process to be more efficient. Here are seven important questions to ask before selecting a manufacturer for your AMR multi-strand conveyors.
1. How flexible are the conveyor and strand dimensions?
To creatively solve challenges for your clients, the conveyor and strand dimensions of a configurable conveyor attachment should be 100 percent flexible. This will ensure you're able to integrate the conveyors with your clients' current and future AMRs. Glide-Line's conveyors meet this requirement and exceed it in many ways. Read our post about unique conveyor attachments for your AMR vehicle.
2. Are solid models available and easy to get for the conveyors?
Almost all configurations of Glide-Line's AMR conveyors are available through our easy-to-use, in-context Solidworks configuration tool called IMPACT!, which allows a Solidworks user to insert configurable models into their master assembly while keeping part numbers up-to-the-minute with the model changes along the way.
3. Are the conveyor attachments lightweight enough for efficient AMR functionality?
Depending on your capacity needs, a conveyor attachment should be lightweight enough to prevent inefficient operation of the AMR, but powerful enough to effectively maneuver your clients' products onto and off the AMRs. Glide-Line's conveyors, built with strong but lightweight materials, can support small-to-medium payloads up to 200 pounds. Read more about construction materials in our post, "4 Must-Have Design Features in a Lightweight Conveyor for AMRs."
4. How does the manufacturer handle gaps between conveyors during transfer from the AMR?
Typical AMR conveyors are either a traditional roller conveyor or a single wide flat belt conveyor. In both cases, because you're feeding a similar-width conveyor from the AMR conveyor, there is a natural gap between the two conveyors due to the diameter of the end rollers and the positioning of the vehicle.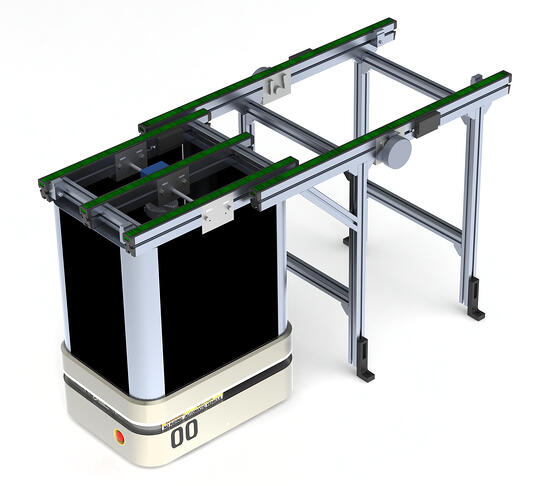 Glide-Line has a different solution that uses a dual strand conveyor. The strands can overlap each other and mesh together with the accepting conveyor to form a perfect transition. For example, if we were at 0" and 24," the conveyor we're transferring to could be at 3" and 21."
This creates an overlap so the transition for the product would be very smooth.
5. Are the AMR conveyors robust enough to handle clients' payloads?
It is important to ensure the conveyors you're selecting for your clients' AMRs can handle the payload, even if the payload is changing from one task to another. Glide-Line, for example, improves AMR conveyor capacity by using one DC drive per conveyor strand on each conveyor, and can add gearboxes to increase torque. We also build the conveyor and belt from strong materials to ensure they can handle up to 200-pound payloads.
6. How easy is it to configure the conveyors to exact AMR specifications?
Your project and specific product should drive the design and the AMR and conveyor should be built to the specifications you set. Working with a manufacturer who can easily configure the AMR conveyor to handle your payloads is essential to success. Ideally, you could also be able to do this yourself.
Take Glide-Line's conveyors as an example. Our conveyors are completely flexible and easily configured using our in-context configurator tool, IMPACT!, which you're able to use yourself to calculate capacity, price, and dimensions immediately, without the need to wait for a quote.
7. How fast are the manufacturer's lead times for multi-strand AMR conveyors?
Next to budget and capacity, timeline is likely an important aspect of your plan. Often, conveyor lead time can take two months or more until delivery. But a manufacturer like Glide-Line can deliver in half the lead time of a traditional conveyor manufacturer. At Glide-Line, we've optimized to accommodate configurable parts, unique design or positioning needs, DC drives as a standard, and a fast manufacturing and delivery process. Be sure the manufacturer you select has you and your end client in mind for their process.
There may be other conveyor manufacturers with experience working with integrators like yours. However, not all are able to provide the conveyors configured to your exact AMR specifications without adding extra cost and lead time to the project. Working with a company like Glide-Line, an experienced manufacturer of configurable conveyors that are built for AMRs, will make all the difference to your timeline, budget, and customer satisfaction. Contact us today with any questions, or download our IMPACT! configuration software to get started on your own. Not quite ready to commit yet? Read our ebook on the subject, How Autonomous Mobile Robot (AMR) Integrators Incorporate a Lightweight, Customizable Conveyor to Adapt to their Application and Product.
The content & opinions in this article are the author's and do not necessarily represent the views of RoboticsTomorrow
---
Comments (0)
This post does not have any comments. Be the first to leave a comment below.
---
Post A Comment
You must be logged in before you can post a comment. Login now.
Featured Product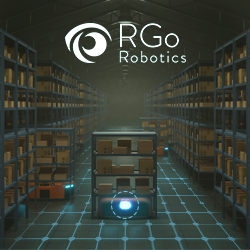 RGo's intelligent vision and AI system, Perception Engine™, provides mobile robots with 3D perception capabilities, enabling them to understand complex surroundings and operate autonomously just like humans. Its camera-based system operates is able to localize, map, and perceive in even the most robust environments including indoor/outdoor and dynamic or unstructured environments.