In the "KUKoMo" project, new robot solutions for collaborative assembly activities in small and medium-sized enterprises (SMEs) were tested for their feasibility and transferred to demonstrator solutions for cross-industry applications.
Bringing Handling Technology to Life
Case Study from | Zimmer Group
A project, supported by the German Federal Ministry of Education and Research, formed the basis for the research institute ICM e.V. to open a training and application center ("SchAz") in Chemnitz. In the "KUKoMo" project, new robot solutions for collaborative assembly activities in small and medium-sized enterprises (SMEs) were tested for their feasibility and transferred to demonstrator solutions for cross-industry applications. Automation components were further developed in an application center created especially for this purpose, thus increasing acceptance in SMEs.
The ICM e.V. is a private, non-profit, application-oriented research institution (industrial research institute) whose primary objective is to open up new technical and technological possibilities for SMEs. In doing so, it draws on many years of experience and high competence. The knowledge in the field of automation and robotics has now been bundled in this training and application center to make it available to interested companies in the commercial and industrial economy. The focus is on the development of innovative automation solutions for production. Starting from the individual identification of productivity potentials, technical and technological approaches to solutions are systematically developed, evaluated and, if necessary, prototypically implemented. "Our training and application center is characterized by the fact that people and machines come together at one learning location, can deal with different problems and direct trial and error with professional feedback is made possible," says Isabell Grundmann, research assistant and contact person for the SchAz on site.
The trend goes in the direction of small series
In the fields of automation and robotics or handling technology, there is a wide range of solutions and products. Particularly innovative and promising at present are developments with regard to the automation of small series - up to batch size 1. Mobile robotic systems and human-robot collaboration could become part of the development solution here. Unfortunately, such approaches are not so easy to realize, since the research and development efforts in this regard are still immensely high. At the SchAz in Chemnitz, however, corresponding demonstrators are available for demonstration and for further investigations and make it possible to test the latest technologies and examine the possible applications for one's own company. The automation and handling specialist Zimmer Group, a long-standing partner of ICM e.V., is available to assist the institute's experts and ICM GmbH with all issues relating to gripping.
Main content of the SchAz-Center
The training and application center concentrates on three main areas with regard to the extensive subject matter. In addition to automation for batch size 1, mobile robotics and human-robot collaboration are the main focus of the Chemnitz-based company. The latter two focal points will now be discussed in more detail here..
Mobile Robotics
Classic industrial robots are installed in a fixed position - but increasing plant flexibility requires mobile robot solutions. In SchAz, two variants of mobile robotics are compared as examples - a classic industrial robot on a mobile frame (mobile robot) and the combination of an hrc robot (cobot) with an automated guided vehicle system (mobile hrc robot).
Mobile Robot
The "mobile robot" consists of a classic 6-axis robot from Kawasaki Robotics mounted on a manually traversable frame. It is equipped with a tool change station and several grippers (GPP5008 + GEP2010) from the Zimmer Group for parts handling, as well as an FT sensor for investigating force-controlled processes for further feasibility studies. The mobile robot is designed so that the assembly can also be taken out of the cell and used as a stand-alone unit in a different environment.
Mobile hrc robot
In addition to the sensor technology, the "mobile hrc robot" demonstrator is mainly composed of a collaborative robot (CR-7iaL) from Fanuc, a track-guided autonomous automated guided vehicle (Beldrive AGV) and a hrc gripper (HRC-04-072810 ) from the Zimmer Group. The mobile MRC robot realizes the sub-processes transport and handling of perforated plates as well as the filling of a vibratory bowl feeder in the SchAz. The hrc gripper picks up the empty perforated plates, transports them to the robot, picks up loaded perforated plates and transports them to the manual workstation. Finally, a worker takes over the final assembly of the loaded perforated plates in a collaborative cooperation with the robot..
Human-Robot Collaboration [HRC]
In robotics, the term human-robot collaboration (HRC) refers to the cooperation on a component between the human and the robot at a shared workstation without separating protective devices. With a view to the safety aspects, the various interaction stages between the human and the robot are investigated at the SchAz Application Center using practical processes - from the classic robot cell to pure collaboration.
The demonstrator here is a system that ICM has largely designed and assembled itself. A Stäubli robot (TX2-90L) with a tactile sensor skin from the company Airskin, which has a maximum load-bearing capacity of 20 kg, was placed on the base frame. The sensor skin acts as a kind of air cushion in which the pressure applied inside is permanently monitored. In the event of a change in pressure, for example in the event of a collision, the system reacts and stops safely. Safety is also a top priority for the gripper. For example, the Zimmer Group's HRC03-072844 electric gripper, which is specially designed for hrc use, has no sharp edges and is constructed in such a way that, with its rounded shape on all sides, accidental snagging is virtually impossible. This feature, combined with mechanical self-locking of the gripper jaws - even in the event of an emergency stop or power failure, the gripper will not lose the workpiece - provides maximum safety in any application. All hrc grippers from the Zimmer Group meet the high requirements of the protection principles according to ISO/ TS 15066 (hrc standard) and are BG/ DGUV certified..
The MRK system from ICM is intended to illustrate the collaborative assembly of a measuring tape (2 m), which is composed of three parts (tape, actuator, shell). Two components are pre-assembled by a worker at a mobile work table. After the assembly is transferred to the robot, it is visually inspected by the robot using a camera system (Balluff). The third component is then inserted into the fixture by the worker. The final collaborative joining process and function test is then again performed by the robot or the hrc gripper of the Zimmer Group..
Success of the SchAz-Center also thanks to the many supporters
The fact that the opening of the Chemnitz Training and Application Center is a resounding success was reflected not only in the large number of visitors to the opening day, but also in the many interested companies and, above all, in the numerous external supporters: "In addition to modern, well-equipped training rooms for working out creative ideas, in our Application Center you will find a wide range of automation technologies for exploring and experimenting with new solutions. However, without the support of technology leaders such as the Zimmer Group from Rheinau, among others, these innovative solutions would not be able to be presented so impressively," explained Marcel Ott at the first demonstration in November 2019, who is a software developer and technical contact for the application center.
The content & opinions in this article are the author's and do not necessarily represent the views of RoboticsTomorrow

Zimmer Group US, Inc.
Are you interested in premium products in the fields of mechanical and plant engineering? Do you want to learn more about our solutions in the fields of automation, damping, linear, processing, tooling, and machine tooling technology?
Other Articles
The introduction of modern automation technology into the sensitive production areas of pharmaceutical and medical technology was rapid. However, the conditions for the entry of systems, components and robots into this sector are anything but easy to meet.
A company from Baden (region in Germany) claims to revolutionize the coffee-to-go gastronomy with its robotic coffee solution. With its gripper for handling coffee cups, the Zimmer Group is making an important contribution to this.
Erwin Quarder had a need for a delicate gripper application for an Automotive OEM that required the Zimmer Group's expertise for design and timely delivery that would not only stand up to a harsh molding environment, but would also add long term value and durability.
---
Comments (0)
This post does not have any comments. Be the first to leave a comment below.
---
Post A Comment
You must be logged in before you can post a comment. Login now.
Featured Product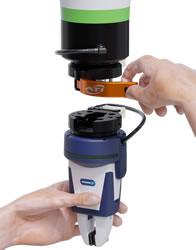 Simpler, stronger, and more precise. ATI Industrial Automation has developed a series of Manual Tool Changers that provides a cost-effective solution for quickly changing tools by hand. They feature a unique design that combines high strength, excellent repeatability, and a patent-pending screw-cam locking mechanism with multiple fail-safe features, which resists vibration and prevents loosening. These robust and compact Manual Tool Changers can handle payloads up to 80 pounds (36 kg) and pass pneumatics and electrical signals.