Businesses which have invested in robotics quickly realize the impact of increased productivity and continue investing. There is no "turn back syndrome" for these solutions; the increases in competitiveness and quality push businesses to adopt a continuous robotics policy.
AGV Robotization: The Solution
John Hayes, Director of Sales | Balyo USA
According to Grand View Research, the global market for automated forklift trucks will have an annual growth of 15.6% through 2025; Deloitte confirms this analysis and adds that the robotization and automation rate will reach 87% within ten years (all machines included).
The falling purchase price of robots, resulting from streamlining installation processes, make it possible to massively democratize their use. All this encouraged by promises of 20 to 30% increases in productivity with short payback cycles (most around one year for ROI).
Businesses which have invested in robotics quickly realize the impact of increased productivity and continue investing. There is no "turn back syndrome" for these solutions; the increases in competitiveness and quality push businesses to adopt a continuous robotics policy.
Distribution centers and 3PLs jumping on AGV solutions
Moving pallets is expensive. One of the global Fast Moving Customer Goods (FMCG) leaders estimates spending "almost 380 million dollars per year" for tasks that create no additional value for the business. COVID has made it abundantly clear to managers at 3PLs (third party logistics), DCs (distribution centers), and manufacturing plants that robotization of material handling is an economic necessity.
Economic policies from Industry 4.0, Logistics 4.0, and connected warehouses point to the imperative to lower costs, increase productivity, and guarantee quality. There are as many forklift truck operator positions to be filled as there are IT developer and R&D engineer jobs combined. In the United States, 65% of the businesses surveyed by Deloitte (as part of its annual Supply Chain report) noted that it is "extremely difficult" to hire qualified warehouse labor.
Two separate markets competing on product offering
Specific AGVs (automated guided vehicles), traditional automatic vehicles that have been present in industry for almost 30 years and standard manual forklift trucks converted into autonomous vehicles.
They both have the same purpose, transporting pallets or loads on vertical and horizontal applications; they are differentiated by technical choices, the depth of product lines, and the distribution strategy.
AGV (Automated Guided Vehicles)
AGVs are designed for applications specific to clients' applications. They are produced in small numbers and their navigation system is based on added infrastructure (on the ground, on the walls, racks, machines, etc.) to allow the machine to move and know where it is in a space. AGV manufacturers' product offering is organized by project/client.
A manual forklift truck and its autonomous version
Converting forklift trucks initially designed for manual use, into autonomous vehicles, is extremely popular especially when social distancing considerations must be part of the strategy moving forward. The robustness of the basic forklift trucks, which are mass produced, allows for standardized maintenance operations and use in automatic or manual mode.
Players like Balyo are pioneers in terms of innovation, using infrastructure-free navigation technology and combine all the advantages of the sector: standard and robust basic forklift trucks, global sales networks, and flexible cutting-edge technology.
Manual and autonomous forklift truck manufacturers (OEM):
leaders in material handling

autonomous and standardized forklifts based on their manual product line

worldwide distribution and maintenance network
© 2021 Balyo, Inc.
Navigation technologies
The ability of robots to navigate around a complex and unreferenced space has been one of the major challenges in this sector. The demand for ever more flexibility, safety, accuracy, and simplicity has only increase during the pandemic. Clients want to install and redeploy robots at will, without calling on the services of the manufacturer. The maturity level of different available technology is starting to reach that objective as some infrastructure-free solutions are achieving the goal.
Infrastructure-free navigation technologies
Natural navigation is based on the laser recognition of a library of objects recorded in a database, known as "feature recognition." Similarly, geoguidance navigation is based on laser recognition (LIDAR) of all the elements of a client site (racks, machines, walls, columns, doors, etc.). Finally, there is camera navigation based on the recognition of recorded images of the client's site.
Navigation systems that use infrastructure lack flexibility; any changes to the AGV or autonomous truck circuit will need full infrastructure redeployment. Inductive wires or magnetic bands are not particularly adapted to the repeated passage of manual or automatic forklifts and can deteriorate quickly.
© 2021 Balyo, Inc.
Horizontal or vertical usage
Horizontal or vertical usage is a vital consideration. The product type and its application make it possible to apply a first filter level, discover if the suppliers' product lines meet current and future deployments.
Navigation, with or without infrastructure is another top line evaluation element. Choosing the type of navigation most adapted to the frequency at sites cannot be ignored. More flexible, infrastructure-free navigation has a distinct advantage if infrastructure is repeatedly changing.
Service, local or global, must also be taken into the evaluation process. Selecting suppliers who offer services adapted to each business profile is critical. Global businesses requiring worldwide support often turn towards manual forklift suppliers who propose a standardized robotized solution.
Learn more in robotic project milestones in 90 seconds video.
About John Hayes
John Hayes, Director of Sales for Balyo USA. Hayes is a widely-respected thought leader for the manufacturing, distribution, logistics, and materials handling industries. For more than twenty years Hayes has been evaluating, designing, developing, and implementing innovative technology solutions, with a particular focus in the AGV (automated guided vehicle) and AMR (automated mobile robots) space. Hayes is a Supply & Demand Chain Executive "Pros to Know" recipient.
The content & opinions in this article are the author's and do not necessarily represent the views of RoboticsTomorrow
---
Comments (0)
This post does not have any comments. Be the first to leave a comment below.
---
Post A Comment
You must be logged in before you can post a comment. Login now.
Featured Product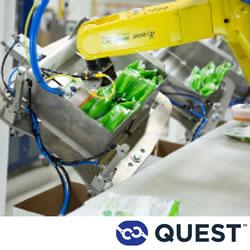 Quest is a leading manufacturer of industrial automation equipment focusing on robotics and vision-guidance. With expertise in the food, beverage, and dairy, Quest optimizes floor space for customers experiencing growing demand and helps improve their overall production line flexibility and efficiency. Quest offers application-specific software on their robotic products, including pick and place, case packing, and palletizing systems to simplify system setup and streamline configurability. Quest is a product brand of ProMach, a global leader in packaging line solutions.