A company from Baden (region in Germany) claims to revolutionize the coffee-to-go gastronomy with its robotic coffee solution. With its gripper for handling coffee cups, the Zimmer Group is making an important contribution to this.
Case Study: A Coffee with the Robot
Case Study from | Zimmer-Group USA
Not over a coffee at his favorite Italian restaurant, but while watching at the Sunday crime series at home in Pfinztal, Michael Stille came up with the idea of an application that baristas all over the world would fear. Because in the crime thriller "Animals of the Big City" a coffee robot, which initially comes under suspicion of murder, plays one of the leading roles. Impressed by this talented and innovative robot, Stille went straight to work. His aim was to create an efficient robot solution that could serve freshly prepared coffee specialties to customers in record time - and always in a friendly manner and without a break. And the Baden-based tinkerer already had a name for the project: MyAppCafé was to be the name of the new wonder machine. "This would solve all the personnel problems in the catering trade. After all, finding good staff is becoming increasingly difficult at the moment," says Michael Stille. He knows this from his own experience, because he has been running a catering business in nearby Karlsruhe for 20 years.
So much for the pre-history. In order to realize such a high-tech project, it was clear to Stille from a very early stage that he would not be able to do it on his own, but would have to bring on board other experts to build his coffee robot. In addition to his business partners, Dirk G. Rothweiler in particular was an important advisor and a helping hand for the young company. He is the full-time manager of a prototype construction company of the same name and works part-time as a start-up scene supervisor for the city of Karlsruhe. With his know-how he brings together the various trades necessary for such projects. In this case, in addition to a coffee machine manufacturer, professionals for app and robot programming, plant engineers and a handling specialist were in demand.
Support from the region
IBS Ingenieurbüro Dr. Klaus Schnürer GmbH (IBS) from the neighboring city of Karlsruhe was commissioned with the project implementation of the MyAppCafé, which mainly consists of a robot cell in which various devices such as a coffee machine, printer, robot etc. are installed. "IBS implements the ideas of its customers - from the construction of individual mechanical components to the realization of complete machines and plants. The IBS engineers, technicians, draughtsmen and product designers draw on many years of experience in the field of engineering and project management", explains Marcel Trapp, project manager at IBS. In this specific case, the first step was to work out the idea and preliminary work of the customer MyAppCafé and develop it further together. In the further course of the project, a CAD model was then created in order to place all the required components precisely and check their accessibility by the robot.

Takes over the coffee cup handling: An electric 2-jaw parallel gripper from the Zimmer Group's GEP2000 series

A project with great challenges
The requirements for handling the coffee robot were high. Because the solution had to be almost 100 percent automated. The entire order processing was automated, from order acceptance, brewing the coffee, printing a picture on the coffee, to dispensing and cashless payment for the drink. A high level of process reliability was of enormous importance, since no operating personnel for the coffee robot will be on site. One of the biggest challenges was to handle the four different coffee cup sizes with a single gripper and pair of gripper jaws, while still using the most affordable (low-cost) digital gripper possible despite the strict budget constraints. Another sticking point was the fact that the cups are stacked rotated in cup dispensers in the robot cell. In order to remove them, a resistance in the form of a rubber ring on the cup edge had to be overcome. Consequently, gripping could only be achieved by frictional connection. A suitable gripper and matching gripper fingers had to be found. Furthermore, the position and the gripping force had to be determined so precisely that the gripper fingers would not slip through the cup, but also that they would not grip too tightly, as there would then be a risk that two or more cups could be gripped at once. For these and other tricky questions, IBS sought the advice of an acknowledged specialist in the field of handling technology - the Zimmer Group.
Product "made in Ländle"
The gripper manufacturer comes from Rheinau, Germany and therefore also from the region. Thus, the coffee robot developed into a real product "made in Ländle" (note: Ländle here refers lovingly to the German region Baden-Württemberg). The expertise of the Zimmer Group has now helped to push the project forward. After an analysis, consultation and final tests, the ideal gripper was finally found. The choice fell on the GEP2013IO-00-A - an electric 2-jaw parallel gripper from the GEP2000 series. In addition to a large stroke in a small installation space, it has the possibility to regulate the required gripping forces over four levels. With this solution, as mentioned above, the gripper would, for example, no longer grip too tightly and would no longer grip several cups at once. Another major advantage of the electric gripper is that it can be controlled very easily like a valve via I/O ports. After selecting the suitable gripper, IBS then developed the appropriate gripper jaws. After these had been manufactured in a 3D printing process and extensively tested in several internal test and validation loops, an output unit was developed, dedicated software was written for the communication and control of all components involved, and finally the robot was programmed.
A robot colleague with many advantages
With this fully automated barista robot, an innovative solution was created which can be particularly interesting for the catering trade or event organisers, as the coffee robot can dispense between 80 and 120 coffee specialities per hour. A 24/7 operation is possible with constant quality. The time required for operators would be absolutely manageable: once a day - for about an hour - refill coffee beans, cocoa, milk, syrup, water and cups, and clean the machine. The makers also attached great importance to sustainability. Only fair trade organic coffee is used, which is dispensed from fully compostable cups. The fact that the customer orders his favorite coffee via touch display and pays cashless via app seems almost self-evident with this ultra-modern machine. As a nice gimmick, the founders of MyAppCafé have also come up with something very special: fed with a picture via app, a food printer conjures up a perfect photo motive on the milk foam. And if the favorite person is to be surprised with a coffee, the MyAppCafé customer simply sends his received code via WhatsApp.
Within one year to completion
It took less than a year for the first idea to become reality, for prototypes to be built, tested and further developed and now for series production to begin. The fact that implementation was achieved so quickly is also reflected in the cooperation between the various project teams. For example, Mr. Trapp from the IBS company commented on the cooperation with the Baden-based gripper manufacturer: "For me as project manager and developer of the hardware, the cooperation with Zimmer was very positive. With Mr. Tritt (technical consultant and salesman), I quickly had a suitable contact person who was able to advise me well and quickly on all questions and open issues, so that Zimmer was quickly chosen for the gripper, which has proven to be a good decision to date".
The content & opinions in this article are the author's and do not necessarily represent the views of RoboticsTomorrow

Zimmer Group US, Inc.
Are you interested in premium products in the fields of mechanical and plant engineering? Do you want to learn more about our solutions in the fields of automation, damping, linear, processing, tooling, and machine tooling technology?
Other Articles
For the aircraft conversion, Zimmer Group supplied an air-cooled spindle including EtherCAT operator terminal and frequency converter.
The camera control, which gives the robot the flexibility for an infinite variety of parts, and the EasyControl graphical user interface with its easy-to-understand input screens that allow users to automate without any robot knowledge.
Industrial Dampers cushion vibrations in machines. In order to fulfill this task perfectly, there are a large number of different types. To find the right variant for your own application, the load cases should be examined in detail.
---
Comments (0)
This post does not have any comments. Be the first to leave a comment below.
---
Post A Comment
You must be logged in before you can post a comment. Login now.
Featured Product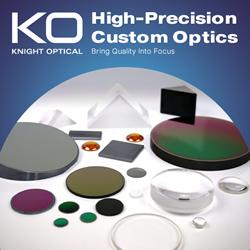 In the era of Industry 4.0, automation and machine learning drive the future. Knight Optical stands at the forefront, collaborating globally to supply precision optical components that power the robotics and automation sector. From UAVs, drones, and robotics to machine vision, LiDAR-driven car sensors, and renewable energy, our optics empower innovation. Optical components play an important role within the industry, including: Optical windows and domes safeguard systems in unmanned vehicles while preserving the field of view for cameras. Infrared lenses with aspheric surfaces elevate thermal imaging. Optical filters excel in machine vision, with colour glass, interference, and dichroic filters in our stock. Knight Optical provides stock components and custom solutions made to your exact specs. With every component undergoing rigorous metrology and QA checks before shipment, you are sure to experience true precision, innovation, and assurance.