The technological change in the automotive industry, among others, is also affecting the Zimmer Group - the automation specialist from Germany is well prepared.
Zimmer Group System Technology - Development Competence at Just the Right Time
Article from | Zimmer Group
Progress in electro mobility is heralding a paradigm shift in vehicle drive technology. This shift towards electro mobility is bringing movement to the market and posing major challenges not only for automotive manufacturers and their suppliers. The automation specialist Zimmer Group from Rheinau is also directly affected by these massive effects: How is the Zimmer Group, which for years had focused its systems division on components for the conventional powertrain segment, dealing with this change? One thing is clear: a radical rethink is required.
EV (Electric Vehicle) manufacturers are currently looking for innovative and automated solutions to make their manufacturing processes and production assemblies simple, reliable and productive. It is not uncommon for product development and also the development of a manufacturing concept to take place in parallel. This requires maximum flexibility in the construction of an automation solution and in the mindset of the engineers involved. Since batch sizes in the field of battery production have not yet reached such a high level at present, a flexible manufacturing concept should or rather must therefore be developed in addition to a flexible automation concept.
Leading Partner of the automotive Industry
Zimmer Group has been offering end-of-arm tooling (EOAT) for powertrain assembly and loading of processing lines in the automotive industry for 30 years. In order to actively accompany the technological transition from combustion engines to electro mobility, several modular solutions for EV vehicle manufacturing have already been developed by the Zimmer Group's System Technology division.

Battery module gripper with integrated swivel axis

120-fold gripper for batteries in cell production


Gripper for handling a battery tray


Gripping system for engine blocks with servo-swivel jaws in action.
Jan Schaare (Head of Sales and Project Planning - System Technology) already has a lot to say about successfully implemented projects in the field of e-mobility:
"We started developing EOAT solutions for electro mobility in our research and development department back in 2014 and have since invested more than 50,000 engineering hours in developing and perfecting systems for this market segment. We had to develop the first gripping systems under enormous deadline pressure, as the time constraints were set very tightly by our customer at the time. It took just four months from the first meeting to delivery. Today, we are suppliers to all leading automotive manufacturers in the EV sector, such as Tesla, Porsche, BMW, Mercedes Benz, BYD and many more. We are very proud of that."
All from one source
The Zimmer Group is a valued R&D partner of premium automotive manufacturers and integrators of production lines and offers handling systems and fixtures for the production of battery cells, battery packs and battery modules. The Baden-based think tank, or as its slogan says "THE KNOW-HOW FACTORY", also supplies specific system solutions for rotors, stators, contact rings, gears and various add-on parts along the value chain.
Focus not solely on automotive industry
Just five years ago, Zimmer Group System Technology had 90 percent of its customers in the automotive sector. For decades, the company had generated good sales with a handful of customers and the main components of the combustion engine (engine block, crankshaft, cylinder head, camshaft, etc.) in the area of machine linkage. But already at that time the end of the combustion engine was becoming apparent and a clear trend in the field of EV but also in the hybrid field could be seen. Thanks to the already existing close cooperation of the Zimmer Group with the automotive industry, access to the new technology was already given here, but there were also other alternative ideas and concepts to position themselves even more broadly in the future and to position themselves on the market.
Logistics
More and more consumers today want personalized products tailored precisely to their needs - from customized bicycles to self-mixed muesli and individualized printed Coke bottles to one-of-a-kind travel suitcases. The trend does not stop at the home either - for example, customized furniture or kitchen equipment are very much in vogue.
In many households, the parcel courier now rings almost daily. And so Zimmer Group System Technology established its second mainstay with a clear focus on the logistics and consumer goods sector. Here, Zimmer Group develops solutions for logistics centers, distribution centers or even for so-called "supermarkets" in the logistics centers of the automotive industry.

Zimmer Group logistics solution - carton gripper for item pick applications
From classic component to system supplier
The trend towards individualization is also being met by the French kitchen manufacturer Schmidt, which has perfectly supplemented its existing batch size 1 concept with an innovative robot machining cell for drilling and fitting kitchen furniture parts. The cell is part of a production line used to manufacture complete kitchen equipment in batch size 1.
On the way to Industry 4.0, the Zimmer Group has developed from a classic component supplier to a system supplier and has thus produced an entire robotic cell. At the heart of the system are five full-grown ABB robots in a row, connected by a flexibly acting transport system in which the workpieces are clamped and moved by up to four freely programmable shuttles, depending on their size. This circulating shuttle system was - by the way - honored with a German Innovation Award in 2019. In close cycles with workpiece intervals of less than two seconds, furniture parts are provided with holes, grooves and fittings by the robots. A two-meter-high side panel of a tall cabinet can be immediately followed by the shelf of a shelf measuring just 15 x 20 centimeters. Without setup time.
Furniture parts with an accuracy of two tenths of a millimeter
"When we first discussed our plans for such a cell, we were quickly told: don't do it, it can't be done with sufficient precision using robots," recalls Managing Director Achim Gauß, who is responsible for technology and sales at Zimmer Group. "And that was the case at first. We had to invest a lot in hardware and in software," Gauß continues. The special feature of this robotic solution, for which Zimmer Group also draws from its own pool of grippers and tool changers, is the drilling operation, which is performed by ABB industrial robots and can process the furniture parts with an accuracy of two tenths of a millimeter in piece number 1 on the robot. For this, a self-developed compensation algorithm based on laser tracker measurement of the robots in the machining area was used. The hurdle of accuracy was also one of the sticking points in the entire process: The individual furniture parts are clamped into the shuttles by a loading robot and then measured in terms of dimensions and position. In one set-up, the parts are then moved along the various processing stations and finally removed from the shuttles by the unloading robot. This ensures that there is no loss of accuracy due to reclamping.

The Modular Transport System was awarded the German Innovation Award in 2019. The individually controlled transport units can be used as master or slave.
Industry 4.0 - full networking of production
"In order to be able to reliably organize such a complex plant during planning, but also later during operation, you need one hundred percent real-time simulation," Achim Gauß elaborates. "Such a digital twin makes the plant highly flexible, but also exciting for work preparation and for planning at the customer. We learned a lot in this project and have been able to transfer this know-how to all our components with the digital twin." With the help of the digital twin in the HIL (hardware in the loop) system, the cell can be virtually built to verify system performance and functionality before it is realized. The Zimmer Group's robotic machining cell thus consistently implements the approaches of Industry 4.0.
The content & opinions in this article are the author's and do not necessarily represent the views of RoboticsTomorrow

Zimmer Group US, Inc.
Are you interested in premium products in the fields of mechanical and plant engineering? Do you want to learn more about our solutions in the fields of automation, damping, linear, processing, tooling, and machine tooling technology?
Other Articles
For the aircraft conversion, Zimmer Group supplied an air-cooled spindle including EtherCAT operator terminal and frequency converter.
The camera control, which gives the robot the flexibility for an infinite variety of parts, and the EasyControl graphical user interface with its easy-to-understand input screens that allow users to automate without any robot knowledge.
Industrial Dampers cushion vibrations in machines. In order to fulfill this task perfectly, there are a large number of different types. To find the right variant for your own application, the load cases should be examined in detail.
---
Comments (0)
This post does not have any comments. Be the first to leave a comment below.
---
Post A Comment
You must be logged in before you can post a comment. Login now.
Featured Product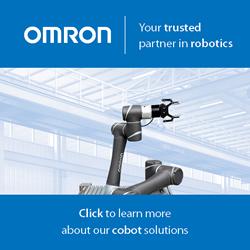 Humans and robots can now share tasks - and this new partnership is on the verge of revolutionizing the production line. Today's drivers like data-driven services, decreasing product lifetimes and the need for product differentiation are putting flexibility paramount, and no technology is better suited to meet these needs than the Omron TM Series Collaborative Robot. With force feedback, collision detection technology and an intuitive, hand-guided teaching mechanism, the TM Series cobot is designed to work in immediate proximity to a human worker and is easier than ever to train on new tasks.