Through the combination of technology and our expertise in designing automated high-density storage and retrieval, we're able to achieve high levels of throughput that only automation working alongside people can bring.
Increasing Warehouse Efficiency with Robotics
Q&A with Sandeep Sakharkar, CIO | GXO Logistics
Tell us about yourself and the company
My name is Sandeep Sakharkar, and I currently serve as the senior vice president of logistics technology for XPO. Later this year, I'll be the chief information officer of GXO when the company completes its planned spin expected in the third quarter. Once launched, GXO will be the second largest contract logistics provider in the world.
How do you feel AI and robotics are transforming the "warehouse of the future"?
For us, the 'warehouse of the future' is a facility that optimises sophisticated robotics, automated sorting systems and intelligent analytics to enable fast, efficient and safe distribution of products.
Our technology drives more cost savings and productivity. Advances in robotics, coupled with fast evolving AI and machine learning capabilities, have created amazing possibilities in automated warehouse design that are tailored to our customers' specific needs.
How has the use of robots in warehousing operations increased efficiency?
Robots deployed in logistics operations can perform repeatable movements over sustained periods of time with ease. Collaborative robots or "cobots" assist workers with the inventory picking process and have a 2x productivity benefit on average. While stationary robot arms can repeat demanding tasks with absolute precision 3x faster than would be possible manually.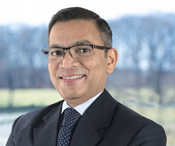 The repertoire of capabilities and use cases for robotics is increasing with advances in mobility, geopositioning, computer vision, sensors, speech recognition and human-computer interaction, too. These capabilities, when harnessed by optimised process flow and intelligent warehouse design techniques, create new efficiencies that benefit everyone.
How is XPO using advanced automation, VR and robotics to transform its own operations?
Advanced automation is a strategic contributor for driving success in our customer operations. Through the combination of technology and our expertise in designing automated high-density storage and retrieval, we're able to achieve high levels of throughput that only automation working alongside people can bring.
These systems deliver critical improvements in speed, control, accuracy and productivity. Importantly, robots are also a way to enhance worker safety and overall quality of employment. XPO has found that autonomous goods-to-person systems, which bring inventory to workers for order fulfilment, can improve productivity by 4-6x.
Notably, our scale enables us to deploy innovations across multiple geographies in a relatively short period of time. We then take an innovation developed for one vertical and apply it to another vertical. This expands the value we offer. The supply chain industry is wide open for disruptive thinking and we're driving positive change.
How are certain types of robots (AGVs and AMRs) being used to replace heavier mechanized automation that typically require a big up-front investment and rigid physical infrastructure?
AGVs and AMR, as the names suggest, are autonomous mobility solutions, in vehicle and robotic forms, respectively.
Automated guided vehicles (AGVs) usually follow fixed marked paths or embedded floor guiding mechanisms to autonomously help move pallets and cages. Autonomous mobile robots (AMRs) utilise advanced sensors and computer technology to navigate floorplans and obstacles. We're using these for assisted order picking, as well as bin and cage movement.
Both technologies, with their advanced capabilities in mobility and autonomy, are finding widespread use in replacing rigid physical infrastructure-based automation that's less efficient in throughput and flexibility. These modern robots make more efficient use of space, too.
What are some of the barriers in implementing AI and robotics into established warehouses?
Barriers to implementing robotic automation and AI in established warehouses exist, but are fading.
Some of the common barriers are concerns around resistance to change, human impact, perception of high upfront costs and funding, and a notion of lack of flexibility.
Most of these challenges can be addressed by analysis and implementation. Modern robotic automation and AI are cost effective, augment human work making it safer and are very secure. Looking ahead, we can see regulatory and legal areas evolving and further reducing barriers.
What are your predictions for the future of AI and robotics in supply chain as technology advancements continue to develop?
I see the use of AI and robotics accelerating, especially to keep up with the increasing demands of e-commerce. In North America, more than a quarter of e-commerce direct-to-consumer volume fulfilment uses robotics, and we believe this will become mainstay. And new, emerging areas of applications will rapidly find their place as they become more capable and cost effective.
For example, as computer vision capabilities mature, use cases continue to develop rapidly going beyond scanning, dimensioning, stackability, surveillance and damage recognition. Another example is using AI to translate historic and real-time generated data across cross sections of automated process element. This will help generate highly predictive and actionable insights. We expect to see numerous new use cases for this in the future.
The content & opinions in this article are the author's and do not necessarily represent the views of RoboticsTomorrow
---
Comments (0)
This post does not have any comments. Be the first to leave a comment below.
---
Post A Comment
You must be logged in before you can post a comment. Login now.
Featured Product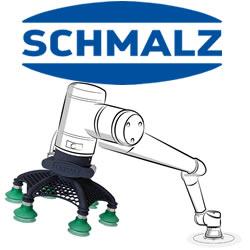 In order to interact with their environment and perform the tasks, lightweight robots, like all industrial robots, depend on tools - and in many cases these are vacuum grippers. These form the interface to the workpiece and are therefore a decisive part of the overall system. With their help, the robots can pick up, move, position, process, sort, stack and deposit a wide variety of goods and components. Vacuum gripping systems allow particularly gentle handling of workpieces, a compact and space-saving system design and gripping from above. Precisely because the object does not have to be gripped, the vacuum suction cupenables gapless positioning next to each other.