Another issue is the inability of some AGVs and AMRs to drive smoothly while operating slowly, an important consideration for scenarios where the AGV or AMR itself may perform part or component assembly.
Robust Drive System Simplifies Mobile Robot Development for the Factory of the Future
Article from | STXI Motion
For decades, companies have been using automated guided vehicles (AGVs) and automated mobile robots (AMRs) for intralogistics and warehousing applications. Adoption of both platforms has accelerated as core technologies have improved, and the machines provide affordable alternatives to assigning workers to repetitive or dangerous physical tasks.
In a fall 2020 report, the international market research firm Interact Analysis said that company automation plans for 2024–2025 were being based on the COVID pandemic. Companies realize they must become less reliant on human labor and make manufacturing and warehousing more resilient and efficient. AGVs and AMRs are significant ways to achieve this, but the technology must be up for the ever-evolving challenges that today's factories and warehouses can present.
Common Challenges
Many challenges result from using off-the-shelf drivetrain components not specifically built for AGV/AMR applications. Standard servo drives, motors and gears are designed for stationary machines, where the drives are mounted in climate-controlled cabinets and not on moving vehicles. Especially the gearboxes and servo drives are facing external effects like the radial loads on the gearbox output and vibration as well as shocks due to bumpy surface conditions found in many logistic centers and warehouses. Therefore, a robust design is mandatory for the drive technology.
Another issue is the inability of some AGVs and AMRs to drive smoothly while operating slowly, an important consideration for scenarios where the AGV or AMR itself may perform part or component assembly. If the vehicle or robot makes choppy or rough movements, it could ruin the production process, leading to scrapped parts, downtime, and sunk costs.
"Warehousing and plant deployments require energy-efficient AGVs and AMRs with powerful motors that can achieve high speeds and handle different floor conditions but also offer better controllability when moving at lower speeds," said Siegfried Pries, Product Manager at STXI Motion, a global motion control and servo solution company.
Powerful Drive, Compact Size
To solve this problem, STXI Motion's leadership tasked a team to create a system that manufacturers could use to build more robust AGVs and AMRs. This effort produced the mobiMS mobile motion system (Figure 1) which consolidates its high-torque density brushless servo motor, planetary gearbox, brake, encoder, and servSD servo drive into one platform. The ready-to-use wheel drive runs smoothly at any speed while delivering superior range.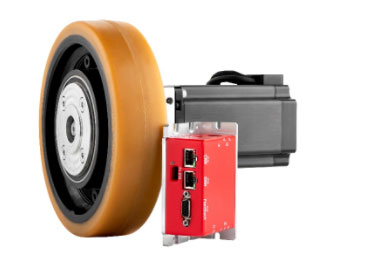 Figure 1: STXI Motion's mobiMS mobile motion system is an optimized wheel-drive system for AGVs and AMRs.
STXI Motion's mobiMS includes strong output bearings and a shock- and vibration-proof servo drive that can withstand the bumpy surface conditions found in many logistic centers and warehouses. The system is available with a 200 mm wheel, a 165 mm wheel, or no wheel; an 80 mm motor frame; a 1:22.5 gear ratio in the gearbox; an IP40-rated motor; and a maximum wheel load of 900 kg at 1.1 m/sec and 600 kg at 2.8 m/sec.
Additionally, the mobiMS system consolidates all components into one unit, offering a compact solution that can be integrated into compact AGV and AMR models. For example, the 500 W motor has a length of 193.5 mm and can reach a peak torque of about 84 Nm.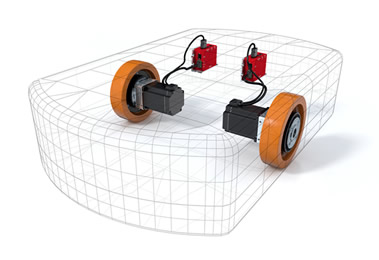 Figure 2: With all components consolidated into one unit, the mobiMS can be designed into compact AGV and AMR models.

"The system's ultra-compact design eliminates complicated gearing and cabling, reduces weight, and frees up space that manufacturers can use for new devices and technologies," said Pries.
Through a CANOpen fieldbus, the system can connect with a master motion PLC. Additionally, the system features a safe torque off (STO) electronic signal that can be used in emergencies to turn off the torque and stop the AGV or AMR safely. This feature eliminates the need for external parts like safety relays, saving AGV and AMR manufacturers money and space.

Cost and Convenience Considerations
Other available technologies exist on the market, such as DC motors. However, an AGV or AMR with the mobiMS system instead of a DC motor will ultimately cost a manufacturer deploying the machine on its factory floor less money over the product's lifetime. This is because the motor technology offers inherent advantages over brush DC motors, meaning less maintenance required. Additionally, a company purchasing an AGV or AMR with the mobiMS system will have only a single contact for the entire system.
"Thanks to the consistent further development in line with market requirements, the AGV is more powerful and flexible than its predecessor," said one AGV manufacturer using the mobiMS system. "The new motor unit enables improved performance data both at top speed and at low driving speeds."
Applying the Systems Approach to More Axes
Building on the success of the mobiMS system, STXI Motion plans to apply the same system approach to other axes and functions. Using an optimized / integrated system strategy will enable the company to consolidate the components for machine lifting and picking, for example.

Figure 3: The drive system combines a brushless servo motor, brake, encoder, planetary gearbox, and servo drive into one unit.
"The systems approach simplifies product design, assembly, and maintenance," said STXI Motion Product Line Manager Siegfried Pries. "It makes everything easier, and it is clear who is responsible for the systems. Customers can talk to us if they have a technical or application question instead of having to go to several other companies."
Beyond integrating gear motors and drives for motion, the company intends to make all its products – including integrator motors, motion controllers, and low voltage servo drives and motors – as simple, robust, adaptable, and affordable as possible.
Deploying AGVs into manufacturing environments delivers consistent and reliable mass production capabilities while significantly increasing production and operation efficiency. The factory of the future is being built with Industry 4.0, and with people and machines working together, future factories will change the way we manufacture forever.
The content & opinions in this article are the author's and do not necessarily represent the views of RoboticsTomorrow
---
Comments (0)
This post does not have any comments. Be the first to leave a comment below.
---
Post A Comment
You must be logged in before you can post a comment. Login now.
Featured Product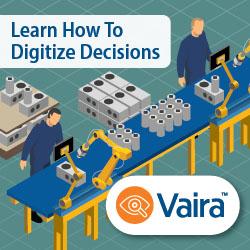 Vaira™ helps manufacturers digitize, automate, and upgrade error-prone manual processes and decisions to boost productivity and increase profits by helping humans make decisions consistent, reliable, and traceable. The camera-based solution is powered by a scalable suite of shop floor-ready apps built on proven machine vision and AI expertise for frontline manufacturing operations, with two-way integration to resource planning tools to help drive continuous analysis, insight, and improvements. Start digitizing immediately, streamlining processes customized to your unique requirements and reduce errors that lead to costs, delays, and quality concerns.