The most critical piece of automation, and the one that determines whether that expensive robot arm will ultimately deliver a return on its (significant) investment, is the software that powers it.

Article from | PLUS ONE ROBOTICS
When warehouse managers consider approaching automation, they correctly picture robotic arms and machines that use novel grippers and pickers to move items from one place to another. And those things are important. But the most critical piece of automation, and the one that determines whether that expensive robot arm will ultimately deliver a return on its (significant) investment, is the software that powers it.
If you're planning to automate some portion of your operation, it's just as critical that you consider your software solution carefully as it is to choose the best robot for your application.
It's a daunting task. It's far easier to look at hardware and understand exactly what you need than it is to consider the wide-reaching effects your software selection could have on your throughput, your operational efficiency, and your bottom line. The software must be customizable and intelligent, and it must allow the humans in the warehouse to continue working efficiently too. Because while robots work, people rule.
That philosophy has been the driving assertion behind Plus One Robotics from the beginning, when we developed the PickOne and Yonder software solutions to increase warehouse throughput without increasing the need for already constrained labor to carry out these tasks.
"The goal is to help humans move to value-added positions in the warehouse by building software that is smart enough to know that no hardware plus software solution will be perfect on its own," said Erik Nieves, CEO. "Robots are useful tools, but like any tool, they function best with human oversight. Plus One's software solutions were built to optimize the application of human intelligence and robotic proficiency in an industry facing severe labor shortages, growing throughput, and space demands."
What Does Plus One Robotics' Software Do?
There are several applications for the Plus One Robotics software suite, and each can be customized depending on the specific needs of your application. The software uses 3D vision capabilities and artificial intelligence coupled with machine learning to handle tasks like picking items from containers and placing them onto conveyor belts, receiving and unpacking pallets of various shapes and sizes (Plus One's solution allows robotic arms to "see" and depalletize mixed pallets up to eight feet tall, significantly higher than many software applications allow), and removing items from segmented totes.
All these tasks have several things in common that make them easy for humans to do but make them ripe for automation. They're repetitive and somewhat predictable, which is part of the reason warehouse managers responsible for these tasks struggle to maintain an engaged workforce and experience high turnover rates.
Exceptions Make the Difference
Imagine a mixed pallet arrives in your warehouse to be depalletized and pushed through to ship out the same day. The PickOne Perception Kit begins by imaging the items, analyzing 2D, 3D, and AI data to command the robot how to best pick each item and place it on the conveyor. Once an item is placed, PickOne verifies the placement or takes corrective action to ensure each placement is completed successfully.
Of course, there are situations where the vision software can't verify the best pick points—this happens frequently around the holidays when manufacturers use more reflective and shiny packaging that challenges the cameras (and when demand in warehouses is highest and throughput is even more critical).
In cases where the PickOne-driven robot isn't sure what to do, it sends a real-time alert to a remote Crew Chief who uses Plus One's Yonder remote supervisor software to evaluate the situation and command the robot. This real-time exception handling is the key to accelerating throughput and adapt to the variability of the warehouse. Not only does the human in the loop get things moving again quickly, preventing unnecessary downtime, but the software learns from each human interaction, building its knowledge of how to handle such situations in the future and steadily increasing productivity over a short time.
Plus One Robotics has developed not only the highest throughput solution in the industry but the highest quality systems as well. By coupling PickOne with Yonder, our partners' robots can handle the endless variation in warehouse applications by leveraging human intelligence to make critical decisions on the kinds of edge cases that wreak havoc with AI-based solutions alone. This creates a truly fault-tolerant software system that is unprecedented in the materials handling industry.
Hardware works. Thanks to software.
Our partners are developing fantastic hardware applications to help packing and shipping organizations like yours meet the ever-increasing demands of ecommerce, and Plus One Robotics is excited to continue innovating the software that makes those applications capable of continually increasing capacity and performance.
The combination of Plus One Robotics' software and our industry partners' hardware solutions has been shown to:
Free up 7-10 human associates per shift to do value-added work instead of routine and repetitive tasks
Reduce turnover by improving job satisfaction
Reduce cost per unit processed
Decrease exceptions that cost precious time by more than 50%
Reclaim more than 10,000 square feet of floor space from accumulation conveyors that are no longer needed
To learn more about the variety of Plus One Robotics' software solutions and how they can help in your automation efforts, or to speak with someone about becoming an integration partner, contact us at hello@plusonerobotics.com.
The content & opinions in this article are the author's and do not necessarily represent the views of RoboticsTomorrow
---
Comments (0)
This post does not have any comments. Be the first to leave a comment below.
---
Post A Comment
You must be logged in before you can post a comment. Login now.
Featured Product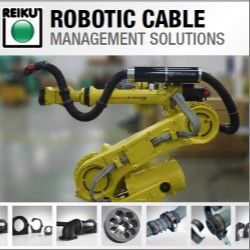 REIKU's Cable Saver™ Solution eliminates downtime, loss of revenue, expensive cable and hose replacement costs, maintenance labor costs. It's available in three sizes 36, 52 and 70 mm. All of the robots cables and hoses are protected when routed through the Cable Saver™ corrugated tubing.The Cable Saver™ uses a spring retraction system housed inside the Energy Tube™ to keep this service loop out of harms way in safe location at the rear of the Robot when not required. The Cable Saver™ is a COMPLETE solution for any make or model of robot. It installs quickly-on either side of the robot and has been tested to resist over 15 million repetitive cycles. REIKU is committed to providing the most modular, effective options for ensuring your robotic components operate without downtime due to cable management. www.CableSaver.com