Brace yourself as we dive into the top 10 incredible advancements that arose after 2020 and are radically changing the way we live, work and play.
Renaissance of Robotics: The Top 10 Marvels in the Post-COVID Age
Article from | Knight Optical
At Knight Optical, we've got our fingers on the pulse of the robotics and automation industry, and we can't contain our excitement about the jaw-dropping innovations coming out of the sector, especially in the aftermath of the coronavirus. Brace yourself as we dive into the top 10 incredible advancements that arose after 2020 and are radically changing the way we live, work and play.
It seems like an eternity since we encountered the era of the global health crisis. The concept of social distancing, mask-wearing, constant hand sanitisation, and limited gatherings are all but a distant memory. Nevertheless, there was a silver lining: the viral infection forced industries to level up and think outside the box, and the field of robotics jumped right on the wave of change.
Prepare to be captivated as we reveal our thrilling countdown of the most cutting-edge efforts that materialised amid and in the wake of this historic period.
10. Futuristic Friends: The Rise of Social Robots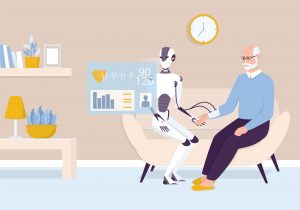 SARS-CoV-2 not only resulted in tangible wellbeing implications but also triggered a crucial mental health concern: loneliness. This issue, particularly rife among older individuals, peaked in 2020 when scores of people went for weeks without communication. Thankfully, AI and computer vision presented strategies to tackle seclusion in the form of human-robot interaction systems Take, for example, Hanson Robotics' humanoid 'Grace', tailored for engagement and aimed at alleviating the pressure of front-line hospital staff.
Recently, discussions were held in the UK between members of parliament regarding the possible integration of these machines into our social care system, something which is already established in technologically trailblazing nations such as Japan [1].
9. Turbocharged Drop-offs: Delivery Robots
Given the reduced interactions and expenses on eating out, many accumulated savings across lockdowns. Yet, virtual shopping surged. Naturally, this development brought delight to web-based merchants. Nonetheless, the majority faced the arduous task of fulfilling escalated demands while following safe distancing policies. Then, along came the era of automated dispatches.
Now, unmanned vehicles are popping up throughout the globe. In the UK, self-driving couriers emerged, serving brands including Co-op [2]. Starship Technologies facilitated the supermarket's shipments in Greater Manchester and is set to expand to the HOK-Elanto region in Finland for other grocery stores [3].

Meanwhile, in Santa Monica, famished patrons of Uber Eats benefitted from the convenience of obtaining deliveries via 'robotaxis' in a trial phase last May [4]. Currently, the online food ordering platform is joining forces with Waymo's autonomous transport in Phoenix to facilitate the efficient delivery of orders [5].
8. COVID-Killing Robots
Although the situation has settled post-corona, there was a stage when UVC bots gained immense esteem. Through that spell, they were extensively deployed in multiple establishments; for example, medical centres, to effectively disinfect areas while operating alongside humans in a safe manner.
Today, these germicidal machines aren't as prevalent in hospitals. However, they have found new applications in different domains. For instance, in the realm of agriculture, UV robots are making their mark. In the UK, they're assisting one farmer in cultivating the nation's beloved fruit, strawberries. Positioned within the greenhouse, the high-tech horticulturalist uses UVC light to combat pests and mildew, ensuring optimal crop growth [6].
7. Beyond Man's Best Friend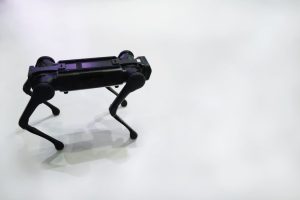 Living in a society brimming with canine lovers, we simply couldn't allow robodogs to evade the focus they deserve. Although somewhat dystopian, their memorable street presence in Shanghai's stringent stay-at-home orders of 2022, where they barked protocols upon individuals [7], and Boston Dynamics' 'Spot' robot dog patrolling the streets of Singapore to assure adherence to spatial distancing rules [8], garnered significant attention.
Subsequently, these mechanical hounds have experienced a surge in popularity, even making notable appearances at esteemed shows such as this year's upscale doggy gathering, Goodwoof. Here, IBM's 'Spot' intermingled with both the public and its four-legged counterparts.
6. Revolutionary Avatars: Telepresence Robots
Regardless of the numerous event cancellations of 2020 and 2021, a graduation ceremony in Japan went ahead, adhering to pandemic-related rules. Newme robots by OhmniLabs played an extraordinary role, wearing ceremonial gowns and academic caps, with tablets displaying quarantined students receiving their degrees from university officials [9].
In 2023, graduations have become feasible again, but the use of technology continues to evolve. Recently, Cornell University researchers introduced an outstanding telepresence robot which not only represents remote users but also mimics physical movements, enhancing the sense of presence [10].
5. You Are the Dancing Machine
For our first Christmas shutdown, Boston Dynamics released a heart-warming video featuring their Atlas and Spot robots, grooving to 'Do You Love Me' by The Contours, bringing joy to the season.
Since then, Atlas has further upgraded its capabilities. It now has clamp-style hands and has expanded its skills to include building tasks. In impressive footage, Atlas can be seen retrieving tools and tossing them to a construction partner on scaffolding [11].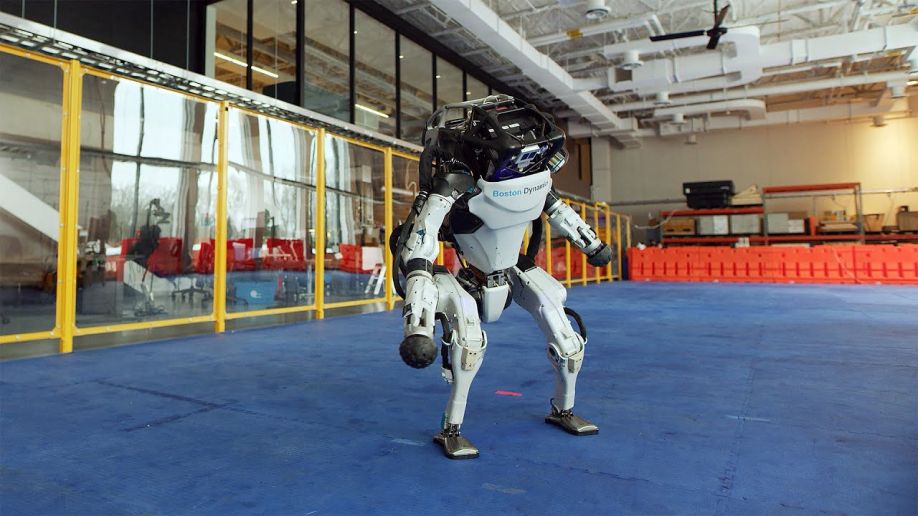 4. Robotic Hospitality: Revolutionising Hotels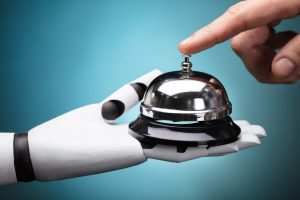 As the gradual easing of quarantine measures was introduced in various countries, the anticipation of freedom was hindered by the lingering fear of virus transmission. In response, a forward-thinking resort in Johannesburg took an original approach. Hotel Sky embraced innovation by introducing three robots called Lexi, Micah, and Ariel to help customers exhibiting symptoms of the virus [12].
3. Anthropomorphic Robots
In December 2021, as we anxiously awaited news of another potential festive lockdown, Engineered Arts, a UK business, announced an interesting release: their first-generation humanoid which would later gain internet fame.
Titled Ameca, the striking android possesses incredibly lifelike facial expressions and boasts advanced conversational abilities, closely resembling mankind.
2. Tech on the Rocks: Embracing Bartending Bots
Imagine this scenario; it's a Thursday evening, and you're enjoying after-work drinks with some colleagues. Despite your best efforts to avoid it, it's now your turn to buy a round. As you make your way to the bar, you're greeted by a fascinating sight – a robotic mixologist.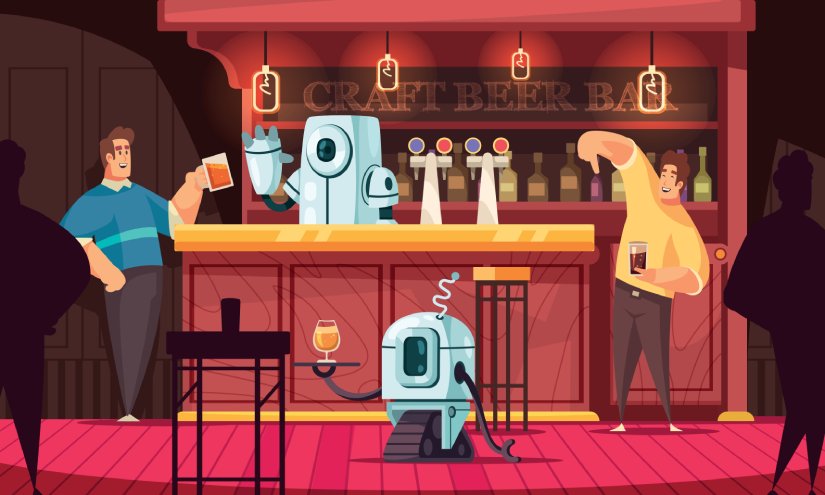 This invention, named Kime, is the creation of Macco Robotics, designed to efficiently serve food and beverages. Kime can dispense two beers every six seconds and has gained recognition at major events like the Spanish Mobile World Congress of 2022.
1. Robo-Superstar: The Blockbuster Breakout We Never Saw Coming
Surprising us all during the summer of 2020 was the unexpected revelation that an AI robot would be gracing the silver screen in a groundbreaking move for the industry. The $70m sci-fi film, 'b', made waves when it announced Erica, an android created by Japanese Professor Hiroshi Ishiguro, as its star. Recognised as the 'most beautiful android,' Erica has recently captured attention with her incredible ability to engage in laughter during conversations with humans.
Although details regarding the movie's release remain undisclosed, the recent arrival of the high-tech horror film, M3gan, earlier this year has prompted contemplation about the future of robotics and the proximity of lifelike robotic toys for children. While we are still a considerable distance away from full-time automated companions that convincingly mimic human interactions, it is fascinating to observe how producers envision the technology of tomorrow.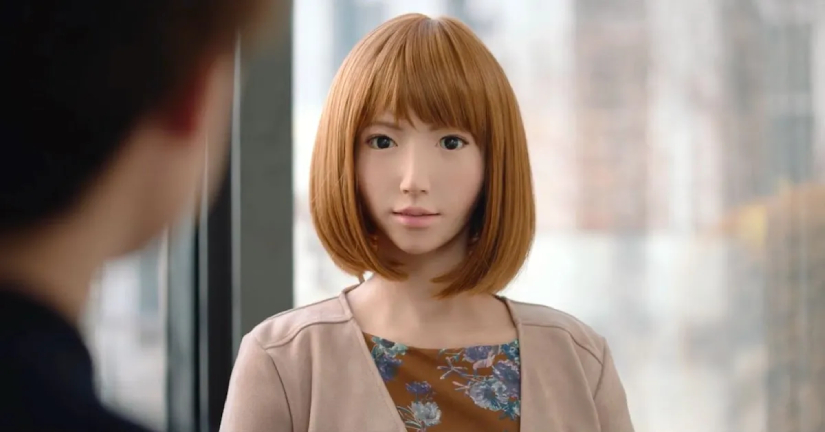 Knight Optical: Optical Excellence in Robotics & Automation
For Robotics & Automation R&D professionals, we understand unique requirements for optics. Here at Knight Optical, we specialise in providing tailor-made solutions that perfectly fit alongside your projects. With an emphasis on ease of ordering and quick turnaround times, we ensure a seamless experience from enquiry to shipping and troubleshooting. What's more, as a smaller, personable company, we assign you a dedicated account manager who will assist you every step of the way.
FOOTNOTES:
1 https://www.telegraph.co.uk/global-health/science-and-disease/ai-robots-elderly-homes-social-care-health-secretary/
2 https://www.co-operative.coop/media/news-releases/robot-deliveries-roll-out-in-greater-manchester
3 https://retailtechinnovationhub.com/home/2023/5/3/s-group-and-starship-technologies-launch-robot-deliveries-in-finland
4 https://www.forbes.com/sites/martineparis/2022/12/16/uber-is-back-in-the-robot-business-just-in-time-for-ces/?sh=27e5f3313a64
5 https://www.theverge.com/2023/5/23/23733547/uber-waymo-robotaxi-phoenix-delivery-autonomous-ridehail
6 https://www.hortidaily.com/article/9461240/uk-strawberry-grower-uses-uv-light-robot-to-keep-powdery-mildew-at-bay/
7 https://www.businessinsider.com/video-robot-dog-covid-19-instructions-in-lockdown-shanghai-china-2022-4?r=US&IR=T
8 https://spectrum.ieee.org/how-robots-became-essential-workers-in-the-covid19-response
9 https://www.theguardian.com/technology/2020/may/31/the-five-robots-helping-to-tackle-coronavirus
10 https://www.imeche.org/news/news-article/robot-avatar-mimics-your-movements-when-you-can%27t-be-there-yourself
11 https://www.youtube.com/watch?v=-e1_QhJ1EhQ
12 https://news.sky.com/story/covid-19-robots-in-johannesburg-hotel-serve-customers-with-symptoms-12219076
The content & opinions in this article are the author's and do not necessarily represent the views of RoboticsTomorrow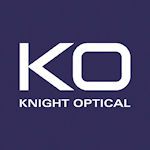 Knight Optical (USA) LLC
We are a trusted leading global figure in the production and distribution of scientific, stock and custom precision optics with over 30 years' experience providing optical solutions for a huge range of instrumentation in most industrial and research sectors, building strong reliable relationships. Our team supplies customized precision optical components in UV-VIS-NIR materials. No product is released to the customer until it has been examined in our advanced metrology laboratory.
Other Articles
Robotics and automation have greatly enhanced the development of oil and gas by improving maintenance and repair, production efficiency, and safety monitoring.
Optical components play a key role in the optimal performance of today's cobots, allowing them to see and respond to their environment in real-time and ensuring that they operate safely and effectively.
With another year over and more global issues to address, not only are there many technologies and innovations to reflect on this year, but there are also exciting new developments on the horizon for 2023.
---
Comments (0)
This post does not have any comments. Be the first to leave a comment below.
---
Post A Comment
You must be logged in before you can post a comment. Login now.
Featured Product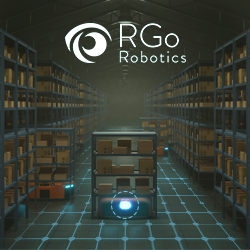 RGo's intelligent vision and AI system, Perception Engine™, provides mobile robots with 3D perception capabilities, enabling them to understand complex surroundings and operate autonomously just like humans. Its camera-based system operates is able to localize, map, and perceive in even the most robust environments including indoor/outdoor and dynamic or unstructured environments.