Manufacturing

Marketing Partner
---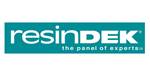 ResinDek / Cornerstone Specialty Wood Products
As the manufacturer of ResinDek® panels, we have been at the forefront of testing and innovating flooring panels for the Material Handling Industry since 1994. In 2007, we began providing ResinDek panels for automated warehouse distribution robots. Much of our initial research and development occurred with Automated Guided Vehicles. In the last decade, we have provided a variety of ResinDek engineered flooring products to numerous Automated Guided Vehicles (AGV) and Autonomous Mobile Robot (AMR) manufacturers for their testing labs. As a result, millions of square feet of ResinDek panels are in service worldwide with robotic traffic in distribution centers, warehouses, microfulfillment centers, and retail environments.
---
Mailing Address:
12020 Tramway Drive
Cincinnati, OH 45241
United States of America
Tel: 8887553048
Email: info@resindek.com
Website: https://www.resindek.com/
Company Category: Mobile Robots
Company Sector: Manufacturing
Keywords: agv, warehouse, logistics, material handling, processing
Partner Status: Marketing Partner
---
Products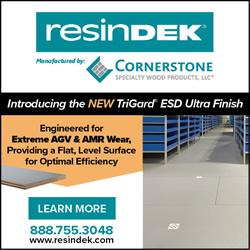 To maximize the productivity of an autonomous mobile robot (AMR) or automatic guided vehicle (AGV) deployment, it's critical to create the optimal environment that allows the vehicles to perform at their peak. For that reason, Cornerstone Specialty Wood Products, LLC® (www.resindek.com) created the TriGard® ESD Ultra finish for its ResinDek® engineered flooring panels. The TriGard ESD Ultra finish is ideal for high-traffic robotic applications characterized by highly repetitive movement patterns and defined travel paths.
---
---
White Papers
This Company does not currently have any White Papers
---
---