The consumer testers will encounter a wide range of Las Vegas traffic on public roads – from the famous pedestrian- and traffic-saturated strip, to busy freeways and cross roads.
LAS VEGAS, NV -Torc Robotics is offering consumers private rides in its self-driving cars on the streets of Las Vegas during CES 2018 January 9-12. The rides mark the start of the consumer-testing phase of commercializing Torcs Asimov self-driving car system.

The consumer testers will encounter a wide range of Las Vegas traffic on public roads - from the famous pedestrian- and traffic-saturated strip, to busy freeways and cross roads. "The public will get to experience self-driving rides through the Las Vegas strip, freeways, and streets of Las Vegas." said Torc CEO Michael Fleming. "Torcs Asimov fleet autonomously handles complex intersections, traffic lights, high-speed merges, and unpredictable pedestrians. Then there is the all-too-common Las Vegas tourist slowing unexpectedly to catch a special view."
Torc will randomly select consumer testers each day from a pool of public opinion surveys. CES attendees interested in participating are asked to sign up by taking the survey at Torcs CES booth (LVCC, North Plaza - NP-16).
Information and feedback collected from post-ride surveys will be used to influence future technology decisions by Torc and its partners, according to Fleming. "Understanding public concerns and desires is critical not only for building a system people can trust, but also one they want to use," he said.
"We believe self-driving cars will make the world a safer, more accessible place once the technology is integrated in society. This will only happen if consumers want it - its not a technology that can be pushed or forced onto the market," he added. "Developing technology is the easy part, understanding what consumers want is the difficult part."
During the rides, the car will drive itself, but an experienced safety driver will sit behind the wheel. Torc is one of the oldest self-driving car teams developing autonomous technology today. Torcs Asimov self-driving system is the product of 10 years of autonomous system experience kickstarted by a third-place win in the historic 2007 DARPA Urban Challenge.
Asimov has been tested on public roads in more than 20 states, including an autonomous round-trip cross-country drive in July 2017. Torc announced in October that it would demo its technology on public streets during CES. In December, Torc released an Asimov system capability list.
Torc is developing its self-driving technology through a partnership model and working closely with carmakers, original equipment manufacturers (OEMs), and Tier 1 and Tier 2 suppliers.
Sign up for ride
Torc Robotics booth at CES 2018
LVCC, North Plaza - NP-16
Follow Torc at CES
Torc CES 2018 Press Kit
Twitter: @torcrobotics
About Torc Robotics
Torc Robotics, headquartered in Blacksburg, Virginia, provides end-to-end self-driving solutions across multiple industries, including automotive, mining, and defense. Founded in 2005, Torc has integrated its components and systems on ground vehicles ranging from consumer SUVs to 300-ton mining trucks—in safety-critical environments. Torc first gained notice when it developed the self-driving software stack for Virginia Tech in the 2007 DARPA Urban Challenge. As one of three winners of the DARPA Urban Challenge, Torc has commercialized this technology through partnerships with original equipment manufacturers (OEMs) and their Tier 1 suppliers.
Featured Product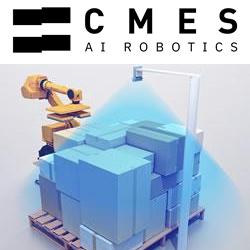 Powered by AI, CMES Robotics enables 3D vision for factory robots. CMES AI vision software enables robots to recognize unstructured, flexible, or deformed objects, pick them up, and loading and unloading. CMES Vision software has been deployed worldwide for random palletization and depalletization along with void filling applications. CMES Robotics automates your warehouse, logistics, and supply chain. For more information, please visit: cmesrobotics.com or email info@cmesrobotics.com.