LEADING WAREHOUSE ROBOTICS COMPANY LAUNCHES NEW PRODUCTIVITY-DRIVING FEATURES AND PERFORMANCE ENHANCEMENTS IN ITS WINTER 2019 "SNOWY OWL" RELEASE
Locus Robotics (www.locusrobotics.com), the market leader in autonomous mobile robots (AMR) for fulfillment warehouses, today announced the launch of its Winter 2019 software and hardware suite, code-named Snowy Owl. The release includes upgrades and enhancements to the Company's robot hardware, navigation software, user experience (UX), and management dashboards and reports that will dramatically improve worker productivity, operational performance, and efficiency for retail/e-tail, third-party logistics (3PL), distribution, and industrial specialty customers.

Locus's Winter 2019 "Snowy Owl" Release is currently on display and available for demonstration at Booth #1981 at NRF's BIG Show, which runs from January 13th - 15th at the Jacob K. Javitz Convention Center in New York City, New York.
"We are thrilled to unveil the Winter 2019 Release, which features significant productivity-driving enhancements to our robotics hardware and software," said Rick Faulk, CEO of Locus Robotics. "It is an exciting time for innovation in retail. Major brands and third party logistics companies are turning to technology to maximize productivity in an increasingly competitive labor market. This new suite of software and hardware includes the most advanced and innovative suite of robotics capabilities on the market to date, and will ensure that our customers can meet the needs of their consumers and achieve the highest productivity gains possible."
New features include:
Gamification: Using dynamic worker performance indicators, this exciting feature helps motivate and inspire higher productivity via fun competition. Measured either individually or in teams, workers are able to see, in real-time, how their individual performance compares to that of their peers, through leaderboards and rankings, and earn on-screen awards.
Directed Picking: Intuitive on-screen graphics direct the warehouse worker to the next nearest pick location, helping to minimize unproductive walking time and improve picking speeds.
Worker Performance Indicators: This dynamic feature allows each worker to graphically visualize her productivity level while working, in real time, both in the absolute, and relative to her performance goals. This is especially valuable when "pay-for-performance' incentives are being used.
Blue Safety Light: Bright safety light projects out the front of each bot when in operation, for added warehouse safety.
In-Depth Management Reporting: The new management portal features detailed reporting systems to optimize and manage operations. Through the portal, operations personnel can review all robot and worker performance both in real time, as well as historically. For example, real-time heatmaps help management easily identify workflows to efficiently manage product slotting.
Congestion Management System: Dynamic software actively tracks and adjusts the robots' travel paths through the warehouse to minimize traffic congestion, thus allowing for significantly higher productivity and picking speed.
"Top-Off" Auto-Charging: The Locus software automatically recognizes slow order times to direct robots to charge, or "top off." This ensures that all bots are at optimal charge states during peak operational periods, minimizing any downtime.
Top-mounted E-Stop Button: The safety stop button is now mounted to the top of each robot's mast for easier access.
Electrical Peripheral Support: The robot's vertical mast now incorporates an electrical harness that allows the customer to attach a printer or other peripheral device.
The company has also announced new seasonal pricing programs in order to make the integration of the Locus robotics system easier, and more cost-effective, during peak e-commerce seasons.
ABOUT LOCUS ROBOTICS
Locus Robotics transforms your ecommerce fulfillment productivity without transforming your warehouse. Our powerful and intelligent autonomous mobile robotic solution works collaboratively alongside workers to dramatically improve productivity 2X-3X faster, with less labor compared to traditional picking systems. This award-winning solution helps retailers and 3PLs efficiently meet and exceed the increasingly complex and demanding ecommerce fulfillment environments, easily integrating into existing warehouse infrastructures without disrupting workflows. For more information, visit www.locusrobotics.com.
Featured Product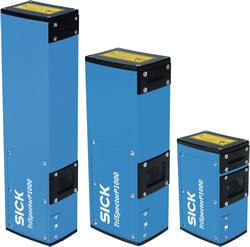 LiDAR (Light Detection and Ranging) is one of the most reliable methods for parts sensing in factory automation today. SICK has made this technology affordable and easy to use! Click on the video link below to learn about the TiM1xx LiDAR sensor and how it provides: - Area scanning LiDAR technology in a standard sensor package - 200-degree field of view and 3 meter sensing range allows for 169 square feet of area scanning - Compact size and light weight enables ease of deployment in "non-standard" type applications, like end-of-arm robotic tooling - Wide area scanning without having to mount a transmitter and receiver makes installation much easier - IO Link for easy configuration