Robots and software work hand in hand, but what does this mean in concrete terms? How is software essential for robots? Why and how is it necessary to develop software specifically adapted to robotic applications? What are the future trends in software for robotics?
Is Software the Future of Robotics?
Article from | AV&R
Since the first industrial robot was created in the 1950s , industrial robotics has continued to develop and take a prominent place in the manufacturing of many industries. In the 1970s, manufacturers began to equip themselves with robotic solutions to facilitate and improve their production.
According to the official definition, a robot is a machine programmable by a computer and capable of performing a series of complex actions automatically. The very definition of a robot is therefore intrinsically linked to computers and software. More simply, a robot cannot move without a previously created computer program.
Robots and software work hand in hand, but what does this mean in concrete terms? How is software essential for robots? Why and how is it necessary to develop software specifically adapted to robotic applications? What are the future trends in software for robotics?
This article provides answers to these complex questions and presents the specific case of robotic solutions and software in the field of aeronautics, and more specifically the aircraft engine market.
Why is it necessary to develop robot management software?
Industrial robots are complex high-tech machines which represent a significant investment on the part of manufacturers on their production lines. The optimal use of robots is a challenge and a requirement when installing industrial robots, the need for designers of robotic solutions which focus on making them easier to use is therefore undeniable. In a context of shortage of skilled labor, particularly in the aeronautical sector, it is difficult for manufacturers to provide resources such as robotics engineers to manage robots on a daily basis. Dedicated software has been designed so that everyone can use them without constraint and without major technical knowledge in programming. This makes it possible to democratize the use of robotics and quickly train operators capable of managing industrial robots.
Current robotic software
The majority of robotic solution designers are developing their systems based on the use of simulation and programming software already developed by the robot manufacturers themselves. Indeed, robot manufacturers such as Fanuc have implemented software that facilitates the use of their robots and allow different industrial users to manipulate them easily. The Fanuc Handling Pro software is used to create, program and simulate the 3D robot's path in offline mode. The software then sends the information to the robot that can execute the prepared path. Indeed, robot manufacturers design their software applications for all types of industries and do not customize them to meet the exact needs of certain applications, including complex applications with high technological requirements such as the manufacture of aircraft engine parts. We see some exceptions of specialization with add-ons created for software intended for large branches of automation such as painting, welding or handling.
The daily use by industrial operators of the general simulation and programming software currently on the market remains limited in helping them achieve the optimizations they need. They have no adaptive features or allow for real-time changes. Moreover, they do not have control of the robot. The need to develop software dedicated to robotic finishing and inspection that is more efficient but remains affordable for industrial users is therefore real.
The future of software for robotics
Each industry is different and therefore has specific production needs. In the aerospace industry, and more particularly the gas turbine parts manufacturing market, we realize that the production requirements will continue to have an undeniable impact on the development of software for robotics.
Having total management and traceability of the robotic system is part of the demands of manufacturers, which would allow them to have better control of their production. They also need to quickly and easily introduce new equipment to robotic systems, be they measuring devices or tools dedicated to feedback. Modification and revision tracking of the parameters (speed, robot force, force of the tools, etc.), integration of new parts on which the robotic system performs the work, or adaptive functionalities (inspection of the part at the beginning and during the sequence for automatic adjustment of the path) are all characteristics of software applications of the future that meet the growing requirements of manufacturers and facilitate their production.
Currently, in the field of aeronautics, this type of software focused on surface finishing and inspection is virtually non-existent. BrainWave, the software dedicated to robotic surface finishing systems designed by AV&R, is the sole representative of this new advanced version of software for robotic solutions. It meets the various needs set out above while remaining easy to use for industrial operators, requiring no programming knowledge on their part. Customization and control of the robotic system are now possible thanks to this type of software.
Conclusion
Technology has always helped to solve the problems of industrial production. The development of new high-tech solutions must therefore continue to be done to anticipate these problems and improve production. Since the invention of robots, software has occupied a major place in the field of robotics. They are now the future. With the development of new software features that allow for better control of the robot, quick customization of sequences, and ease of use for all, software will take robotics to the next level.
Current efforts by developers of robotic solutions to develop their software are at an early stage. Indeed, the design of this type of software specifically developed for certain industries and adapting perfectly to their needs is undertaken by very few companies.
Finally, industrial trends will continue to influence the development of software for robotics. Data accumulation or connectivity of robotic systems with the rest of the production are demands of the industry 4.0 that will be made possible thanks to the software of robotic systems.
The content & opinions in this article are the author's and do not necessarily represent the views of RoboticsTomorrow

AV&R
A leader in industrial automation for 25 years, AV&R is a robotics engineering company with 80 employees worldwide. We design complex robotic systems with a high level of technology. The expertise of our team of engineering graduates has been developed on gas turbine parts (with or without coating), which today forms the core of our activities. Specifically, AV&R offers robotic finishing machines (profiling, polishing, deburring), and automated visual inspection to manufacturers of gas turbine engine parts, for both aircraft engines and power generation.
Other Articles
What are the differences between these two CNC and robotics systems? What are their characteristics and how do you determine which one is best suited to the needs of your industry?
---
Comments (0)
This post does not have any comments. Be the first to leave a comment below.
---
Post A Comment
You must be logged in before you can post a comment. Login now.
Featured Product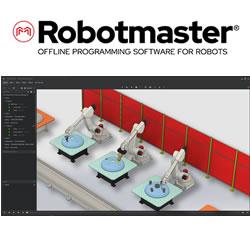 Robotmaster delivers unmatched, full-function off-line programming capability for robots - easy programming of precise robot motion control and quick generation of path trajectories of any size, with minimal programmer intervention. Our strong background in CAD/CAM (Computer Aided Manufacturing) software has enabled us to bring a revolutionary approach to programming industrial robots.