Industrial IT and automation expert Novotek UK and Ireland have launched a new e-store to help engineers and technicians to source advanced industrial automation hardware online. Engineers, plant managers and manufacturers can now buy automation products and solutions for industrial equipment directly from the website, streamlining the process of investing in or replacing automation systems. The store is available at www.novotek-estore.com.
The site has launched with over 70 of the most commonly used hardware products from Emerson Automation Solutions, ranging from operator interfaces to products in the PACSystems range of programmable automation controllers (PACs). Engineers and managers can use these systems to replace existing controllers and upgrade existing systems with more modern automation solutions.
Novotek will continue to expand the range of products available via the e-store with products from Novotek's range of partners. Visitors are able to search the site's products by category, by usage or by product code, allowing them to find the right system for their needs.
"For over 30 years, we have helped engineers and technicians find the right advanced industrial automation hardware and software in Northern Europe," explained George Walker, managing director of Novotek UK and Ireland.
"Over the years, engineers, plant managers and manufacturers would come to our experts for consultations or to find better industrial IT equipment that meet their requirements. However, we also realised that not all the engineers and technicians needed a consultation, but a quick way to buy their products or specific services. This e-shop provides the quickest, safest and most efficient way to deliver industrial equipment to businesses that know precisely what they need, while still offering consultations and product expert services.
"This also extends into our current lockdown situation, where consultations are more difficult and site visits are not safely possible. To help our customers during this emergency situation, we hope this online shop will help customers self-serve and obtain the vital products they need to keep their operations running."
Orders are dispatched as quickly as possible. Support is available via live chat services or by telephone on +44 (0)141 332 1551. For other enquiries about the new e-store or for further system support, contact the team on the Novotek UK and Ireland website.
Featured Product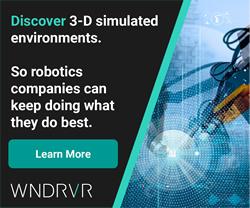 Build and deploy robust, reliable, and secure Linux-based robotic systems without the risk and development effort associated with roll-your-own (RYO) in-house efforts. With Wind River Linux get the industry's most advanced embedded Linux development platform, with a comprehensive suite of products, tools, and lifecycle services to help robotic manufacturers build the next-gen robotic systems. Your robot wants it!