In addition to being time- and energy-efficient, this brazing process was easy to accomplish and could successfully be implemented on the line.
The efficiency of automated induction brazing for stainless steel joints has recently been demonstrated by UltraFlex Power Technologies. UltraFlex is a leading manufacturer of digitally controlled induction heaters and frequently announces the results from test induction heating applications set up per customer request.

In this test scenario, 4 joints of stainless steel had to be evenly brazed for a customer in the automotive industry. The goal was to evaluate the time and induction heaters parameters required for the process and ensure consistent results and repeatability, so the process could be implemented on the production line.
An UltraFlex induction heater from the UltraHeat W series was considered most appropriate for this induction brazing scenario. UltraHeat W are advanced, cost-effective 5-15 kW Induction Heaters utilizing the latest switching power supply technology. They feature adaptive digital phase control providing very efficient operation in a wide frequency range.
The induction brazing process required that 2 steel tubes were joined together and an alloy ring placed around the joint. Black flux had been applied for a better brazing process. A helical induction coil was then used to heat the joint on all sides.
At power of 6.1 kW, it took mere 15 seconds for the workpiece to reach the target temperature of 1472°F (800°C) and for the brazing process to be successfully completed. The result was a reliable joint achieved in a fraction of the time needed when traditional open-flame brazing is used.
In addition to being time- and energy-efficient, this brazing process was easy to accomplish which ensured no dependency on the operator skills. By reviewing the results of the induction brazing process for all 4 joints, the customer became confident that this induction brazing provided repeatable results and could successfully be implemented on the line.
Find out more at:
https://ultraflexpower.com/
Contact us at:
+1.631.467.6814
uptnews@ultraflexpower.com
About UltraFlex Power Technologies:
UltraFlex Power Technologies (ultraflexpower.com) offers the most advanced and innovative digitally controlled induction heating equipment in the industry. Its compact modular and flexible systems are suitable for a wide variety of induction heating, casting and melting applications.
Featured Product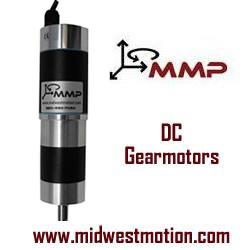 Midwest Motion Products, Inc. (MMP), is a well-established, healthy, & growing Family Owned Business, founded in 2001. MMP specializes in cost-effective standard DC Gearmotors, Motors, Controls, and ancillary equipment. Known world-wide for our "Lightning Fast" delivery capabilities, you can have a Standard Planetary or Right Angled DC Gearmotor BUILT and SHIPPED, often on the very same day you call. Offering Brushed and Brushless designs, with winding voltages ranging from 12 VDC to 120 VDC, we can deliver your "Robust & Reliable" samples within HOURS, instead of weeks, or even months.