Performance advances for manual and automated inspection solutions help manufacturers reduce errors that result in poor product quality, damage brand, and increase costs
Ottawa, Canada - September 26, 2022: Pleora Technologies today introduced new production-ready and customizable performance advances for its AI solutions to help manufacturers improve frontline processes and collect inspection data for analytics. The company is demonstrating its AI solutions at the upcoming Future of Automation Technology Forum, Vision Stuttgart, The Vision Show, and The Assembly Show.

"As we have introduced our AI solutions, our applications team is partnering with manufacturers across a broad range of sectors to better understand their daily challenges and long-term objectives," said John Butler, Vice President of Sales and Marketing with Pleora. "Expanding the off-the-shelf and customizable capabilities of our AI solutions, we're helping manufacturers address immediate concerns related to quality, labor shortages, and increasing costs while they accelerate their focus on collecting and analyzing inspection data to drive process improvements."
Pleora's AI manufacturing solutions include a Visual Inspection System that makes human decision-making consistent and traceable, and an edge processing and algorithm design platform to add advanced defect detection capabilities alongside automated computer vision processes. The company's solutions are now deployed in consumer goods, manufactured parts, print and packaging, and food and beverage inspection.
For visual inspection applications, Pleora is introducing a suite of production-ready Inspection and Tracking & Reporting apps that don't require coding or design. Inspection apps for in-coming, in-process, and final manufacturing steps make product errors obvious for a human operator. Inspection can start with just one good product image. As the operator accepts or rejects initial errors, the AI model is transparently trained and will begin detecting issues and suggesting decisions for the human inspector.
To further improve frontline operations, Pleora's growing library of manufacturing apps are available as production-ready tools that can be customized for unique requirements with the company's eBUS AI Studio development platform. Off-the-shelf apps include tools for barcode scanning, inventory tracking, raw material management, component count, and more.
The company has expanded the capabilities of its Tracking & Reporting apps, which collect actionable insight from manual processes including suspected and confirmed defects and user notes. Manufacturers can now store manual inspection data to local or cloud-based production databases for traceability, shipment management, and batch tracking. New integrated two-way read and write communication with manufacturing enterprise resource planning systems helps end-users monitor, track, and analyze manual inspection data to speed issue resolution and improvement initiatives.
For automated inspection applications, off-the-shelf AI and machine vision plug-ins for common quality inspection tasks can be easily modified as-required in Pleora's "no code" eBUS AI Studio and deployed in production without requiring specialized development skills.
To ease the deployment of AI alongside proven machine vision processes, Pleora's standards-based approach ensures full compatibility with third-party cameras, sensors, processing, and libraries. Manufacturers can add AI inspection without disrupting proven computer vision applications, existing infrastructure, or end-user operations. New standard and customizable two-way communication between the AI Gateway edge processor and programmable logic converters (PLCs) enables control of other vision system components over a range of networking protocols, including Ethernet/IP, Modbus RTU, Profinet, Profibus, and Modbus TCP.
Learn more at Upcoming Shows
Pleora will be demonstrating its AI solutions at a number of upcoming trade shows and events.
• The Future of Automation, an online event on Sept. 28 where Pleora is hosting a session "Vodka and Electronics - Solving Visual Inspection Errors with AI".
• Vision Stuttgart, Oct. 4-6 at Hall 8, Booth C23. Pleora is hosting a session as part of the Industrial Vision Days, "Ensuring Quality with AI for Visual Inspection" on Oct. 5 at 4:40 p.m. at Hall 8 Booth C70.
• The Vision Show in Boston, Oct. 11-13 at Booth 1205. Pleora is hosting a session, "Protect Your Brand with AI Decision-Support for Visual Inspection" on Oct. 11 at 11 a.m. and participating on the panel "AI & Machine Vision: Exploring the Possibilities" on Oct. 13 at 10:30 a.m.
• The Assembly Show in Chicago, Oct. 25-27 at Booth 2044. Pleora is hosting a session, "Vodka, Electronic Assemblies, and Toilet Repair - Make Human Decisions Consistent with AI" on Oct. 25 at 3:45 p.m. in Theater #1.
About Pleora Technologies
Global manufacturers rely on Pleora's expertise in AI, real-time sensor connectivity, and rugged networking to shorten time-to-market, reduce risk, and lower costs. Established in 2000, the company serves over 1500 active customers in the industrial automation, medical imaging, and security and defense markets. The company's latest AI solutions include an intuitive "no code" software platform, edge processing, and camera-based visual inspection system to help manufacturers reduce quality errors. Learn more at pleora.com.
Featured Product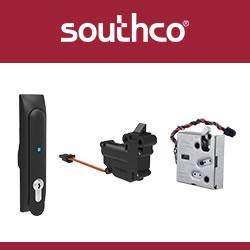 Many robotics engineers need to securely mount and latch sensitive electronic components in their robotics applications; Southco is able to help reduce theft and vandalism with our proven and reliable access technologies. Learn how Southco can help secure your robotics, or other smart city application, from theft and vandalism.