Tech Company Democratizes Robotics With Easy-to-Use Applications
Wandelbots, the German-based no-code robotics software firm, recently opened a U.S. headquarters in Chicago to expand its global operations and accelerate human-centered robotics solutions in the manufacturing industry. Its signature software, Wandelbots Teaching, works the same with any robot, allowing users to control various models with no prior programming knowledge.

As the industrial robotics market continues to grow, developers and end users need an easy-to-use platform for robotic automation. The Wandelbots' no-code solution is built to provide users of all competencies the ability to program a robot for maximum efficiency and automation.
"Our product is tailor-made for the U.S. market, which is ideal as a prerequisite for successful expansion," said Christian Piechnick, Wandelbots founder and CEO. "The labor shortage in the United States is severe right now and is getting worse. Wandelbots can help to face this challenge and support U.S. companies on their way towards automation and digitization of manufacturing processes."
Introducing a U.S.-Based Vice President
The U.S. division will be led by Sue Nicole Susenburger, who joined Wandelbots after nearly eight years at Bosch, most recently as Global Innovation Strategy Manager.
"Wandelbots is driven by the mission to democratize robotics," Susenburger said. "We're providing solutions to family-owned manufacturers that are struggling with labor shortage and need help implementing automation."
Wandelbots Secures First Customers and Strategic Partners
The German scale-up has been growing its portfolio of partnerships, including Ohio-based robot manufacturer Yaskawa America, Inc., Motoman Robotics Div., one of the first original equipment manufacturers to add Wandelbots as a trusted technology partner.
"The Wandelbots Teaching technology adds great value and simplicity to our robots for our customers, especially with our ArcWorld cells," Josh Leath, Senior Product Manager for Yaskawa Motoman, said. "The easy-to-use software paired with its intuitive TracePen input device simplifies the user experience for any of our most popular industrial robots. It relieves the need for extensive robotics programming knowledge and opens new robotics automation opportunities for customers of all sizes."
About Wandelbots
Founded in 2017, the company's mission is to empower everybody to work with robots. It offers intuitive robot programming solutions, Wandelbots Teaching and their unified Wandelbots Developer Platform. Customers like Bayer, Rotop and Vitesco run on Wandelbots. Headquartered in Dresden, Germany. Funding 123 MM US dollars. For more information, click here. https://wandelbots.com/en/
About Yaskawa Motoman
Founded in 1989, the Motoman Robotics Division of Yaskawa America, Inc. is a leading robotics company in the Americas. With over 500,000 Motoman® robots installed globally, Yaskawa provides automation products and solutions for virtually every industry and robotic application, including arc welding, assembly, coating, dispensing, material handling, material cutting, material removal, packaging, palletizing, spot welding, and clinical laboratory specimen processing. For more information, please visit www.motoman.com or call (937) 847-6200.
Featured Product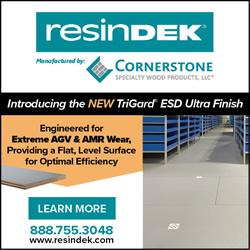 To maximize the productivity of an autonomous mobile robot (AMR) or automatic guided vehicle (AGV) deployment, it's critical to create the optimal environment that allows the vehicles to perform at their peak. For that reason, Cornerstone Specialty Wood Products, LLC® (www.resindek.com) created the TriGard® ESD Ultra finish for its ResinDek® engineered flooring panels. The TriGard ESD Ultra finish is ideal for high-traffic robotic applications characterized by highly repetitive movement patterns and defined travel paths.