-Robotic neutralizing antibody system expands possibilities for rapid detection of immune resistance to COVID -System increases test rate from 15 to over 1,000 daily -Resulting data enables a robust and scalable method for calculating herd immunity against different strains of the COVID virus
ABB Robotics has developed an automated neutralizing antibody testing system with the University of Texas Medical Branch (UTMB) that is the most effective means of determining an individual's immunity to various strains of COVID. Developed by ABB Robotics, Life Sciences and Healthcare Lab, located at the Texas Medical Center Campus in Houston, Texas, the system dramatically increases the number of neutralizing antibody tests performed, from 15 to over 1,000 daily. With a greater number of people assessed for immunity against the different strains of the COVID virus, automating the testing will help UTMB researchers gain a greater understanding of the effectiveness of COVID vaccines.

The continued mutation of the COVID virus since its first appearance in late 2019 has presented a major challenge for both medical researchers and governments, as both find ways to control and limit its spread. Although numerous vaccinations have been developed, the rapid mutation of the virus makes finding the most effective protection against each variant more challenging.
"The ability to carry out more daily tests is the key to generating more data on individual immunity profiles that will help control the further spread of the virus," said Dr. Michael Laposata, professor and chairman of the department of Pathology at UTMB. "By transforming the rate at which testing can be carried out and eliminating the need for large numbers of laboratory staff being exposed to the potential risk of infection in manual testing, the automated system we've developed with ABB provides an accurate, fast, flexible and safe way of meeting our goals."
The aim of the automated neutralizing antibody test is to specifically detect a SARS-CoV-2 neutralizing antibody without cross-reaction with other infection, making this assay a gold standard for COVID-19 serological testing. The resulting data will then be used both by the person being tested and by researchers to better understand immunity from vaccination or infection. The data will also inform local policymakers' decisions on how to minimize the risk of further infection, such as avoiding virus hotspots.
"This project is a clear example of how robotics can increase speed and efficiency, while making work safer for the researchers involved," said Daniel Navarro, Managing Director of Consumer Segments and Service Robotics at ABB. "Working closely with UTMB, we are combining our expertise on biology, lab process, automation and software to develop and deploy an automated robotic solution that significantly advances and informs our response to the COVID pandemic.
The automated neutralizing antibody test was developed using the RobotStudio® offline programming software to model, iterate and test different combinations of lab equipment and robot positions to develop the most effective working concept. As a result of this process, a working system was produced from inception into operation within just 18 months, greatly cutting the amount of time typically required for a project of this type.
"What we managed to achieve in this project within such a short space of time is extraordinary—many multimillion-dollar companies take several years to create solutions like the one we've developed in a fraction of the time," said Juan Garcia, director of Laboratory Services at UTMB.
"None of what we've achieved could have been done without ABB or any of the other parties involved in this project. From the creation and simulation of a working concept in RobotStudio® software through to delivering the physical automated testing cells that are now in use in our laboratory, this is the greatest experience of teamwork I have witnessed in 35 years in this business," said Laposata.
A further benefit of the automated system is its ability to be used for other types of virus testing. The project is just one of several projects worldwide where ABB robots are being used to help find ways to protect against COVID. For more information, visit our healthcare portal page at https://new.abb.com/products/robotics/industries/healthcare
ABB (ABBN: SIX Swiss Ex) ABB is a technology leader in electrification and automation, enabling a more sustainable and resource-efficient future. The company's solutions connect engineering know-how and software to optimize how things are manufactured, moved, powered and operated. Building on more than 130 years of excellence, ABB's ~105,000 employees are committed to driving innovations that accelerate industrial transformation. www.abb.com
ABB Robotics & Discrete Automation as one of the world's leading robotics and machine automation suppliers, is the only company with a comprehensive and integrated portfolio covering robots, Autonomous Mobile Robots and machine automation solutions, designed and orchestrated by our value-creating software. We help companies of all sizes and sectors - from automotive to electronics and logistics - become more resilient, flexible and efficient. ABB Robotics & Discrete Automation supports customers in the transition towards the connected and collaborative factory of the future. The business area employs approximately 11,000 people at over 100 locations in approximately 53 countries. go.abb/robotics
Featured Product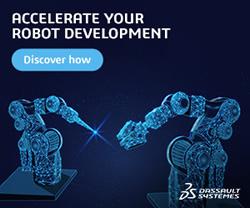 The 3DEXPERIENCE platform on the cloud provides robotics companies with a unified and collaborative solution to manage their end-to-end process in an effective way by bringing together all teams and disciplines involved and guarantee digital continuity during the entire product lifecycle. Connect the dots from robot design to marketing activities, from production to maintenance and bring your robot to market up to 30% faster!