When you visit us at booth 2632, you will be able to experience a live demo of our robotic tool changer system, as well as our new end-of-arm-tooling solutions for material handling in automated manufacturing processes including gripping, suction, and cutting.

Q&A with | Stäubli
Tell us about your company.
Stäubli is a global mechatronics solution provider with four dedicated Divisions: Electrical Connectors, Fluid Connectors, Robotics and Textile, serving customers who want to increase their productivity in many industrial sectors. We are an international group that currently operates in 29 countries, with agents in 50 countries on four continents. Our global workforce of 5700 shares a commitment to partnering with customers in nearly every industry to provide comprehensive solutions with long-term support. Stäubli's North American headquarters is located in Duncan, South Carolina offering support to customers.
The Fluid Connectors Division, a leading manufacturer of quick connector systems, covers connection needs for all types of fluids, gases, and electrical power. Our extensive portfolio of standard and customized products includes robotic tool changing systems, end of arm tooling solutions, and multi coupling systems which all will be on display at Automate 2023.

Your company will be exhibiting at Automate, what is it that makes this an important event for your company?
It has become prevalent that automation is the future. Stäubli Fluid Connectors is dedicated to developing solutions that allow companies to expand their automated manufacturing processes. Automate is always a great opportunity to be among thousands of industry professionals all with a similar goal in mind: advancing automation. The landscape of the automation is ever changing so being able to learn about new trends and applications is extremely beneficial for us as a company focused on finding ways to increase productivity for our customers. Of course, we always look forward to the opportunity to showcase our newest innovations in line with the current demands of the manufacturing industry.

What makes your booth a must visit for Automate Attendees?
The high quality and performance of our systems and components are in high demand in this new manufacturing era, where sustainability and efficiency have highest priority. When you visit us at booth 2632, you will be able to experience a live demo of our robotic tool changer system, as well as our new end-of-arm-tooling solutions for material handling in automated manufacturing processes including gripping, suction, and cutting. These solutions can be tailor-made for all robots world-wide.
When you get a chance to walk the exhibit hall floor yourself, what is it you will be most interested to see? Any educational sessions, pavilions etc. you plan on attending?
We are looking forward to getting the most out of Automate this year. One of the greatest benefits of attending a show of this magnitude is being able to get a sense of the direction the industry is moving in. Our plan is to get out of our booth and explore all that Automate has to offer. Automation in manufacturing relies heavily on system integrators, OEMs, and end-users so we are excited for the opportunity to connect with them, gain insight into what the future holds for industry 4.0, and learn how we can be a part of it.
In addition, it is always great to see how our customers have applied our solutions in their day-to-day operations. We are thrilled to visit the booths of companies like BHS Robotics and Ascent Aerospace who have found value in Stäubli's end-of-arm-tooling solutions and will use them as part of their displays at the show.

The factory floor is undertaking rapid advancements, be it automation, robotics, machine vision or data. Robotics and automation is a huge part for many manufacturers business, give us an idea on how your company and product is being utilized now in advancing logistics, packaging, and the supply chain.
A few months ago, Stäubli Fluid Connectors announced a new partnership with FIPA, a company focused on improving automation by providing quality industrial vacuum and gripper technology. We share the same mission which is to help increase efficiency and reliability in a company's manufacturing processes. With this partnership, we are able to provide not only tool changers, but full end of arm tooling solutions for logistics packaging from one source. Our broad portfolio of material handling solutions and the modularity of our tool changers allows robot pick and place applications to be more flexible, durable, and easier to maintain.
Give us your thoughts on what the future holds for manufacturers and automation technology.
It is predicted that 90% of businesses will adapt robotics by 2030. The future of manufacturing relies heavily on automation. Manufacturers who aren't thinking about automation will eventually be left behind.
Automation can be the answer to a lot of the current issues effecting manufacturers today. One thing that comes to mind is the current labor shortage. Manufacturers are turning to automation at high rates because it's been difficult to find workers with the skillset required to be successful in these production environments. Although robots and automation can never completely replace humans from the work force, it will be necessary for these two entities to learn to collaborate seamlessly to create more efficient and reliable processes. Increasing productivity is always a huge priority for manufacturers so it's crucial to start collaborating with companies who can identify ways to optimize your operation and then provide quality solutions.
Obviously, Stäubli is just a piece of the puzzle, but we understand where the future is headed and are proud to be solution providers constantly seeking out ways to increase efficiency and productivity for manufacturing processes in many industries.
The content & opinions in this article are the author's and do not necessarily represent the views of RoboticsTomorrow

Staubli Corporation
Stäubli is a leading manufacturer of textile machinery, quick release couplings and robotics systems. With a workforce of over 4500 employees Stäubli is present in 25 countries supported by a comprehensive distribution network in 50 countries worldwide. Stäubli's North American headquarters is located in Duncan, South Carolina and has over 200 employees supporting Textile, Connectors and Robotics customers, with a dynamic sales force strategically placed on the West Coast, Canada, Mexico, and elsewhere throughout the continent.
Other Articles
When you visit us at booth 3323 , you will be able to experience a live demo of our robotic tool changer system, as well as live presentations throughout each day.
Last month, Stäubli introduced 5 new models of tool changers to round out our MPS product line. These new models open up much of the smaller payload robots to using tool changers.
"Stäubli's vision for the factory of the future is built on interconnected devices that operate collaboratively with humans to improve efficiency and the quality of goods," said Sebastien Schmitt, Robotics Division Mgr of Stäubli NA." Booth #4524
---
Comments (0)
This post does not have any comments. Be the first to leave a comment below.
---
Post A Comment
You must be logged in before you can post a comment. Login now.
Featured Product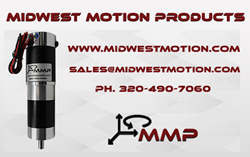 MMP specializes in supplying high-quality Brushed & Brushless DC Motors & Gearmotors for Robotics and Automation Equipment with a wide range of motor windings and gear ratios. With an impressive track record of more than 8,000 released DC Gearmotors designs and over 2,000,000 individual part numbers, we are renowned for our ability to handle large-scale orders. Due to our huge on-hand inventory, we are also well known for lightning-fast delivery of our standard products. We take pride in our dedicated customer service and our team of knowledgeable sales and engineering experts who are ready to assist you with custom design solutions tailored to your specific application. Additionally, we also offer a wide range of complimentary products, such as DC Motor Controls, DC Linear Actuators, AC-DC power Supplies, and DC Servo Amplifiers and others.