Partnership Enables Warehouse Operators to Fully Integrate Stretch Wrapping Technology with Autonomous Mobile Robot Solutions
Denver, CO, Jun. 1, 2023—Prime Robotics, Inc., a leading provider of intelligent end-to-end automation solutions for warehouse, distribution, and fulfillment facilities, announced their partnership with Wulftec International, Inc. today. This agreement enables Prime Robotics customers to fully integrate Wulftec's stretch wrapping technology with Prime's pallet management solution.

In today's hyper-competitive marketplace, end-to-end automation plays a critical role in the efficiency and success of fulfillment facilities. In these facilities, every step in fulfilling customer orders, from receiving inventory to shipping products, must be executed flawlessly and at high speed to meet customer expectations. By automating tasks such as sorting, picking, packing, and shipping, facilities can significantly reduce the time and labor required to fulfill orders while also minimizing the risk of errors and improving overall accuracy. End-to-end automation also enables real-time monitoring and data analysis, enabling facility managers to identify and address any issues that arise quickly.
"Given today's global economy, labor shortages, and ever-increasing customer and consumer expectations, the importance of the end-to-end automation revolution in fulfillment facilities cannot be overstated," said Eric Rongley, CEO of Prime Robotics. "This partnership allows us to enhance our mission to help our customers streamline their operations, reduce costs, and provide an exceptional customer experience. We are excited to collaborate with Wulftec to innovate and advance the fulfillment automation ecosystem."
"Wulftec is proud to be the partner of choice to Prime Robotics. Their innovative pallet management solutions, combined with Wulftec's packaging innovations, take care of our common customers' challenges when it comes to managing warehouses and increasing efficiencies. The collaboration between our companies will contribute to bringing the automated warehousing and pallet management systems to another level," said Priscille Tremblay, President of Wulftec.
About Prime Robotics, Inc.
Prime Robotics is a global provider of intelligent end-to-end automation solutions and autonomous mobile robots for the warehouse, distribution, e-commerce, and material handling industries. Prime's proven suite of robotic hardware and software solutions is designed and tailored to optimize the fulfillment ecosystem--providing greater efficiency, scalability, accuracy, and cost savings. Prime Robotics manufactures and supports its products from its headquarters in Denver, Colorado. For more information, go to www.primerobotics.com.
About Wulftec International Inc.
Headquartered in Ayer's Cliff, Quebec, Wulftec is a market-leading manufacturer of fully customizable automation solutions for end-of-line packaging applications. Wulftec's product portfolio includes semi-automatic and fully-automatic stretch wrappers, fully-automatic strapping machines and end-of-line system components that are designed for seamless process integration. Wulftec serves a diversified customer base across a variety of end markets including distribution & logistics, food and beverage, consumer goods, e-commerce, construction materials, manufacturing, packaging, and others. Wulftec is a Duravant company. For more information, visit www.wulftec.com.
Featured Product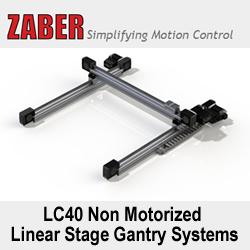 A Zaber gantry kit comes with everything you need to build a customized XY gantry system or XYZ gantry system. These gantry systems feature coordinated multi-axis motion, plug-and-play operation, easy integration with end-effector options, and built-in IO and E-Stop capabilities. An intuitive ASCII interface allows the user to easily communicate with the gantry systems using our free software, either Zaber Motion Library with APIs for several popular languages or Zaber Console. Third party terminal programs that can communicate over a serial port can also be used.