- Alaiko's proprietary technology and operating system use automation and robotics to manage businesses' entire e-commerce operations, preventing bottlenecks and allowing businesses to focus on growth. -The startup received over $30 million in funding in 2022 from investors such as Next47 and Tiger Global to revolutionise e-commerce logistics for direct-to-consumer (DTC) brands. -With the European e-commerce market set to grow 70% over the next three years, Alaiko plans to unlock value for British e-commerce businesses and help them tackle the challenges of Brexit.
EMBARGOED UNTIL 12.01AM 7 JUNE 2023

London, 7 June 2023: Europe's leading direct-to-consumer e-commerce fulfilment company, Alaiko, is expanding into the UK. To serve the local market, they are partnering with a state-of-the-art fulfilment centre north of London. Unlike other logistics providers, Alaiko is a tech-first fulfilment company. It enables shops to manage e-commerce operations from start to finish, using its unique platform, the Alaiko Logistics Operating System®, along with industry-leading warehouse technology and robotics to pick, pack and ship orders and process returns. Alaiko will provide British e-commerce businesses with a unique fulfilment option and allow them to seamlessly scale their business domestically and across Europe.
Alaiko recognises the huge growth potential for e-commerce businesses in the UK, which is home to Europe's largest e-commerce market, with almost 50 million customers. Since Brexit, British businesses have struggled to import and export internationally, facing customs backlogs and increased shipping costs. With its UK expansion alongside its EU fulfilment capabilities, Alaiko creates channels for British businesses to trade in Europe and the UK, empowering mid-size businesses to win market share against large companies. Outsourcing through Alaiko provides faster delivery times and simplified returns management through the growing network of fulfilment centres throughout Europe. Products can be stored in the EU and shipped directly to enable fast national and cross-border shipping to avoid customs bottlenecks.
'As a global DTC brand, we work with various fulfilment providers in different regions. Alaiko stands out with its tech-first approach of modern warehousing and its software that leads to highly efficient operations. With the launch of the UK warehouse, we expect an even better experience for our customers in the UK and to grow our business faster,' said Jan Sapper, CEO of Paperlike.
In a first for the DTC market, Alaiko's unique software offering combines processing and logistics in an end-to-end solution. The current tech landscape for DTC e-commerce brands is fragmented, with suppliers forced to patch together different solutions. Alaiko's industry-leading platform offers brands full transparency and control across the whole supply chain. Once an order is received, Alaiko uses automation and robotics to enable picking, packing and shipping with efficiency and precision, and businesses can follow and manage this entire process in real time. Seamless communication for tracking and self-service options enable brands to focus on growth while offering a great customer experience. Where real-time tracking, fast delivery, and easy returns were once exclusive to e-commerce giants, Alaiko levels the playing field by making this possible for SMEs.
Unlike other third-party logistics providers, Alaiko also empowers brands to increase sales through its track and trace offering. Alaiko's delivery tracking emails, which typically have very high open rates, do not redirect customers to third-party sites like delivery providers'. Instead, they send customers to a dedicated tracking page in the brand's online shop. This allows e-commerce brands not only to trace the traffic of their link, but also to retarget customers with personalised marketing.
Moritz Weisbrodt, CEO, Alaiko, commented, 'Alaiko's UK launch is an exciting growth step and we see huge potential in this market for brands looking for a more effective way to deliver for their customers. We're looking forward to facilitating warehouse and logistics for UK and EU customers. We believe that the people scaling an e-commerce brand deserve the best tools at their fingertips to run a business effectively and look after their customers, so we created an intuitive, industry-leading service. We run the logistics so that businesses can focus on growth'.
Notes to editors:
About Alaiko
Based in Munich, college friends and business partners Moritz Weisbrodt & Gabriel Thomalla founded Alaiko in 2020. Moritz and Gabriel have over a decade of combined experience starting and scaling international ventures. Despite Alaiko being in its infancy during the Covid-19 Pandemic, within three years Alaiko had raised over $30m, attracting investment from world leading investors. Since Alaiko's advent, they have worked with over 200 successful e-commerce brands, becoming Europe's fastest-growing fulfilment provider for leading D2C e-commerce brands. Alaiko's team has grown to over 130 members without compromising industry expertise. Alaiko is building up a local team in the UK with positions in customer support, warehousing, sales, marketing and product department.
Featured Product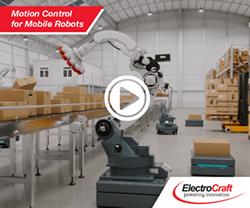 ElectroCraft is showcasing its award-winning mobile robot technology including their powerful and compact wheel drives, high-torque-density brushless DC motors, precision linear actuators as well as servo motor drive technology at a variety of conferences and tradeshows including the Boston Robotics Summit. Robotics Summit is the premier symposium for the sharing of ideas, technology, and market developments for robotic technologies across industries. Beyond a showcase and pitch of product, ElectroCraft is eager to participate in the collaborative discussion of challenges and opportunities that will shape the near and long-term robotic marketplace.