New whitepaper spells out how ROS helps manufacturers and researchers set up projects faster, control them better
Madison, WI (June 6, 2023) … When Oak Ridge National Laboratories chose Tormach's versatile and easy-to-program ZA6 industrial robot to 3D print metal on a rotating platform, they harnessed the power of the native, open-source Robot Operating System (ROS) that drives Tormach robots.

A new whitepaper from Tormach spells out exactly how ROS helps manufacturers and researchers get their projects up and running faster and how Tormach's open-source approach gives users more data to help control their processes.
Tormach created its ROS-based robotic manipulator and control system as an alternative to traditional closed-source software and control systems that can slow users' ability to quickly employ robots in production or research.
To make using its robots even easier, Tormach's PathPilot™ control system uses Python as its programming language, creating an intuitive interface for controlling robot motion. The Tormach Robot Programming Language (TRPL) uses the Python 3 interpreter and works similarly to other common robot programming languages, with commands for different move types, commands to read and set inputs and outputs, commands to set and change tool and user frames. Any Python command will work in the context of a robot program and most modern Python packages can be incorporated for use within a robot program, making it incredibly easy to build complex systems and interactions.
Ultimately, Tormach's ROS-based robotics platform provides users with full access to all system parameters — making its robots quickly accessible by more researchers,
developers and students. While other robot control manufacturers have been hesitant to allow this level of access to ROS developers, Tormach — as a member of the ROS Industrial Consortium — is committed to empowerment in the open-source community.
The ZA6 provides full feedback from each joint to let users control the robot's timing, velocity and path accuracy thanks to a HAL, or hardware abstraction layer, that connects the robot's hardware and the ROS. The result of this combination? ZA6 users can access a wealth of process data like motor torque, current, following error and more.
And since HAL is modular and flexible, users can alter their robot's HAL configuration by using pre-built HAL components or writing new components in C or Python — allowing easy integration with almost any external device or process.
All this adds up to the potential for users to save months of configuration time, as the default ROS configuration of the ZA6 will be ideal for most applications.
For more information about Tormach's ZA6 industrial robot, visit https://tormach.com/machines/robots.html
Download whitepaper at https://cnc.tormach.com/za6-robot-ros-research.
Featured Product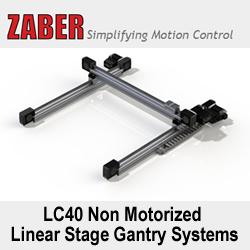 A Zaber gantry kit comes with everything you need to build a customized XY gantry system or XYZ gantry system. These gantry systems feature coordinated multi-axis motion, plug-and-play operation, easy integration with end-effector options, and built-in IO and E-Stop capabilities. An intuitive ASCII interface allows the user to easily communicate with the gantry systems using our free software, either Zaber Motion Library with APIs for several popular languages or Zaber Console. Third party terminal programs that can communicate over a serial port can also be used.