Sessions to provide solutions and strategies to advance the global commercial drone industry .
Organizers of Commercial UAV Expo, the world's leading commercial drone trade show and conference, have announced an impressive list of conference topics and a roster of industry leaders who will provide insights on real-world used cases and strategies at the 2023 event. The educational program focuses on how drone technology is solving problems and creating meaningful ROI across various industries. The event will take place September 5-7, 2023, at Caesars Forum in Las Vegas.

Thought leaders from the AASHTO, Draganfly, FAA, Exyn Technologies, HNTB Corporation, MIT/Lincoln Labs, NOAA, NUAIR, Skanska, Sterlite Power Transmission, Spright, Supernal, Thales AVS, The MITRE Corporation NV5 Geospatial, Volatus Aerospace, Walmart, Wing, and many other top organizations will share their expertise. Sessions include Keynote Presentations and Visionary Panels, where drone innovators, regulators, and end-users share their expertise and vision and discuss the critical issues facing the industry; Solutions-Based Sessions that offer practical, actionable education for professionals working with UAS across markets including construction, infrastructure, and surveying and mapping; and Industry Update Sessions that provide up-to-the-minute information on topics that affect everyone in UAS, such as AAM, BVLOS, and autonomy.
Sessions include:
Drone Regulations and Global Standards
Data Security & Counter Drone
Industry Vertical Insights: The Where and What of Drone Applications
Industry Vertical Insights: The Why and How of Drone Applications
How to Leverage Drones in Construction: Launching, Logistics and Lidar
Energy & Utilities: Inspection Insights and End User Perspectives
Energy & Utilities: Data Modeling & Tower Mapping
Drone Delivery: Regulatory Changes and Practical Applications
Advanced Airspace Summit - Cultivating Public Trust
Advanced Airspace Summit - Establishing Regulatory and Operational Frameworks
View the entire conference program here.
"Commercial UAV Expo is the most important global event for commercial drone professionals," said Lee Corkhill, Group Event Director at Diversified Communications, organizer of Commercial UAV Expo. "Our program is designed to provide enterprise users with the latest insights and strategies for maximizing commercial drone capabilities now. Our education addresses how drone technology is being used to tackle the real-world challenges professionals face every day, and how they can maximize ROI. You simply can't get this type of hands-on knowledge anywhere else."
Select sessions are produced with Commercial UAV Expo's Official Association Partner, Commercial Drone Alliance, an organization that advocates for the commercial use of drones by reducing barriers to enable this game-changing technology.
"We're thrilled to be the Official Association Partner and continue to advocate for our industry at Commercial UAV Expo. Our goal each year is to bring together the brightest and most innovative in the industry and to curate and promote conversations that move our industry forward, and Commercial UAV Expo's platform is imperative to this mission," said Lisa Ellman, Executive Director of the Commercial Drone Alliance.
Additional education includes the DRONERESPONDERS Public Safety Summit, presented by AIRT (Airborne Interational Response Team), comprised of two days of programming designed to educate and prepare first responder UAS program managers and remote pilots at every experience level for public safety UAS operations.
Commercial UAV Expo kicks off Tuesday, September 5, 2023, with pre-conferencing programming, Live Outdoor Flying Demonstrations and a Welcome Reception to kick off the opening of the Exhibit Floor. The newest addition to the Exhibit Floor is the Level Up Lounge, providing one-on-one branding consultations, professional headshots and facilitated networking discussions with industry.
The full conference program and exhibits run from Wednesday, September 6 through Thursday, September 7. Additional educational programming is hosted in the Exhibit Hall Theater, featuring compelling presentations and panel discussions about drone pilot opportunities and operations, trailblazing women shaping the drone revolution, the realities of implementing a drone program, and more. The show floor features an expanded exhibit hall with over 250 industry-leading providers showcasing their latest UAS solutions including airframes, software, sensors, and services. The event is expected to attract 4,000 commercial drone professionals from around the world and is backed by more than 300 associations and media companies.
Visit http://www.expouav.com for more information on attending or exhibiting, and register now for early bird rates!
About Commercial UAV Expo
Commercial UAV Expo, presented by Commercial UAV News, is an international conference and expo exclusively focused on commercial UAS integration and operation covering industries including Construction; Drone Delivery; Energy & Utilities; Forestry & Agriculture; Infrastructure & Transportation; Mining & Aggregates; Public Safety & Emergency Services; Security; and Surveying & Mapping. It takes place September 5-7, 2023, at Caesars Forum, Las Vegas NV. For more information, visit https://www.expouav.com/.   
Commercial UAV Expo is produced by Diversified Communications' technology portfolio which also includes Commercial UAV News; Geo Week, Geo Week Newsletter, 3D Technology Newsletter, AEC Innovations Newsletter, Geo Business (UK) and Digital Construction Week (UK).      
For more information about exhibiting at the Commercial UAV Expo, visit the Exhibitor Information page or contact Kat McDonald, Sales Manager, at kmcdonald@divcom.com or +1.207-842-5646. For attendee inquiries, visit the Attendee Inquiry page or email Info@expouav.com.
Featured Product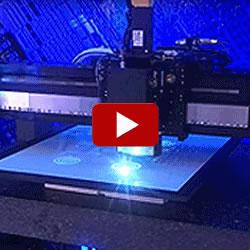 A traditional gantry system employs X-Y or X-Y-Z range of motion. Mounted on a base plate, usually granite, 2 parallel rails constitute the synchronized Y axis motion while the cross axis (bridge axis) provides the X motion. A vertical axis can be added on the bridge for the Z motion. A Split Bridge system can be less complex than a traditional gantry system because synchronization of the two parallel linear motors is not required. Both systems are used in industrial production, testing, and additive manufacturing.