LUCID Vision Labs, Inc., a designer and manufacturer of innovative industrial cameras, today announced the launch of its new 5.4 MP Triton™ HDR camera featuring the AltaView™ on-camera adaptive tone mapping engine.
Richmond, BC, Canada - June 9, 2023 - LUCID Vision Labs, Inc., a designer and manufacturer of innovative industrial cameras, today announced the launch of its new 5.4 MP Triton™ HDR camera featuring the AltaView™ on-camera adaptive tone mapping engine.

The Triton HDR TDR054S utilizes the Sony IMX490 (BSI) back-illuminated stacked CMOS sensor, allowing for simultaneous 120 dB HDR imaging and LED flicker mitigation thanks to its sub-pixel technology. Featuring LUCID's AltaView adaptive tone mapping engine, the camera delivers real-time tone-mapped image output directly from the camera, producing data-rich 8-bit images with enhanced details in the shadows and highlights. The optimized AltaView output offers perceptually equivalent lower bit depth HDR images, reducing CPU/GPU resources required for efficient AI processing and mobile sensing applications, eliminating the need to create a custom tone mapping algorithm on a host PC and accelerating development time.
With the large 5.4 MP, 2880 x 1860 pixel resolution, the Triton HDR camera enables a wide-angle field of view and high precision recognition in both daytime and nighttime for Advanced Driver Assistance Systems (ADAS) and Autonomous Driving. This camera model is also well suited for other applications that demand high dynamic range (HDR) imaging such as electrical fuse inspection, high contrast medical imaging, live visible welding analysis, as well as ITS applications.
"The Triton HDR is an advanced industrial camera that provides reliable, accurate, and high-quality HDR imaging in a variety of applications," says Rod Barman, Founder and President at LUCID Vision Labs. "The combination of the Sony IMX490 sensor and our AltaView™ tone mapping engine distinguishes this camera from other industrial cameras, making it ideal for applications where exceptional image quality with more detail and sharpness is essential in all lighting conditions."
Triton's Factory Tough™ design offers IP67 protection, Power over Ethernet (PoE+) and provides protection against shock, vibration, water, dust, and electromagnetic interferences. It features Active Sensor Alignment for superior optical performance, a compact 29x29 mm size, M12 Ethernet and M8 general purpose I/O connectors for a robust connection, industrial EMC immunity and a wide ambient temperature range of -20°C to 55°C.
All LUCID cameras conform to the GigE Vision 2.0 and GenICam3 standards and are supported by LUCID's own Arena software development kit. The Arena SDK provides customers with easy access to the latest industry standards and software technology. The SDK supports Windows, Linux 64bit and Linux ARM operating systems, and C, C++, C# and Python programming languages.
The new Triton TDR054S-CC camera is now available for order. For more information, please visit our Triton product page or contact Sales.
ABOUT US
LUCID Vision Labs, Inc. designs and manufactures innovative machine vision cameras and components that utilize the latest technologies to deliver exceptional value to customers. Our compact, high-performance GigE Vision cameras are suited for a wide range of industries and applications such as factory automation, medical, life sciences and logistics. We innovate dynamically to create products that meet the demands of machine vision for Industry 4.0. Our expertise combines deep industry experience with a passion for product quality, technology innovation and customer service excellence. LUCID Vision Labs, Inc. was founded in January 2017 and is located in Richmond, BC, Canada with local offices in Germany, Japan, China and Taiwan. For more information, please visit www.thinklucid.com.
Featured Product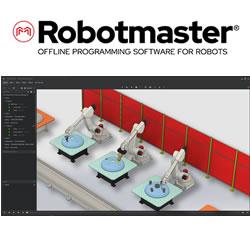 Program multi-robot cells and automatically solve robotic errors with ease. Hypertherm Associates announces a new version to its robotic programming software. Robotmaster 2024 addresses key market trends including the support for programming multiple robots in a single work cell and the demand for automatic trajectory optimization and robotic error correction.