Exciting Rebrand Marks the Mobile Robotics Leader's Next Chapter, Reinforces Its Mission to Revolutionize Order Fulfillment and Move Clients Forward
IAM Robotics, the pioneering mobile robotics and software company, today announced that it has changed its corporate name to Onward Robotics™️ and unveiled a new logo, visual identity, and website. The rebrand marks an exciting next chapter in the company's evolution, supports its recent growth, and reflects its renewed mission to revolutionize order fulfillment processes, increase operational productivity, and move the global supply chain forward.

The rebrand to Onward Robotics marks an exciting next chapter in the company's evolution and supports its recent growth.
Onward Robotics has experienced high market demand since emerging from stealth mode with the launch of its new Pyxis™ technology platform and Lumabot™ person-to-goods autonomous mobile robots. The company's Meet Me™ solution coordinates humans and robots as a cohesive system, enabling warehousing, logistics, and manufacturing operations to increase productivity, mitigate operational risk, and scale without adding headcount. The rebrand builds on strong momentum and demand for the company's innovative automation technology, which is being piloted in live production environments this year.
"This transition has been an exciting and transformational process for us," said CEO Lance VandenBrook. "Onward Robotics better reflects the organization's strong forward trajectory, our bold and purposeful team, and most importantly, our commitment to moving our clients and the global supply chain forward."
The launch follows a year-long initiative to create a new brand identity that embodies the company's renewed sense of purpose, energy, and enthusiasm, while capturing its unique culture and acknowledging its decades of experience in mobile robotics.
"I'm inspired every day by the bold and gritty Onward Robotics team," VandenBrook said. "I'm incredibly proud of the momentum we've built, the way we're solving hard problems with innovative technology, and how we're moving onward and upward-together."
The company's new brand and innovative robotic technology will be debuted and demonstrated live at MODEX 2024 in booth #C6685 from March 11, 2024 to March 14, 2024 in Atlanta, Georgia.
For more information about Onward Robotics and to view the new branding, please visit onwardrobotics.com.
About Onward Robotics
Onward Robotics delivers innovative automation technology that coordinates humans and robots as a cohesive system to revolutionize fulfillment. Our Meet Me™ solution combines proprietary software with person-to-goods mobile robots to increase efficiency in warehousing, distribution, and e-commerce operations. Onward Robotics provides the boost in productivity, flexibility, and speed that companies need to remain competitive and grow. Learn more at onwardrobotics.com.
Featured Product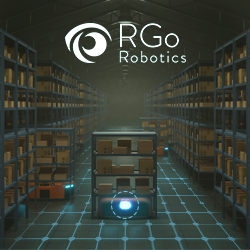 RGo's intelligent vision and AI system, Perception Engine™, provides mobile robots with 3D perception capabilities, enabling them to understand complex surroundings and operate autonomously just like humans. Its camera-based system operates is able to localize, map, and perceive in even the most robust environments including indoor/outdoor and dynamic or unstructured environments.