On a global scale, the United States accounted for 7% of robot installations in 2022, placing the US third in the world following China and Japan
The new World Robotics report shows robot installations in the United States were up by 10% to 39,576 units in 2022, almost matching the all-time peak level of 40,373 units achieved in 2018.

"The United States is the largest American market and accounted for 71% of total installations on the American continent in 2022," says Marina Bill, President of the International Federation of Robotics. "On a global scale, the United States accounted for 7% of robot installations in 2022, placing the US third in the world following China and Japan."
Car industry up 47%
The US automotive industry was the main growth driver. The segment displayed surging installations by +47% (14,472 units). This represents a market share of 37%. Installations in the metal and machinery industry declined by 7% to 3,900 units, after installations almost doubled in the previous year. Installations in the electrical/electronics industry were up by 26% to 3,732 units.
Outlook
The ongoing year 2023 has shown ambiguous signs: labor shortages and inflation are still hampering the economy and the relatively high interest rates have dampened the general propensity to invest. The order intake of robotics in the US was down in Q1 and Q2/2023, but the large order backlog enables production to remain at a high level this year. A reason to be optimistic is the massive political support for investment by the US government, based on the Chips and Science Act, the Infrastructure and Jobs Act, and the Inflation Reduction Act. Triggered by these support measures, new production capacity is being created in the automotive industry, the electronics industry, the chemical and pharmaceutical industry, and in the metal industry. All these industries have a high demand for robots.
Orders for World Robotics 2022 Industrial Robots and Service Robots reports can be placed online.
Video "FACTS about Robots 2023": https://youtu.be/mtxMYJz4v2Y
About IFR
The International Federation of Robotics is the voice of the global robotics industry. IFR represents national robot associations, academia, and manufacturers of industrial and service robots from over twenty countries: www.ifr.org
Featured Product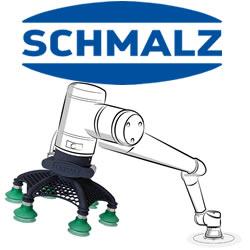 In order to interact with their environment and perform the tasks, lightweight robots, like all industrial robots, depend on tools - and in many cases these are vacuum grippers. These form the interface to the workpiece and are therefore a decisive part of the overall system. With their help, the robots can pick up, move, position, process, sort, stack and deposit a wide variety of goods and components. Vacuum gripping systems allow particularly gentle handling of workpieces, a compact and space-saving system design and gripping from above. Precisely because the object does not have to be gripped, the vacuum suction cupenables gapless positioning next to each other.