Innovative light conveyor platform (LCP) seamlessly integrates with market leading autonomous mobile robots (AMR) from MiR, enhancing efficiency and safety in material handling
Interroll, a global market leader in material handling solutions, today introduced an expansion to the light conveyor platform (LCP) designed to facilitate the handling of lightweight goods with autonomous mobile robots (AMRs). This innovative offering combines Interrolls' decades of experience in traditional conveyor systems with leading-edge AMR technology from Mobile Industrial Robots (MiR), empowering customers worldwide to streamline internal logistics while serving as a flexible bridge between fixed conveyor systems and production lines.

MiR's AMRs are versatile robot platforms capable of accommodating myriad top modules and other accessories to enhance their functionality. Interroll's LCP AMR top module is the newest certified application in the MIR Go partner program, the largest ecosystem of AMR applications with more than 160 top modules that seamlessly connect to the mobile robots.
"Our customers seek proven solutions with the same quality of our robots to easily integrate into their core production processes, and that's surely what a respective leader like Interroll offers," said Rasmus Smet Jensen, VP of Marketing & Strategy, MiR. "This compact robot and connected conveyor solution will undoubtedly enhance material handling processes worldwide, even under highly dynamic conditions."
New solution optimizes operations across multiple floors at Interroll facility
As part of its rigorous testing process, Interroll implemented the new LCP AMR top module with a MiR250 robot in its Center of Excellence in Sant Antonino, Switzerland. Specializing in the production of techno-polymer injection-molded parts, the facility spans two floors, presenting a unique logistical challenge. Previously, material handling from production to the logistics area required manual labor because no other logistics solution could offer the flexibility required for multi-floor operations. MiR's AMRs effortlessly navigate this multi-floor environment, autonomously using elevators to move between floors.
"Selecting MiR as a partner for the LCP AMR top module was a strategic choice," said Jens Strüwing, Executive Vice President Product & Technology of the Interroll Group "Like Interoll, MiR is a global market leader in material handling. After testing the MiR robots in our own facility, we are confident in their ability to optimize our internal processes. The seamless compatibility of MiR's AMRs with our production logistics, precise navigation capabilities in dynamic environments, the adaptability to layout changes and workflows along with enhanced workplace safety makes them an ideal fit for us."
Streamlines processes and boosts ROI through full shift operations
To further optimize processes, Interroll utilizes MiR Insights, MiR's cloud-based software that visualizes key performance indicators such as distance driven, completed missions and robot utilization rates. This software provides insights into high-traffic areas, enabling Interroll to enhance robot workflows and throughput. Since the introduction of MiR Insights in June 2023, the MiR250 operates an average of 22.3 hours per day, covering 106 km (65 miles) within the factory premises.
The combination of the MiR250 with the LCP AMR top module has significantly reduced manual handling and transportation times, allowing Interroll's skilled workforce to focus on tasks requiring human expertise, creativity and decision-making. The company anticipates a positive ROI due to increased efficiency and reduced labor costs.
The LCP AMR top module is showcased at MiR's virtual AMR Expo today: https://mirworld.mobile-industrial-robots.com/mirgoexpo
See the full case story: https://www.mobile-industrial-robots.com/case-studies/mir-250-interroll/
About Interroll
The Interroll Group is the world's leading provider of material handling solutions. The company was founded in 1959 and has been listed on the SIX Swiss Exchange since 1997. Interroll supplies system integrators and plant engineers with a comprehensive range of platform-based products and services in the categories "Rollers" (conveyor rollers), "Drives" (motors and drives for conveyor systems), "Conveyors & Sorters" (conveyors and sorters) and "Pallet Handling" (pallet conveying and storage). Interroll solutions are used in express and postal services, e-commerce, airports, food & beverage, fashion, automotive and other industries. The company counts leading brands such as Amazon, Bosch, Coca-Cola, DHL, Nestlé, Procter & Gamble, Siemens, Walmart and Zalando among its users. Headquartered in Switzerland, Interroll has a global network of 35 companies with sales of CHF 664.4 million and 2,500 employees (2022). For more information, visit: https://interroll.com/
About Mobile Industrial Robots
MiR develops and manufactures one of the industry's most advanced range of autonomous mobile robots (AMRs), which can quickly, easily, and cost-effectively automate internal logistics and optimize material handling. MiR offers one of the most advanced fleets of mobile robots used by both large enterprises and small and medium customers in a range of industries from manufacturing to logistics to healthcare. Founded in Denmark 2013 MiR has grown to a global leader with nearly 220 distributors and certified system integrators in 60 countries. MiR was acquired by Teradyne in 2018 and in 2022 Teradyne combined AutoGuide Mobile Robots into MiR to deliver a broad AMR product line from low to heavy payload. MiR's headquarters is in Odense, Denmark, with regional offices in Holbrook, New York; San Diego; North Reading, Massachusetts; Novi, Michigan; Georgetown, Kentucky; Singapore, San José, Costa Rica; Frankfurt, Barcelona, Yokohama; Seoul and Shanghai. For more information, visit www.mobile-industrial-robots.com
Featured Product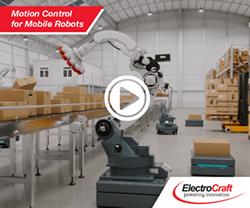 ElectroCraft is showcasing its award-winning mobile robot technology including their powerful and compact wheel drives, high-torque-density brushless DC motors, precision linear actuators as well as servo motor drive technology at a variety of conferences and tradeshows including the Boston Robotics Summit. Robotics Summit is the premier symposium for the sharing of ideas, technology, and market developments for robotic technologies across industries. Beyond a showcase and pitch of product, ElectroCraft is eager to participate in the collaborative discussion of challenges and opportunities that will shape the near and long-term robotic marketplace.