New computer-based curriculum gives students a "hands on" learning experience in a wide range of manufacturing and service environments
Toronto, Ontario (PRWEB) November 18, 2014

The George Brown College Centre for Continuous Learning is pleased to announce the release of a new version of the computer-based curriculum for the Programmable Logic Controller (PLC) Technician II Certificate Program.
The new version of PLC Technician II contains ten 3DWorlds within the PLCLogix software. This state-of-the-art software enables users to simulate a "hands on" experience using the Logix 5000 PLC with interactive 3D animations. The 3DWorlds range in complexity from a simple warehouse door application, to the advanced functionality required to run a bottling line or four floor elevator application. These 3D PLC applications are based on a wide range of real world manufacturing and service environments, including a Batch Mixer, Silo/Hopper, Stationary and Moving Car Washes, Single and Dual Compressors, and Traffic Lights. The simulations allow users to explore each environment using zoom functions and five different camera views.
Colin Simpson, Dean of the Center of Continuous Learning at George Brown College describes the benefits of the new software saying, "With over 50 lab projects conducted in the 10 worlds, students gain knowledge, experience, and an excellent understanding of some of the more complex process control applications for PLCs. Its the ultimate way to learn since students design and test ladder logic circuits in a "real world" manufacturing environment."
For people with busy work and family lives who require a flexible approach to training, George Brown offers start anytime enrollment, pay-as-you-learn registration, online exams, and telephone/email/forum-based tutorial support. These options provide a more adaptable learning environment than traditional full- or part-time programs. The average time required to complete the PLC Technician II Certificate Program is approximately 32 weeks of part-time study. For more information on the new version of PLC Technician II program, please visit http://www.plctechnician.com/plc_ii_technician.html.
As a world-leader in distance education, George Brown offers award-winning online technical training in Electronics, Electromechanical, PLC and Robotics. The Centre for Continuous Learning provides distance education-based technical training to over 14,000 registered students, located all around the world. For more information, please visit http://www.gbctechtraining.com.
About George Brown College
Toronto's George Brown College has established a reputation for equipping students with the skills, industry experience, and credentials to pursue the careers of their choice. The college offers programs from its three campuses located across the downtown core, including its newest location at the Toronto waterfront, which opened in September 2012. George Brown offers 142 full-time programs and 193 continuing education certificates/designations across a wide variety of professions to a student body of over 25,800 (full-time enrolment) students, including over 3,500 international students, and over 62,800 continuing education registrants. Students can earn certificates, diplomas, postgraduate certificates, apprenticeships, and degrees.
Featured Product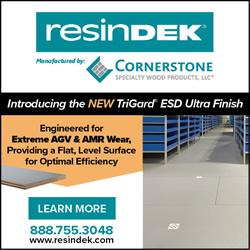 ResinDek flooring panels are designed for elevated platforms such as mezzanines, pick modules, and work platforms. They have the proven structural integrity to support dynamic and static rolling limits from 2,000 to 8,000 lbs. ResinDek flooring panels are available in a multitude of options that are customized for load capacities, required finish type, volume and type of traffic including heavy rolling pallet jack loads and robotic traffic with AGVs and AMRs.