The GP 6 S spindle gear is suitable for a wide variety of linear drive solutions.
The maxon GP 6 S spindle gear

The GP 6 S micro spindle gear has a diameter of six millimeters and is now also available in a metal version to provide a spindle drive with optimized value.
Spindle drives are the perfect solution for linear positioning systems, lens adjustment, or syringe pumps. If the drive also has to be compact, then maxon motors GP 6 S spindle gear is the perfect choice. To provide a cost-effective alternative to the ceramic version, it is now also available with a metal spindle.
Combinations with maxon DC motors
The GP 6 S spindle gear is suitable for a wide variety of linear drive solutions. The maximum feed velocity is 15 mm/s, at a force of 10 N. Integrated ball bearings ensure that this drive stands up to high axial loads. The gear easily combines with the maxon DC brushed motor (RE 6) and DC brushless motor (EC 6).
More data and details about the new metal version of the GP 6 S spindle gear are available online at Maxon's website.
Featured Product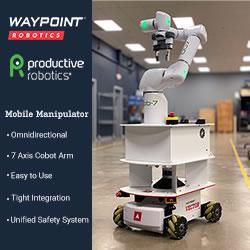 Waypoint Robotics/Productive Robotics omnidirectional 7 DoF mobile manipulator combines the easiest to use, most capable omnidirectional autonomous mobile robot with the simplest and most flexible 7 axis collaborative robot arm. The Vector AMR's omnidirectional mobility enables fast, precise docking in any direction or orientation so the OB7 can perform accurate and precise grasping or picking tasks, taking full advantage of the cobots' 7 degrees of freedom (7 DoF) and superior dexterity. It can be powered using Waypoint's EnZone wireless charger that provides on-demand energy and opportunity charging for longer run times. Workers can use this mobile platform to perform repetitive tasks such as machine tending, quality assurance sampling, material replenishment, packaging, and many others, so they can focus on the high skilled jobs for which they are uniquely qualified. It has never been easier or more cost effective to deploy a mobile manipulator for manufacturing and logistics applications.