Meet us at AIRTEC 2015, Munich, Germany, November 3-5, Hall C3- stand G77
Elmo Germany- November 01, 2015 - Elmo, a leading provider of advanced motion control solutions will exhibit at, AIRTEC 2015, Munich, Germany its Gold ExtrIQ line of intelligent & durable servo drives designed and manufactured for outstanding performance in unmanned applications operating in extreme environments.

Elmo's innovative technology continues to reach new peaks in the evolution of developing advanced, smart and intelligent servo drives. Our ultra-high current servo drives are answering the main essential principles of reaching "High power current from an Ultra small package". By reaching high Power Conversion efficiency rates, Heat expulsion and by "Real Time Temperature Control", Elmo's Ultra servo drives enhances and empowers any unmanned machine.
"Elmos off-the-shelf ExtrIQ Gold line can be applied to a variety of unmanned applications operating in extreme environments. The efficient power conversion is critical for extremely high power density devices, while maintaining excellent performance, safety and reliability. Expelling the minimal amount of heat rapidly produced is effectively eliminated from the drive providing in real time a fast response and precise temperature sensing that is mandatory for the drives "thermal management". Elmo gives the optimal solution for applications with critical space constraints, requires a powerful servo, and operates in extreme environments." commented Mr. Stefan Schmitz-Galow, Sales Director Elmo Germany.
The Gold Bee NANO servo drive is the smallest and newest member to the ExtrIQ line delivering over 4000 watts, weighing just 0.77 oz. and is less than 0.82 inch3 in volume. Delivers ultra-high current of 50A/100VDC.
The Gold Eagle, a super compact servo drive operates from a DC high power source in ultra-high current. The servo drive delivers up to 150A/100VDC. Ideal for turrets, unmanned systems, AGVs, and UAVs.
About Elmo Motion Control
Elmo is a global leading company since 1988 with millions of integrated servos worldwide. The Company designs and manufactures ultra-advanced servo drives and network motion controllers that are small, smart and simple one-stop solutions for any motion control technology.
Featured Product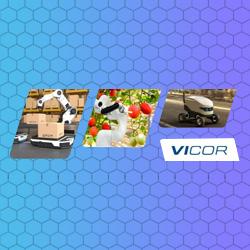 Amphenol Sine Systems ecomate® Connectors are rated IP65 to IP69K (in mated condition), making them ideal for indoor / outdoor industrial applications. These circular, multiway connectors feature robust, durable plastic or metal designs with bayonet or rapid coupling systems. Amphenol Sine Systems ecomate Connectors provide a current rating range from 5A to 300A in a variety of shell sizes and insert arrangements.