Dynatect introduces the new Gortite® VF Automated Machine Safety Door designed for automation and safe machine access, to keep hazardous processes such as robotic welding separate from people, equipment, and materials. Dynatect's new door offers key machine guarding attributes desired by OEM machine builders and robotic system integrators.
Dynamic motion and protection company Dynatect introduces the new Gortite® VF Door included in a new line of Automated Machine Safety Doors. The Vertical Fabric door responds to the automation industrys need for machine guarding doors to keep hazardous processes such as robotic welding separate from people, equipment, and materials. This high-speed fabric roll-up door is intended for safe machine access and maximizing production time in automated manufacturing. "The VF Door was designed to support 3-week lead times, 1-hour field installation, multiple t-slot mounting surfaces, and long-life non-contact sensors," said Mark Thurman, CEO of Dynatect. "These attributes were all included in response to OEM machine builders and robotic integrators who asked for features they werent seeing in existing offerings."

Conforming to OSHA guardrail requirements, the doors fabric curtain is retained in columns to minimize risk of falling through the closed door. The door comes standard with proximity switches that sense the end-travel for the door. Providing a physical and visible barrier, the door can be positioned closer to hazardous machines versus standalone light curtains. The result supports the trend toward a smaller work area footprint.
Thurman added that "Dynatect has drawn on 25 years of custom door production to develop standardized doors that are simple and reliable." Door actuation is triggered via the automation governing the guarded machine, has a standard speed of 44"/second, can complete two cycles per minute, and is developed for more than 1 million cycles. Additional sensor options, including a traveling photo eye, can be included to sense obstruction to door travel. Dynatect also offers a safety interlock option which meets PLe/Cat-4 safety requirements when combined with appropriate machine logic and conformance to risk assessment.
Automate 2017 attendees can visit Dynatects booth #1069 to see a working demonstration. Automate takes place in Chicagos McCormick Place on April 3-6th.
The new Gortite® VF Door is manufactured in New Berlin, Wisconsin and supported nationwide through a network of over 60 technical field sales representatives who can be found on the Dynatect website. More information including a summary brochure, can be found online at: http://info.dynatect.com/automated-machine-safety-door/
About Dynatect
Dynatect delivers custom motion and protection for machines with deep application knowledge, diverse product offering, and a customer responsive sales philosophy. Dynatect provides engineering and manufacturing for custom applications which improve human-machine safety and machine uptime. Dynatect continues to build on its customer experience through improving service differentiation, expanding product portfolio, and reducing lead times. http://www.dynatect.com
Featured Product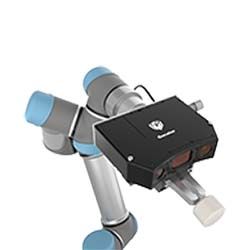 Easily integrate Gocator® 3D line profile and snapshot sensors with a variety of industrial robots to deliver high-performance 3D results in vision guidance, flexible inspection, material dispensing, and automated assembly with smart pick-and-place. Adding 3D vision to a robot turns repetitive, fixed motion into smart movement that can unlock greater value for your automation investment.