The unprecedented, ultra-high power density drives deliver over 10,000w of qualitative power to match the most demanding smart applications
NASHUA, N.H. - Nov. 29, 2017 - Elmo Motion Control (Elmo), a global market leader of advanced motion solutions designed to make smart machines smarter, has doubled the power of its ultra-small, already powerful servo drive, the Gold Twitter, to suit the most demanding applications in the era of Industry 4.0. With a weight of only 33 grams and continuous currents of 160° (80V) and 140° (100V), the new Double Gold Twitter delivers over 10,000w of qualitative power, proving a great fit for applications that require a reduced footprint and high power, such as large robotic vehicles, antennas and tracking systems, high power machine tooling, large printer rolls and more.

The Double Gold Twitter is among the smallest STO-certified (IEC 61800-5-2, SIL-3) servo drives on the market. It features Elmos proprietary and innovative Fast and Soft Power Switching Technology (FASST), which ensures optimal power-device switching and delivers over 99-percent efficiency and negligible electro-magnetic interference (EMI).This extreme efficiency allows for its minature size, meaning that the Double Gold Twitter can be placed on a moving load, on the motor or inside the motor, helping engineers save space, improve machine performance, reduce cables and eliminate electrical cabinets, while delivering unprecedented power.
Haim Monhait, CEO, Elmo Motion Control, said, "The Double Gold Twitter builds upon Elmo's philosophy of creating leaner machinery that performs with the highest speed and accuracy possible—a testament to our commitment to 'Cutting Costs by Technology. Our robust motion control solutions are integrated at the heart of the machines, enabling them to function with the highest speed and precision possible. With unmatched capabilities and power, Elmo's products and technology support advanced motion systems both today and into the future."
Elmo answers the need for more advanced and innovative motion control solutions by delivering technology that ensures higher quality, greater efficiency and more flexibility for smart manufacturing. Elmo's advanced solutions are used in a wide range of motion control applications that require high-performance servo operations, including automation, robotics and AGVs.
Representatives from Elmo will be at Stand #4-361 at the SPS IPC Drives confernece in Nuremberg, Germany, Oct. 28-30, 2018.
About Elmo Motion Control
Elmo Motion Control (Elmo) designs, produces and implements comprehensive, field-proven motion control solutions that make clients' data-driven, smart machines smarter. The companys R&D department combines intelligent motion control technologies, real-time programming and control algorithms with advanced digital hardware to enable leaner, more flexible machines. Controlled by the Elmo application studio (EAS)—a software environment that cuts integration time and maintenance costs—Elmos servo drives and multi-axes motion controllers minimize a machines footprint and cabling, improve throughput, and give original equipment manufacturers (OEMs) a competitive edge. Founded in 1988, the company is headquartered in Israel, employs more than 350 staff worldwide, and has a dedicated presence in the United States, China, Germany, Italy, Korea, Poland and the United Kingdom. For more information, visit www.elmomc.com.
Featured Product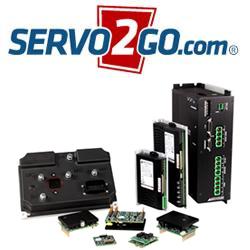 Engineered to drive brushless and brush servomotors in torque, velocity or position mode, Servo2Go.com offers a broad selection of servo drives in a wide range of input voltages and output power levels.