High Precision Compact Linear Actuator Upgraded with AZ Series Motor and Driver
Oriental Motor is pleased to announce the latest addition to the expanded line-up of our popular AZ Series with the introduction of the new DRS2 Series compact linear actuator.

The DRS2 Series compact linear actuator is a high precision ball screw actuator fitted with our AZ Series stepper motor with absolute mechanical encoder. The absolute encoder is a mechanical multi-turn absolute sensor, so an external sensor or battery is not required. The compact body of the DRS2 Series houses the entire linear motion mechanism. This conserves space, reduces installation time and eliminates or reduces wiring and design costs while providing a compact and lightweight design element to the equipment.
The DRS2 Series can easily perform a push-motion operation after a positioning operation and allows for low speed pressing while gradually increasing force. The pushing force and timing are also adjustable, making the DRS2 Series perfect for applications that require high precision, micro positioning accuracy and repetitive closed loop motion.
The DRS2 Series is available with or without a ball screw guide and electromagnetic brake. Repetitive positioning accuracy is achieved through rolled ball screw (±0.01 mm) or ground ball screw (±0.003 mm). Three 24/48 VDC input driver types are also available: Built-in Controller (Network Type), Pulse Input Type or Pulse Input Type with RS-485 Communications.
In addition to the 42 mm (1.65 in.) model that comes with all of the aforementioned options, the DRS2 Series 60 mm (2.36 in.) standard model is available with or without an electromagnetic brake.
Visit our web site to learn more about the DRS2 Series:
http://www.orientalmotor.com/linear-actuators/compact-linear-actuators-drs-series-absolute-encoder.html
ABOUT ORIENTAL MOTOR
Since its founding in Japan in 1885, Oriental Motor has been a world leader in motion systems. For over a century we have concentrated on technological advancement and product design improvement—an emphasis evident in the sophisticated devices we market today. Oriental Motors sales and service network is international, with offices throughout North America, Europe and Asia. Domestically, ORIENTAL MOTOR U.S.A. CORP. was established in 1978.
Featured Product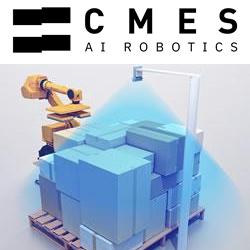 Powered by AI, CMES Robotics enables 3D vision for factory robots. CMES AI vision software enables robots to recognize unstructured, flexible, or deformed objects, pick them up, and loading and unloading. CMES Vision software has been deployed worldwide for random palletization and depalletization along with void filling applications. CMES Robotics automates your warehouse, logistics, and supply chain. For more information, please visit: cmesrobotics.com or email info@cmesrobotics.com.