Acquiring a 70 percent stake in WFT is an excellent opportunity to further increase Stäublis product range by adding specialized solutions to its comprehensive portfolio.
Pfäffikon, August 23, 2018 - Stäubli Group - a global leader in mechatronic solutions - announced today the acquisition of a 70 percent stake in WFT GmbH & Co. KG, based in Sulzbach-Rosenberg, Germany. WFT has been a specialist in the construction of special purpose machines and mobile platforms for two decades. In line with Stäublis successful growth strategy, this acquisition allows to join innovative forces in new complementary fields such as autonomous guided vehicle (AGV) and automation add-ons.

Acquiring a 70 percent stake in WFT is an excellent opportunity to further increase Stäublis product range by adding specialized solutions to its comprehensive portfolio. All employees of the acquired business will join the Stäubli Robotics Division, while the factory in Sulzbach-Rosenberg will become part of the global production network of Stäubli. The new company will operate under the name Stäubli WFT GmbH. Following the recent acquiring of RS Roman Seliger, based in Norderstedt, Germany, as part of the Fluid Connectors Division, this new integration of WFT is also perfectly in line with the Groups strategy of combining organic growth with targeted acquisitions to offer its clients innovative products and technologies.
Rolf Strebel, CEO of Stäubli, says: "Stäubli and WFT share a common belief to provide high-tech automation solutions of top quality to our customers by fully focusing on them and their specific needs. Our clients will profit from this step as our products complement each other. We warmly welcome WFT and its employees in the Stäubli Group and look forward to further expanding our business together."
With this acquisition, Stäubli is strengthening its global position in the field of robotics, building on the already established dynamic and innovative partnership with WFT within the area of AGVs and mobile platforms. "Our customers will benefit from our combined expertise and new applications, for example, in AGVs and robotic add-ons. In terms of productivity, high speed, resistance and flexibility, Stäubli Robotics delivers distinct technical advantages," adds Gerald Vogt, Group Division Manager Robotics.
"We are looking forward to joining Stäubli. Together, we will further develop our high-quality products and offer advanced technological solutions for our clients", states Franz Wittich, who founded WFT and has been the Managing Director in the past and will continue to hold this position at the new Stäubli unit in Sulzbach-Rosenberg.
Both parties have agreed to keep the transaction price confidential.
About Stäubli Group
Stäubli is a global mechatronics solution provider with three dedicated activities: Connectors, Robotics and Textile, serving customers who want to increase their productivity in many industrial sectors. As an international company, Stäubli currently operates in 29 countries, with agents in 50 countries on four continents. The global workforce of 5,000 shares a commitment to partnering with customers in nearly every industry to provide comprehensive solutions with long-term support. Originally founded in 1892 as a small workshop in Horgen/Zurich, Stäubli is today headquartered in Pfäffikon/SZ, Switzerland. www.staubli.com
About Stäubli Robotics
Stäubli Robotics is a leading international player in industrial automation, providing engineering and technical support recognized for their efficiency and reliability. From the SCARA to the 6-axis robotic arms and collaborative robots, the powerful, high-precision solutions allow Stäubli to work with clients in any industry to help them tackle the challenges of Industry 4.0. www.staubli.com/en/robotics
Featured Product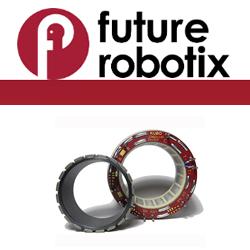 KUBO TECHNOLOGIES JCM: Less expensive direct replacements for RoboDrive motor kits with higher torque density, hollow shaft, low power-to-weight ratio, highest dynamics, exact linearity, low cogging torque. Available in sizes 38 mm - 170 mm.