The addition of the Paris office is the latest step in Dorner's continued growth in Europe and the Middle East.
HARTLAND, Wis., (January 10, 2019) — Dorner has opened a new sales and engineering office in Paris to better serve its French customers. Dorner (https://www.dornerconveyors.com/) is an industry leader in the design, application, manufacturing and integration of precision industrial and sanitary conveyor systems.

Located in the southwestern suburbs of Paris, the new office solidifies Dorner's continued commitment to France and its French speaking customers and sales partners. The new office is located at:
Dorner S.A.R.L.
8-10 Rue de Nieuport
78140 VELIZY VILLACOUBLAY
France
The addition of the Paris office is the latest step in Dorner's continued growth in Europe and the Middle East. In 2018, Dorner Europe completed an expansion of its Jülich, Germany facility, and is now building additional conveyor lines there, including its popular-selling 2200 Series conveyor platform. The 2200 Series is a versatile conveyor line engineered for numerous applications and industries, including accumulation, small-part transfers, inclines and declines, automated and manual assembly, packaging and industrial.
Dorner also has locations in Burlington, Ontario, Canada; Penang, Malaysia; Guadalajara, Mexico; and headquarters in Hartland, Wisconsin, USA. For more information on Dorner's industrial and sanitary conveyor platforms, visit http://www.dornerconveyors.com.
Connect with Dorner on Facebook at www.facebook.com/dornerconveyors
Follow Dorner on Twitter at www.twitter.com/dornerconveyors
Subscribe to Dorner on YouTube at https://www.youtube.com/user/DornerConveyors
Follow Dorner on LinkedIn at www.linkedin.com/company/dorner-mfg-corp
###
Dorner is a world leader in the design, manufacture and distribution of high-quality conveyors and related equipment. Since 1966, companies from around the world have turned to Dorner conveyors for greatly improved efficiency and productivity. With locations in Germany, the United States, Malaysia, Mexico and Canada, Dorner offers support to customers world-wide. For more information about products or company news, visit Dorner's Web site at www.dornerconveyors.com
Featured Product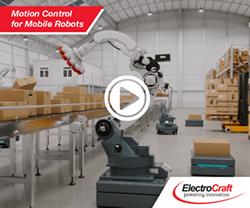 Featuring a high torque-density brushless DC motor with integrated single-stage planetary gearbox and wheel assembly. ElectroCraft's MPW52 integrates a 14-pole Brushless DC motor with a heavy-duty, single-stage planetary gearbox mounted inside the hub of an aluminum wheel with polyurethane tread. Designed for mobile platform traction systems with optional encoder feedback to support positioning capability and electromagnetic brake to hold position when power is removed. The MPW52 combines optimum performance with high-efficiency, quiet operation and long life.