New three-stage, complete range of tool changers fulfills requirements of all industrial sectors more efficiently and more precisely according to the highest safety standards
DUNCAN, S.C. (March 12, 2019) - Stäubli, a leading manufacturer of textile machinery, quick release couplings and robotics systems, will present its industry-defining Multi-Coupling System (MCS) and a new three-way concept for its MPS tool changers that allow robots greater versatility at Automate 2019, scheduled to be held at McCormick Place in Chicago, April 8-11.

Stäubli (booth #7150) has systematically expanded and redesigned its range of tool change systems for robots, improving their ability to adapt to a wide variety of tasks. The company's now complete range offers three different solutions that cover all payload classes and can be deployed flexibly to meet the specific requirements of all industrial sectors.
• MPS COMPLETE is a preconfigured, ready-to-install tool changer designed to address the most common applications in any industry. Orders for these preconfigured complete solutions can be fulfilled quickly and offer flexibility with modules that can be easily replaced or upgraded.
• MPS MODULAR is the ideal solution for applications where the changer requires individual configuration. This tool changer can be put together from a modular assembly kit to meet specific requirements. Manufacturers can reposition the tool change modules at any time and, if necessary, adapt them to changing production technologies.
• MPS CUSTOMIZED provides customer-specific systems for complex applications. Stäubli's MPS specialists review the application from the robot and tool perspective and individually adapt the basic units to meet the customer's need. The result is a fine-tuned system that fulfills the defined specifications in all performance data, material qualities and safety requirements. In addition, individual tool storage stations are available.
All models meet the safety requirements according to safety category 3 Performance Level d. and can be used reliably regardless of the manufacturer of the robot.
"Tool changers greatly improve the versatility of robots, which makes them even more effective and more easily adaptable to changing manufacturing scenarios," said Roger Varin, CEO of Stäubli North America. "We are continually pushing to introduce innovations that allow for automated solutions to be introduced in new and exciting ways."
Similar to the MPS tool changers, Stäubli's MCS solution vastly improves the functionality and efficiency of operations. Stäubli's MCS is designed for any industry and built to exacting specifications using the highest-quality components. Stäubli specialists take a personalized approach to understand each customer's unique needs to determine the best modular couplings and electrical connectors; guiding components; and locking systems required, then combine them into one assembly.
As one of the leading manufacturers of quick connectors for fluids, gases, hydraulic and electrical power, Stäubli has become a recognized expert across the manufacturing sector for its ability to offer a wide variety of solutions that deliver high performance and long-term reliability to meet the specific requirements our customer's demand.
"Our engineering experts bring a deep base of knowledge to the design of our couplings, carefully honing them to maximum performance and durability," said Varin. "These are tested for high longevity and long wear, even up to a million connection cycles."
Combining multiple connection points into one durable assembly offers myriad benefits including productivity gains in optimized space, as well as operator and installation safety, since the risk of inverting circuits is eliminated. Stäubli's MCS solution offers manufacturers and engineers a quick, safe and simultaneous connection of all services including pneumatics, liquids, gases, hydraulics and electrics.
Vist www.staubli.com for more information.
About Stäubli North America
Stäubli North America has over 200 employees supporting Connectors, Robotics and Textiles customers. The company's North American headquarters is located in Duncan, S.C., and the sales force is strategically placed on the West Coast, Canada, Mexico and elsewhere thoughtout the continent.
Stäubli is a leading manufacturer of textile machinery, quick release couplings and robotics systems. With a workforce of over 5,000 employees Stäubli is present in 29 countries supported by a comprehensive distribution network in 50 countries worldwide.
Featured Product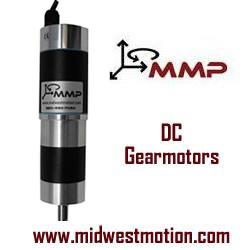 Midwest Motion Products, Inc. (MMP), is a well-established, healthy, & growing Family Owned Business, founded in 2001. MMP specializes in cost-effective standard DC Gearmotors, Motors, Controls, and ancillary equipment. Known world-wide for our "Lightning Fast" delivery capabilities, you can have a Standard Planetary or Right Angled DC Gearmotor BUILT and SHIPPED, often on the very same day you call. Offering Brushed and Brushless designs, with winding voltages ranging from 12 VDC to 120 VDC, we can deliver your "Robust & Reliable" samples within HOURS, instead of weeks, or even months.