Industry-leading automation solutions providers Omron Automation Americas and Voelker Controls Company announce a new business partnership, with VCC to be an authorized distributor of Omron technologies.
Hoffman Estates, IL., April 3, 2019 - Omron Automation Americas and the Voelker Controls Company, two industry leaders in automation solutions, are entering into a business partnership. Voelker Controls, with its expertise in motion control, pneumatics, robotics, machine vision and sensors, will be an authorized distributor of Omron automation products for the Southern Ohio market helping its customers to achieve traceability and improve quality.

This strategic partnership draws upon a strong concurrency in the companies' automation portfolios, both of which have extensive expertise in advanced sensing, robotics and other key solution categories. As a distributor, Voelker Controls will focus particularly on auto ID and machine vision solutions.
"We are thrilled to be working with Voelker Controls in the near future," says Mark Sadie, Omron's Vice President of Sales. "We look forward to seeing how the company's ability to bring in relevant industry expertise will help add value to Omron's offerings in the markets."
Todd Voelker, Voelker Controls' owner and President of Sales, also expressed his enthusiasm for the new partnership. "As we celebrate 50 years of innovation in the automation industry, we are excited to bring Omron under the VCC banner," says Voelker. "This partnership will propel us into new markets and give us new ways to help our customers increase profitability."
Anyone interested in learning more about Voelker Controls can visit the website at https://voelker-controls.com/about-us/.
About the Voelker Controls Company
Voelker Controls focuses on providing its customers with best-in-class industrial automation solutions for nearly 50 years. Founded in 1970 by Chuck Voelker to support the automation needs of local businesses, the company has expanded from its original expertise in hydraulic and pneumatic solutions to encompass motion control, robotics, machine vision, sensors, auto ID and more. Its headquarters are located in Ohio.
About Omron Automation
Omron Automation is an industrial automation partner that creates, sells and services fully integrated automation solutions that include sensing, control, safety, vision, motion and robotics and more. Established in 1933 and currently headed by President Yoshihito Yamada, Omron's 36,000 employees help businesses solve problems with creativity in more than 110 countries. Learn more at omron247.com.
Featured Product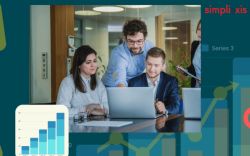 Challenges on the loading dock are characteristic of greater pressures from the rise of e-commerce. Loading and unloading freight from trailers, trucks and shipping containers are arduous, repetitive tasks plagued by high turnover. Even with regularly available staff, manually unloading freight and the constant lifting and twisting results in fatigue and inconsistent, declining productivity. Robotics capable of fully automating unloading tasks bring a new paradigm to the dock. High performance and flexibility push unloading from a labor-heavy, manual chore to an automated, refined process. High-performing DC workers can take more desirable positions, with relief from unpleasant work conditions. Management gets to replace uncertainty and staffing challenges with a reliable, automated process, with data to fuel continuous improvement.