EtherNet/IP communication protocol is now available with Oriental Motor's αSTEP Hybrid Control System AZ Series stepper motor drivers. The combination of EtherNet/IP communication protocol and αSTEP Hybrid Control System open loop performance, closed-loop control technology allows manufacturers the room for significant design flexibility, innovation and IIoT connectivity.
Oriental Motor is pleased to announce the arrival of the EtherNet/IP communication protocol to the αSTEP AZ Series AC Input stepper motor drivers. This new EtherNet/IP capable driver retains all existing AZ Series functions and works with all AZ Series product family. The added layer of control methods and connectivity enables industrial manufacturers the room for significant design flexibility and innovation.

EtherNet/IP provides industrial users with the proven networking protocol needed to utilize standard Ethernet technology (IEEE 802.3 and TCP/IP) for factory automation applications while enabling Industrial Internet of Things (IIoT) connectivity for connected devices.
The αSTEP AZ Series stepper motor driver offers superior high speed open loop performance with closed loop control. It incorporates a battery-free, absolute mechanical encoder for absolute-type positioning. There are no external sensors to acquire as the motor and driver completes the system. With EtherNet/IP, the operating data can be sent directly from the host system to the driver or the operating data can be set in the driver and then selected and executed from the host system. The host system connection and control are performed through I/O Stored Data or EtherNet/IP communication.
The new features of the latest αSTEP AZ Series Driver with EtherNet/IP Communication includes:
Single-Phase 100-120 VAC or Single/Three-Phase 200-240 VAC.
Control methods: I/O Stored Data, EtherNet/IP Communications or Pulse Input
AOI instruction set for easier program configuration
Support Software for Parameter Setting (free download)
For use with AC Input αSTEP AZ Series stepper motors
For more information on the new product, visit:
https://www.orientalmotor.com/stepper-motors/closed-loop-drivers-az-ac.html
EtherNet/IP is a registered trademark of ODVA, Inc.
ABOUT ORIENTAL MOTOR
Oriental Motor continues to be a world leader in motion control systems since its inception in Japan in 1885. For over a century, Oriental Motor has concentrated on technological innovation and product design improvement — an emphasis evident in the sophisticated devices that Oriental Motor markets today.
Connect with Oriental Motor on Facebook, LinkedIn, Twitter and YouTube.
Featured Product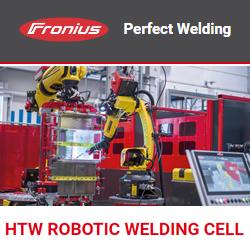 Modular, collaborative, and flexible: the "Handling-to-Welding" robotic welding cell joins parts of different geometries and materials. The task is carried out by two robots - the handling robot positions the workpieces, the second robot performs the welding. Depending on the cell configuration, lock gates are available for the inward and outward transport of parts. Furthermore, various positioners, a TCP measurement system, a torch cleaning system, a gripper station, and a contact tip change system are also possible.