BitFlow recently assisted OneBoxVision, an integrator located in Ireland, in developing two web-based machine vision systems for a North American film extruder. The systems ensure consistent, defect-free film for plastic bags used for storage of powered milk.
WOBURN, MA, AUGUST 18, 2020 -- BitFlow recently assisted OneBoxVision, an integrator located in Ireland, in developing two web-based machine vision systems for a North American film extruder. The systems ensure consistent, defect-free film for plastic bags used for storage of powered milk. Dry milk products are highly sensitive to environmental conditions, particularly to moisture. This vulnerability makes it critical that plastic bags storing the powder not have holes where water or humidity can enter to spoil the product.

To prevent holes, the extruder required its plastic film be continuously assessed for the presence of carbon or "black" specks while it was being extruded on a blown film line. Black specks in plastic film or sheet - especially in light-colored or clear plastics used to store foods - can cause holes in the material when it's later oriented or thermoformed. Black specks also lead to expensive rejects, wasted resin, and production downtime, not to mention client dissatisfaction.
Once the extruded plastic is processed, inspected and approved at the first plant, it is shipped to a second site where an automated line fabricates it into bags during a multi-state production process. Another inspection station was installed there by OneBoxVision to scan the finished bags. OneBoxVision networked the system so that management at the second plant had access to the inspection data from the extrusion plant to compare results.
For the key technology enabler, OneBoxVision relied upon its SurfaceFlow™ software. SurfaceFlow is a complete quality package that can be deployed on plastic film lines to automatically detect holes, carbon, wrinkles, contamination and gels. Hardware included BitFlow Axion CL 2xE CameraLink frame grabbers, along with Chromasens allPIXA pro line scan cameras transmitting color images full-tilt at over 1 Gbytes per second. By adopting an "off-the-shelf" non-proprietary hardware approach, OneBoxVision enables plastic film extruders, printers and converters, medical packaging manufacturers, and injection molding plants to deploy its high-performance solutions at a far lower cost with reduced risk.
By timing the line-by-line scanning with the transport cycle in the transport direction, a distortion-free image of the bags can be achieved. The particular strength of the line scan cameras emerges when they are used in conjunction with a highly deterministic, low latency frame grabber. In this situation, the BitFlow frame grabber synchronizes the image captures with the incoming triggers, plus provides energy to the cameras with its Power over Camera Link (PoCL).
One of the challenges for the second operation was that the bag inspection system had to be placed after a rotary punch perforated the bags. This meant the new system had to not only inspect for random holes in the plastic that could spoil the milk powder, but check that the manufactured perforations were properly made and in-place. Adding to this challenge is that the roll-feed runs continuously for hours, at high feed rates, and with limited human inspection. Again, SurfaceFlow was up to the job. OneBoxVision developed a suite of tools that perform both perforation and seam analysis while checking for the presence of defects. Simple but effective, the second vision system is made up of a single camera coupled with a BitFlow Axion CL 2xE frame grabber installed on the bag line.
The BitFlow Axion-CL is the most powerful CL frame grabber BitFlow has ever manufactured, featuring a StreamSync Direct Memory Access (DMA) engine and buffer manager to prevent overloading of the CPU with image transfer operations, along with a PCIe Gen 2 expansion bus to deliver high-speed access to host memory.
Visit www.bitflow.com for more information.
About BitFlow
BitFlow has been developing reliable, high-performance Frame Grabbers for use in imaging applications since 1993. BitFlow is the leader in Camera Link frame grabbers, building the fastest frame grabbers in the world, with the highest camera/frame grabber densities, triggering performance, and price. With thousands of boards installed throughout the world, into hundreds of imaging applications, BitFlow is dedicated to using this knowledge and experience to provide customers with the best possible image acquisition and application development solutions. BitFlow, located in Woburn, MA, has distributors and resellers located all over the world including Asia, the Americas, and Europe. Visit our website at www.bitflow.com.
# # #
Featured Product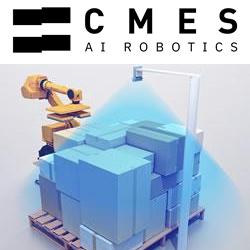 Powered by AI, CMES Robotics enables 3D vision for factory robots. CMES AI vision software enables robots to recognize unstructured, flexible, or deformed objects, pick them up, and loading and unloading. CMES Vision software has been deployed worldwide for random palletization and depalletization along with void filling applications. CMES Robotics automates your warehouse, logistics, and supply chain. For more information, please visit: cmesrobotics.com or email info@cmesrobotics.com.