Claxon CXP1 designed for new generation of single link CXP-12 cameras
WOBURN, MA, SEPTEMBER 18, 2020 - BitFlow has expanded its Claxon™ series of high-performance CoaXPress CXP-12 frame grabbers with a new single link version that transfers image data from a CXP camera to the host memory at speeds up to 12.5 Gb/S, or twice the acquisition bandwidth of the previous generation of the CoaXPress standard. The BitFlow Claxon CXP1 provides developers of smaller-scale, yet complex vision systems with a deterministic, zero-latency pipeline ideal for applications that include aerospace, AOI, science and robotics, as well as high-speed linescan inspection of printed materials or textiles.

Like the Claxon CXP4 quad link model from BitFlow, the new frame grabber takes full advantage of a half-size PCI Express expansion bus and StreamSync™ DMA to deliver the sustained bandwidth needed to support acquisition from one of the new generation single-link CXP-12 cameras. Cameras are "plug-and-play" with automatic link speed and camera parameter detection.
In addition to transmitting bitrates up to 12.5 Gb/S, the Claxon CXP1 has an uplink interface of up to 41.6 Mbps, and further simplifies integration by supplying 13 watts of Safe Power through PoCXP -- all on a single Coaxial cable using reliable micro-BNC (HD-BNC) connectors. Unlike USB3, Camera Link or other interfaces that rely on passive cable lengths of a few meters or less, the Claxon CXP1 frame grabber supports a 40-meter maximum cable length without the use of a repeater that could jeopardize signal integrity. Fanless passive cooling ensures extended use of the frame grabber without maintenance.
Claxon CXP1 frame grabbers are supported by BitFlow's software development kit (SDK) to help developers in the configuration of vision systems. The SDK contains fully developed applications, and a variety of utilities and libraries, and supports both 32-bit and 64-bit Windows and Linux. Drivers for third party applications are also available, such as LabView, VisionPro and HALCON.
Visit www.bitflow.com for more information.
Featured Product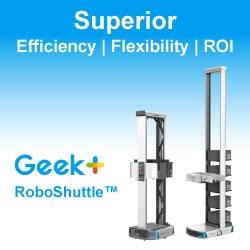 The Geek+ RoboShuttle™ bin-to-person picking solution can achieve high-density storage by using the innovative Geek+ C200 narrow aisle design while maintaining high operating and storage efficiency. The robot uses the Geek+ intelligent system, with AI algorithms covering order analysis and robot scheduling to make entire warehouse operations more flexible, scalable, and productive. The RoboShuttle™ can be connected to a variety of automation equipment such as conveyor lines and other robots, which is convenient for integration and customized project deployment.