• Significant acceleration of deep learning inference • Support for a wide range of AI accelerator hardware • Plugin is based on new HALCON AI Accelerator Interface (AI²)
Munich, September 30, 2021 - MVTec Software GmbH (www.mvtec.com), a leading international provider of machine vision software, is launching a plugin for the Intel Distribution of OpenVINO™ toolkit. This will enable users of MVTec software products to benefit from AI accelerator hardware that is compatible with the OpenVINO toolkit from Intel. As a result, significantly faster deep learning inference times can be achieved on Intel processors including CPUs, GPUs and VPUs for key workloads. By expanding the range of supported hardware, users can now harness the performance of a wide range of Intel devices to accelerate their deep learning applications and are no longer limited to a few specific devices. At the same time, the integration works seamlessly and is not bound to certain hardware specifics. Simply by changing parameters, the inference of an existing deep learning application can now be executed on devices supported by the OpenVINO toolkit.

Generic support for AI accelerator hardware
The OpenVINO toolkit plugin from MVTec is based on the new HALCON AI Accelerator Interface (AI²). This generic interface allows customers to use supported AI accelerator hardware for the inference part of their deep learning applications - quickly and conveniently. Such special devices are widely used especially for applications in the embedded environment, but also exist more and more in the PC environment. By abstracting the deep learning models from specific hardware, the AI Accelerator Interface is particularly future-proof. In addition to plugins provided by MVTec, the integration of customer-specific AI accelerator hardware is also possible. Moreover, it is not only typical deep learning applications that can be accelerated via AI². All "classic" machine vision methods with integrated deep learning functions, such as HALCON's Deep OCR, benefit from this as well.
"Thanks to the seamless integration of the OpenVINO toolkit as an AI² plugin, simply adding supported Intel devices can significantly speed up inference in applications without any further modifications," confirms Thomas Hopfner, Product Manager Licensing & Interfaces at MVTec Software GmbH. "In addition, the use of special accelerator hardware reduces temporal variance and thus leads to deterministic execution times, which is a critical factor especially in the field of manufacturing automation," he adds.
Alex Myakov, Chief Computer Vision Advocate at Intel Corporation adds: "With the release of this plugin, MVTec underlines the increasing market relevance of the OpenVINO toolkit. Through our cooperation, MVTec customers from the industrial machine vision market can now very easily access our wide hardware range of CPUs, GPUs and VPUs and are thus able to implement their deep learning applications even more efficiently."
About MVTec Software GmbH
MVTec is a leading manufacturer of standard software for machine vision. MVTec products are used in all demanding areas of imaging: semiconductor industry, surface inspection, automatic optical inspection systems, quality control, metrology, as well as medicine and surveillance. By providing modern technologies such as 3D vision, deep learning, and embedded vision, software by MVTec also enables new automation solutions for the Industrial Internet of Things aka Industry 4.0. With locations in Germany, the USA, and China, as well as an established network of international distributors, MVTec is represented in more than 35 countries worldwide. www.mvtec.com
Intel, the Intel logo, and other Intel marks are trademarks of Intel Corporation or its subsidiaries.
Featured Product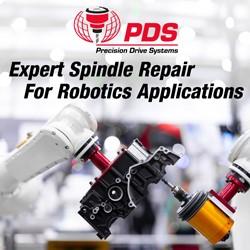 Precision components machined by CNC robot machining systems require compact, lightweight, and high-speed motorized spindles capable of delivering higher efficiency, performance, and reliability than those used in many other industries. That's why manufacturers of milling, cutting, trimming, grinding, polishing, and deburring trust Precision Drive Systems (PDS) to provide accurate and dependable spindle repair to perform to the most exacting standards.