A smart e-bike production line in action, autonomous mobile robots and more bring the connected Industry 4.0 environment to life
Duncan, South Carolina, April 26, 2022 — Industry 4.0 has arrived, and at Automate, taking place June 6 to 9 at Huntington Place Convention Center in Detroit, MI, attendees will experience its leading edge up close. The event is dedicated entirely to automation technologies and solutions, and fittingly, this year it coincides with the 40th anniversary of Stäubli Robotics, which will have a major presence in Booth #3332, with a variety of live demos and exhibits.

Stäubli's theme for the event is "SMART. FLEXIBLE. SUSTAINABLE. The path for the production of the future," signifying the company's forward-thinking mindset and leadership in developing production solutions characterized by connectivity, flexibility, performance and mobility.
Among the highlights will be a smart production line showing the assembly of e-bikes. This consists of four robotic cells: a collaborative screwing cart with a TX2Touch-90L robot; a logistics cell featuring a TS2-100 palletizing robot; battery assembly performed by a TS2-40; and a motor assembly cell with a TS2-60 and a TX2-60 working in tandem. Stäubli will also present autonomous mobile robot (AMR) and automated guided vehicle (AGV) solutions used in all sectors, including the MRS090 mobile robotic system and a platform AGV with a load capacity of up to 500 tons.
Stäubli is a pioneer in automation solutions for healthcare and life sciences. Its medical robots are used in over 10,000 surgical procedures a year. These capabilities will be exhibited at Automate with a medical cart demo featuring the TX2-60L Cleanroom (CR) robot with hand-guided functionality for use in highly delicate procedures. Other sensitive environment robots from the company's Stericlean, Humid Environment (HE) and Cleanroom lines will be on display as well.
Due to their ability to meet strict hygienic requirements, these robots are used widely in the food industry. One of Stäubli's partners, Calvary Robotics (Booth #4740), will demonstrate how it uses a TS2-60 HE robot to handle chicken breasts in a thermoform loading operation.
Stäubli will also host a training and services cell, illustrating how the company ensures technical support and after-sales service throughout the equipment lifecycle, from specification and integration to ongoing maintenance. The training presentation will use a pick-and-place operation showing how to fine-tune the robot's application settings for performance and load with Optimize Lab software. Stäubli will also launch its new Care Packages tech support offering, designed to provide flexible support options throughout the lifecycle of its robots.  
Adding to the breadth of robotic automation solutions, Staubli's robotic tool changers will demonstrate the flexibility of the company's MPS COMPLETE product range, designed for improved productivity in all markets, including aerospace, automotive and pharmaceutical.
The major takeaway will be that Stäubli's expertise in automation is broad, as its robots are designed for countless applications across industries, including those with special requirements beyond high performance, precision and reliability. And importantly, this expertise is being put to practical use in production environments worldwide, which are increasingly adopting connectivity. Attendees are sure to gain new insights into what's possible.
About Stäubli North America
Stäubli North America has more than 200 employees supporting Connectors, Robotics and Textiles customers. The company's North American headquarters is in Duncan, South Carolina. Stäubli provides customer support through its locations in Duncan, Queretaro, Mexico, and the newest Stäubli North American facility, which opened in 2018 in Novi, Michigan. In addition to 24/7 customer support, each of these facilities offers training and has dedicated on-site technical experts who can be deployed whenever needed. Stäubli's North American sales force is located strategically on the West and East coasts, and also serves Canada and Puerto Rico.
Worldwide, Stäubli is a leading manufacturer of quick release couplings, robotics systems and textile machinery. With a workforce of more than 5,500 employees, Stäubli is present in 29 countries supported by a comprehensive distribution network in 50 countries worldwide.
About Stäubli Robotics
Stäubli Robotics is a leading player in robotics around the world, consistently delivering engineering as effective and reliable as our service and support. Stäubli offers a complete range of 4-axis and 6-axis robotic systems, collaborative and mobile robotics as well as software to meet the most exacting demands of the market internationally. Stäubli robots combine speed, performance and safety. staubli.com/robotics
Featured Product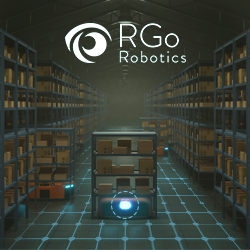 RGo's intelligent vision and AI system, Perception Engine™, provides mobile robots with 3D perception capabilities, enabling them to understand complex surroundings and operate autonomously just like humans. Its camera-based system operates is able to localize, map, and perceive in even the most robust environments including indoor/outdoor and dynamic or unstructured environments.