With Safety+, you no longer need to be concerned about the safety of the tool changer. When it is in use: the safety of your employees, the cell, and the product is assured and on top of that, it prevents downtime.
Maximum process safety for equipment and personnel

Whenever people and robots collaborate, safety is always a top concern. Safety+, a brand-new safety system for Stäubli's range of robot tool changers up to 55 kg payload, is now available.
This new system makes two guarantees: a tool changer will never lose its tool and will only unlock in the safe area of its parked position.
With Safety+, you no longer need to be concerned about the safety of the tool changer. When it is in use: the safety of your employees, the cell, and the product is assured and on top of that, it prevents downtime.
Fulfilling stringent safety requirements
A tool changer fit with Safety+ fulfills all the requirements from standard ISO 10218-2 which asserts it must be ensured that energy loss or misuse does not lead to a hazard. Current safety equipment in the market is not always adequate when it comes to this.
In addition, Safety+ enables Performance Level d, Category 3 by prohibiting the decoupling of the tool outside of the provided docking positions with a redundant logic - as requested by the norm. The Safety+ system is beneficial when it comes to everyday maintenance or teaching situations where the protected area is exposed.
A 3-component system
The high level of protection provided by Safety+ is possible due to the use of a 3-component system.
The first component is a transponder coated safety switch located on the robot side of the tool changer; it is called the Safety+ Module. This works in tandem with the Safety+ Actuator which is installed on the tool stand.
It is only when the Safety+ Module is positioned in the safe detection area of the actuator that the tool will be allowed to be unlocked by the 3rd component.
The 3rd component of the Safety+ system is the valve unit which only opens and allows compressed air to pass through if the previously mentioned components confirmed that the tool is at its safe parking position. This is how the Stäubli Safety + system guarantees the high level of safety called for by performance Level d, Category 3.
Integrating Safety+ in your workflow
The installation of Safety+ is easy and can be retrofitted to existing systems. It can be installed on any robotic arm produced anywhere in the world no matter the manufacturer or year of construction.
The Safety + module and actuator are profoundly compact, as well as the valve unit which can be positioned anywhere; for example, on a tool stand, rack in your cell, or wherever you see fit. This can all be set up with minimal wiring.
Safety+ can easily be integrated into the control, quickly put into operation, and possesses components that are maintenance free.
Remaining error free
The Safety+ system is a safeguard against human and mechanical error. Errors in code or errors in teaching that lead to inaccurate coordinates are no match for the Safety+ system which will detect an error and not allow unlocking until the tool is in the safe area of the parking position. With the Safety+ system, even an operator giving an unlock command on a panel will not be able to successfully unlock until it's able to ensure the unlocking is safe. Safety+ is guaranteed to always ensure that unlocking is safe before allowing it to happen.
Stäubli's vast knowledge of robotic-tool changer systems is a direct result of decades of experience in manufacturing robots and couplings. MPS robot tool changing systems are manufactured by Stäubli according to the performance data for the respective robot category. The Stäubli quality standard guarantees a high safety factor for the specified performance data of the tool changing systems.
Learn more:
Visit this link to see a detailed video about Staubli's new Safety+ System!
Safety+ System: Explained (Video) | Staubli Tool Changers (automate.org)
About Stäubli
Stäubli offers innovative mechatronic solutions in three core areas: coupling systems, robotic tool changers, robotics systems, and textiles. With over 5,500 employees, the company has an annual revenue of 1.4 billion USD. Originally founded in 1892 as a small company in Zurich/Horgen, Stäubli is now an international group based in Pfäffikon, Switzerland.
Featured Product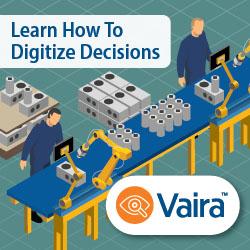 Vaira™ helps manufacturers digitize, automate, and upgrade error-prone manual processes and decisions to boost productivity and increase profits by helping humans make decisions consistent, reliable, and traceable. The camera-based solution is powered by a scalable suite of shop floor-ready apps built on proven machine vision and AI expertise for frontline manufacturing operations, with two-way integration to resource planning tools to help drive continuous analysis, insight, and improvements. Start digitizing immediately, streamlining processes customized to your unique requirements and reduce errors that lead to costs, delays, and quality concerns.