Robotic machine tending, collaborative mobile robotics and other technologies for optimizing process efficiency and boosting productivity
Duncan, South Carolina, August 23, 2022 — The biennial International Manufacturing Technology Show (IMTS), billed as the largest and longest-running industry trade show in the Western Hemisphere, will take place at McCormick Place in Chicago, IL on September 12-17. In North Hall, Booth 236262, Stäubli Robotics will exhibit advanced robots used to help manufacturers meet new challenges and changing market demands across a range of industries worldwide.

Stäubli Robotics, which is celebrating its 40th anniversary this year, works closely with systems integrators, OEMS and end users to engineer solutions for some of the most pressing issues facing manufacturers today. The company will present live demos recreating real-world applications in industrial manufacturing, with an emphasis on robotic machine tending.
While relatively new to factory floors, robotic machine tending offers solutions to age-old pressures to improve efficiency and productivity without compromising quality or safety. As requirements grow stricter, the drive to modernize production is taking on greater urgency. Stäubli will demonstrate its machine tending technologies using a stationary TX2-60 HE (Humid Environment) robot, capable of washing parts and tools, working in tandem with a HelMo mobile robot.
The TX2-60 will load and unload products, then inspect and mark them. As it carries out these tasks, the HelMo robot glides along autonomously, loading and unloading pallets of finished parts with accuracy in the range of tenths of a millimeter. With a CS9 controller, three laser scanners, a tactile enclosure and optional safe skin, HelMo is also a reliable cobot (collaborative robot) that works safely alongside humans while relieving them of repetitive and dangerous tasks.
As trends toward more customization, small batch orders and shorter production cycles continue, flexibility is top of mind for manufacturers. Stäubli makes it a cornerstone of product development. The company will run through a high-precision laser cutting process with a TX2-160L HDP (High Dynamic Precision) robot, demonstrating its exceptional path accuracy at various cutting speeds, high rigidity, and ability to access complex parts.
The TX2-160L HDP's precision is repeatable across all trajectories and orientations, accommodating different shapes, contours, thicknesses, and other parameters. A versatile tool changer enables it to easily switch from cutting to inspection.  
Stäubli's TX2 range of six-axis industrial robots are suitable for applications in all manufacturing environments, thanks to unique features which include:
• Resistance to harsh environments with fully enclosed IP65 arm and IP67 wrist
• Market-leading repeatability
• Absolute-accuracy calibration for utmost precision with access to DH parameters (optional)
• Reach of 1710 mm
• Nominal load capacities ranging from 2.3 kg to 40 kg
• Easy integration into production cells and lines with various control options
• Industry 4.0 compatibility (including OPC-UA server) with compact and powerful CS9 controller
• Pioneering safety functions reaching SIL3-PLe level
• Compact design, small footprint
• Two mounting options: floor and ceiling
TX2 robots all operate on the same smart CS9 control technology, making it easier to implement multi-robot solutions in digitally networked production environments.
Along with over 2,000 exhibition booths, IMTS will host conferences, workshops and other opportunities to explore specific topics in depth. Stäubli Robotics will participate in the IMTS 2022 Conference, which puts the spotlight on product experts from select exhibitors. On September 15, Gilles Le Quilleuc, Head of Business General Industry, and John Burke, Southeast Regional Sales Manager, will present Washing Market - Cleaning Process & Robotics, a discussion on the benefits of robotic washing for numerous applications including low and high-pressure cleaning, very high-pressure deburring, degreasing, rinsing and drying.
About Stäubli North America
Stäubli North America has more than 200 employees supporting Connectors, Robotics and Textiles customers. The company's North American headquarters is in Duncan, South Carolina. Stäubli provides customer support through its locations in Duncan, Queretaro, Mexico, and the newest Stäubli North American facility, which opened in 2018 in Novi, Michigan. In addition to 24/7 customer support, each of these facilities offers training and has dedicated on-site technical experts who can be deployed whenever needed. Stäubli's North American sales force is located strategically on the West and East coasts, and also serves Canada and Puerto Rico.
Worldwide, Stäubli is a leading manufacturer of quick release couplings, robotics systems and textile machinery. With a workforce of more than 5,500 employees, Stäubli is present in 29 countries supported by a comprehensive distribution network in 50 countries worldwide.
About Stäubli Robotics
Stäubli Robotics is a leading player in robotics around the world, consistently delivering engineering as effective and reliable as our service and support. Stäubli offers a complete range of 4-axis and 6-axis robotic systems, collaborative and mobile robotics as well as software to meet the most exacting demands of the market internationally. Stäubli robots combine speed, performance and safety. staubli.com/robotics
Featured Product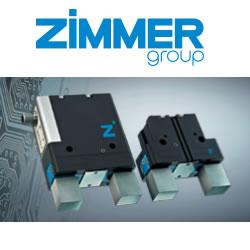 IO-Link is the first standardized IO technology worldwide for communication from the control system to the lowest level of automation.