ASU's Southwest Robotics Symposium previews the new technology guiding the next wave of human-robot interaction
Terry Grant for ASU Now: Oussama Khatib, a professor of computer science at Stanford University, encountered a pivotal moment during the first outing of his deep-sea robot, Ocean One, off the coast of France. The robot was trapped, far too deep for human retrieval, between the cannons of a sunken ship. Weather was threatening to force the robotics crew to return to shore, but Khatib and his team resisted.
"No way, I'm not leaving the robot," Khatib said before moving to the haptic controls, which simulate a sense of touch and allow for remote operation. Able to control the robot's arms, Khatib pushed. "And the robot jumped. I was very happy." Ocean One was freed and able to successfully continue its mission.
Khatib recounted this story as plenary speaker at this year's Southwest Robotics Symposium, hosted by Arizona State University's Engineering Robotics Program on Jan. 24-25. Physical human-robot interaction, abbreviated pHRI, was a continuing thread in presentations ranging from robots learning human skills to multi-robot systems and intuitive tactile haptic interaction.
Ocean One, the first robot to have a two-arm/hand sensing system, is an example of robot-human partnerships, Khatib explained.
"We can rely on the brain of the human and the muscles, eyes and sense of touch of the robot in places where humans cannot, or should not, be," said Khatib. "For example, we will be able to safely repair underwater structures, place sensors or retrieve coral samples from ocean depths never before possible."
Advanced printing, sensing and computing technologies escalate robotics
In addition to a symposium focus on pHRI, additive manufacturing, 3D printing and rapidly advancing sensing and computing systems are transforming the world of robotics.
For example, the ability to 3D-print flexible materials has dramatically expanded the field of medical robotics, according to guest speaker Jaydev Desai, a professor from Georgia Institute of Technology.
Desai's micro-scale, robotically actuated guidewires present a new option for procedures like cardiovascular surgery, replacing rigid, difficult-to-insert instruments with soft, jointed devices.
"Look at your finger," Desai instructed the attendees. "Imagine a guidewire that could afford independent flexibility at any of the three joints, like your finger," he said. "This significantly enhances a surgeon's ability to navigate a complicated pathway of arteries without causing damage along the way."
New manufacturing methods and lower costs are also raising expectations of medical practitioners, as well.
"Sometimes, you just want the basic research. Sometimes you just want to know the properties of human motion," said plenary speaker Ruzena Bajcsy, a computer science professor at the University of California, Berkeley. "On the other hand, if you are working with a medical collaborator on the other side, those guys are asking very different questions. They are interested in how easy it is to use, how fast it is and how cheap it is."
Bajcsy cautioned that less expensive isn't always better, noting that it's important for practitioners to understand that differences in device data-capture capabilities can affect therapy planning and patient outcomes. Full Article:
Comments (0)
This post does not have any comments. Be the first to leave a comment below.
---
Post A Comment
You must be logged in before you can post a comment. Login now.
Featured Product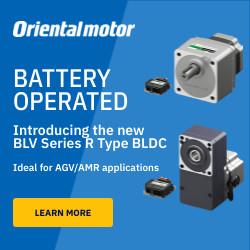 The BLV Series R Type brushless DC motor (BLDC motor) speed control system offers the design of motor and driver significantly reduced in size and weight, yet high-power, and contributes to the battery driven automation. The BLV Series R Type is compatible with the two interfaces of Modbus (RTU) and CANopen communication.