Boston Dynamics Handle Robot Reimagined for Logistics
Handle is a mobile manipulation robot designed for logistics. Handle autonomously performs mixed SKU pallet building and depalletizing after initialization and localizing against the pallets. The on-board vision system on Handle tracks the marked pallets for navigation and finds individual boxes for grasping and placing.
When Handle places a boxes onto a pallet, it uses force control to nestle each box up against its neighbors. The boxes used in the video weigh about 5 Kg (11 lbs), but the robot is designed to handle boxes up to (15 Kg) (33 lb). This version of Handle works with pallets that are 1.2 m deep and 1.7 m tall (48 inches deep and 68 inches tall).
Comments (0)
This post does not have any comments. Be the first to leave a comment below.
---
Post A Comment
You must be logged in before you can post a comment. Login now.
Featured Product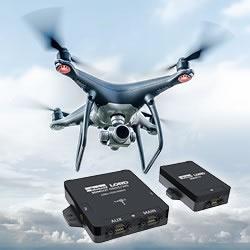 The new complete inertial navigation solution comes with GNSS/INS 3DMGQ7 sensor, 3DMRTK correction modem and real time SensorCloud RTK correction network. The sensor comes with Dual antenna GNSS, tactical grade IMU with centimeter-level accuracy with RTK. Low profile and light weight at 78 grams, this sensor is The sensor is optimized for size and weight in Unmanned Ground Vehicles, mobile robots and autonomous vehicles. The network interface 3DMRTK modem is seamlessly integrated into the 3DMGQ7 sensor supports industry-standard NMEA and RTCM 3.1 protocols. The network RTK support comes with cellular data plan. The SensorCloud RTK is a cloud-based RTK correction system with private encrypted data stream. Check out our G Series and C Series OEM products.