How Robots Are Revolutionizing the Life Sciences Lab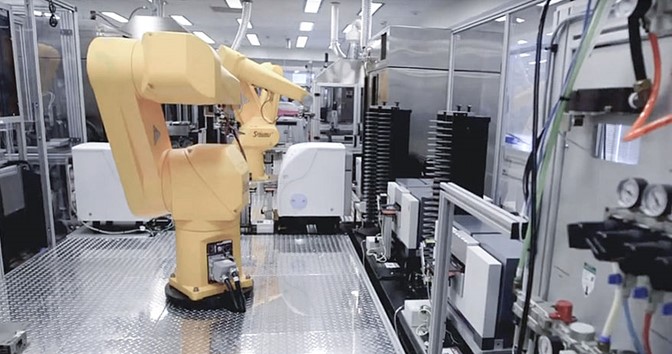 Researchers use Stäubli robots to test potential treatments in experimental projects. The result: in one week, the RX160 6-axis robots conduct millions of experiments faster and more accurately than any human could.
As the challenges multiply and pressure mounts, Stäubli Robotics is actively expanding its offerings to the life sciences market, including a full range of flexible and collaborative robotic arms and mobility solutions. The company has been developing high-throughput screening (HTS) technologies since the early 2000s, and presented its latest innovations for lab automation at SLAS 2021, a global digital conference hosted by the Society for Laboratory Automation and Screening on January 25-27.
Many challenges in the life sciences sector pre-date the COVID-19 pandemic, but were accelerated by these unprecedented circumstances. Demands for higher throughput, greater efficiency and productivity have intensified, along with increased need to minimize time spent on repetitive tasks, ensure safety, and maintain compliance with strict hygienic requirements. In response, labs are increasingly implementing robotics for automated liquid handling and diagnostic systems.
Swiss-based Stäubli has been making innovative leaps in automation for sensitive environments for over two decades as a supplier of robots, and more recently, mobility solutions including AMRs (autonomous mobile robots) and AGVs (automated guided vehicles). The company was the first to develop a fully encapsulated robot design with a minimized footprint and optimized work envelope, ideal for stringent laboratory requirements.
Working with specialized equipment builders, Stäubli offers customized solutions for lab automation that can transform biotech and pharmaceutical applications in terms of precision, safety, ease of use and integration, enabling seamless functioning with sequencing software.
The mobile and connected laboratory of the future has arrived, and Stäubli has the technology and capabilities to meet the most demanding requirements in life science, covering:
Cell culture apparatus/supplies
Clinical automation/CLIA
Diagnostics, clinical and pre-clinical
Drug discovery
Genomics & DNA sequencing
HTS products and services
Liquid handling equipment
Microplate handlers
Custom robotics
Bioprinting
About Stäubli North America
Stäubli North America has more than 200 employees supporting Connectors, Robotics and Textiles customers. The company's North American headquarters is in Duncan, South Carolina. Stäubli provides customer support through its locations in Duncan, Queretaro, Mexico, and the newest Stäubli North American facility, which opened in 2018 in Novi, Michigan. In addition to 24/7 customer support, each of these facilities offers training and has dedicated on-site technical experts who can be deployed whenever needed. Stäubli's North American sales force is located strategically on the West and East coasts, and also serves Canada and Puerto Rico.
Worldwide, Stäubli is a leading manufacturer of quick release couplings, robotics systems and textile machinery. With a workforce of more than 5,500 employees, Stäubli is present in 29 countries supported by a comprehensive distribution network in 50 countries worldwide.
About Stäubli Robotics
Stäubli Robotics is a leading player in robotics around the world, consistently delivering engineering as effective and reliable as our service and support. Stäubli offers a complete range of 4-axis and 6-axis robotic systems, collaborative and mobile robotics as well as software to meet the most exacting demands of the market internationally. Stäubli robots combine speed, performance and safety. staubli.com/robotics
Comments (0)
This post does not have any comments. Be the first to leave a comment below.
---
Post A Comment
You must be logged in before you can post a comment. Login now.
Featured Product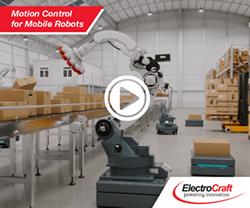 ElectroCraft is showcasing its award-winning mobile robot technology including their powerful and compact wheel drives, high-torque-density brushless DC motors, precision linear actuators as well as servo motor drive technology at a variety of conferences and tradeshows including the Boston Robotics Summit. Robotics Summit is the premier symposium for the sharing of ideas, technology, and market developments for robotic technologies across industries. Beyond a showcase and pitch of product, ElectroCraft is eager to participate in the collaborative discussion of challenges and opportunities that will shape the near and long-term robotic marketplace.