How to Optimize Your CV for a Robotics Engineer Career

https://unsplash.com/photos/ZPeXrWxOjRQ
The future is here, and automated technology has become our reality. We are surrounded by robots, but not angry and dangerous ones, like in the movie I, Robot, but by useful and actually helpful ones.
There is no doubt that the robotics industry will keep developing in the upcoming years. But the problem is that this industry is already experiencing serious labor shortages and a lack of talent.
Colleges and universities are trying to solve this problem. For instance, the MIT School of Engineering is creating more courses for future robotics engineers and even has facilities where students can apply their knowledge.
However, it will take several more years until enough young engineers enter the market to close this shortage. And meanwhile, the demand for the job of a robotics engineer keeps growing.
The National Bureau of Labor Statistics reports that the demand for mechanical engineers will increase by 4% every year until 2029. And, for the entry-level job, professionals will be required to have at least a Bachelor's degree, meaning that it will take years before we have enough robotics engineers to close the gap.
So, if you're planning to build a career as a robotics engineer, you need to start working on it now. Luckily, if you have a degree in a related field, you can also take some courses and enter the robotics job market.
The problem is, how should you optimize your CV for this purpose? How can you make all your previous experience seem relevant for your future career as a robotics engineer?
Let's take a look.
Focus on Transferable Skills
As a robotics engineer, you'll need a set of skills to perform your job well. The six most essential of them are:
math and science
programming
problem-solving
creative thinking
active learning
teamwork
You might have noticed that four out of six skills don't have to do anything with robotics. These are so-called transferable skills, which you can pick up and develop at any job.
Other examples of transferable skills include:
leadership
personal motivation
planning
written and verbal communication
research and analytics
At this point, it is important to think, which of your transferable skills your career as a robotics engineer will require. For instance, if you will be responsible for developing a program to operate a machine, your python skills might come in handy. And, if you happened to be a leader of your team at your previous job, these skills will also benefit you in robotics engineering.
Long story short – think about the transferable skills that a particular job will require and which skills will give you a competitive advantage.
Optimize Your CV for Each Employer
Here's the thing – even though the robotics industry is still developing, the robotics engineering job market is already very diverse. When looking for a job, you'll notice very different opportunities and requirements. This means that you absolutely can't send out the same resume to different employers.
Angela Baker, a resume writer and educational expert at GetGoodGrade, suggests optimizing your CV for keywords found in a job description from a particular employer. Let's see how it works.
Here we have a job offer for a mechatronics/robotics engineer position. What you need to do is to scan through this offer to find keywords that describe qualifications, experience, and skills: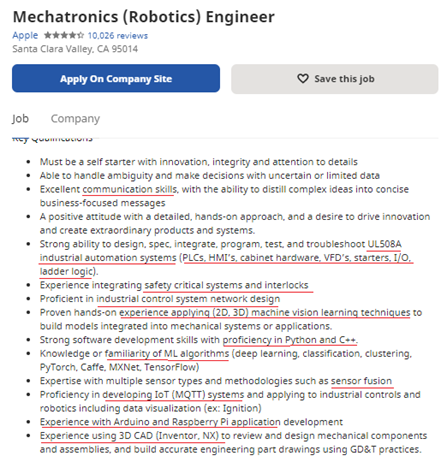 Credit: Indeed
Once you have singled out the keywords for the key experience and skills, you can organize your CV and put forward all the information relevant to this job order.
It is important to optimize your CV in such a way for every employer. It could also help if you describe the exact task or experience that led you to acquire a certain skill. For a robotics engineer job, experience matters a lot, so make sure you are as specific in your resume as you can.
Support Your CV with a License and Recommendations
Currently, the law requires all engineers offering their services directly to the public to have a license proving their certification. Most states even require robotics engineering interns to also provide a license before applying for an internship.
Normally, if you want to acquire an engineering license, you need to have:
a bachelor's degree confirming that you've completed a corresponding program
at least for years of corresponding job experience
a completed certification exam
These are the minimum requirements. However, if you are going to apply for a job at a corporation, a license is usually necessary. For instance, Google sometimes hires people with no experience whatsoever and chooses to train employees themselves.
Yet, having a license as a robotics engineer could give you a competitive advantage when applying for a job. Such a document proves your knowledge, proficiency, and the fact that you have all the required skills.
So, if you're planning to tie your career with robotics engineering but are not sure if you get the necessary certification after finishing your studies, you can apply for a certification course. For instance, GreyCampus offers a variety of programs, among which there are several connected to the robotics engineering career.
Another point you can take into account when optimizing your CV for a robotics engineer career is providing recommendations.
As we already mentioned, the robotics industry is only growing, which means that its players know each other very well. Thus, if you not only provide relevant information in your CV but also support it with a recommendation, it will confirm that you indeed deserve a given job more than others.
Conclusion
In the future, the robotics industry will get more and more competitive. That's why it is better to start getting ready now to be able to beat the growing competition.
So, start preparing now by optimizing your CV. If you have never worked as a robotics engineer before, but have relevant experience, include a few transferable skills in your resume that might be fit for the position of a robotics engineer.
Next, personalize your resume for every employer. This way, you'll increase the chances that your CV will get noticed.
And finally, provide any proof you have to show that you're qualified for this job. A license and a few recommendations from industry veterans will make your CV more professional-looking and convincing.
Estelle Liotard is a professional writer and editor. She does academic research for multiple writing services and also runs her own blog about technological innovations and their impact on the business world.
Comments (0)
This post does not have any comments. Be the first to leave a comment below.
---
Post A Comment
You must be logged in before you can post a comment. Login now.
Featured Product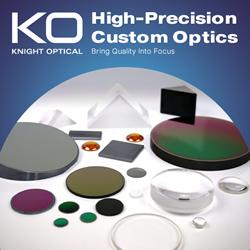 In the era of Industry 4.0, automation and machine learning drive the future. Knight Optical stands at the forefront, collaborating globally to supply precision optical components that power the robotics and automation sector. From UAVs, drones, and robotics to machine vision, LiDAR-driven car sensors, and renewable energy, our optics empower innovation. Optical components play an important role within the industry, including: Optical windows and domes safeguard systems in unmanned vehicles while preserving the field of view for cameras. Infrared lenses with aspheric surfaces elevate thermal imaging. Optical filters excel in machine vision, with colour glass, interference, and dichroic filters in our stock. Knight Optical provides stock components and custom solutions made to your exact specs. With every component undergoing rigorous metrology and QA checks before shipment, you are sure to experience true precision, innovation, and assurance.