4 Amazing Advancements in Robotic Grippers to Keep an Eye On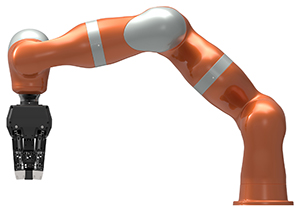 With the rise of Industry 4.0 robotics innovations, there's also been a renewed interest in the design of robot grippers.
Right now, the manufacturing sector faces a growing labor gap, serious supply chain disruptions, and high customer expectations. New approaches to gripper design can enable a facility to invest in new equipment without sacrificing a facility's flexibility and adaptability.
Novel technology and robot gripper design strategies help to make robots even more efficient and flexible, allowing them to accelerate a variety of facility workflows.
Robotic Grippers With Collaborative Design
Many new robots with gripper tools are cobots that utilize design strategies that improve ease of use and work safety. New designs minimize pinch points, reduce weight, cover sharp edges, and limit robot force. Like other cobots, these collaborative gripper robots can significantly minimize the potential harm that heavy factory machinery can cause.
These strategies help the robots safely work in close proximity with human workers, reducing the amount of space the robots need and helping facilities integrate them without significant disruptions to factory workflows.
Collaborative design techniques and other common cobot features — like user-friendly interfaces and simple programmability — can also make the robots more adaptable and easier to work with.
This can enable machine operators to more easily move the robot from task to task. Retooling a collaborative robot with a gripper for another task is often faster and much simpler than retooling a conventional robot. These cobots may also require less technical expertise, allowing machine operators to reprogram them without a specialized skillset or in-depth training.
As manufacturing sectors of all kinds struggle with a growing labor gap, these collaborative grip designs can help streamline facility workflows, reducing the labor necessary to complete tasks while keeping the facility flexible and adaptable.
Mechanical Grippers With Intelligent Sensors
Some new robots incorporate networked smart sensors that continuously gather information on gripper function and performance.
Force, torque, and proximity sensors provide data to new systems that can use this feedback to automatically adjust gripper movement. The system can help to ensure more secure handling and improve the overall precision of the gripper. These smart grippers are a good fit for facilities that use fragile objects that require a great deal of precision handling.
The sensors can also allow a robot to "feel" like a human hand, enabling greater precision in their work. For example, the gripper can detect when insertion processes have been completed or when a part has been mounted correctly, allowing facilities to automate insertion processes that may have required human labor in the past.
As a result, these sensors can significantly improve the function of cobots that employ grippers and make automation of robots with these grippers much more practical. The real-time data provided by these sensors may also enable new smart manufacturing practices. Over time, sensor data could provide the foundation for algorithms that optimize gripper performance and function.
Adjustable Magnetic Grippers
Conventional magnetic grippers can streamline the handling of metal, machine tending, and similar tasks, but typically only have two settings: on or off. To adjust the magnetic force the gripper exerts on an object, operators have to use rubber feet and other tools to manually reduce the strength of the gripper. This means that reducing the magnetic force of a gripper can involve a great deal of guesswork, and the results can be inconsistent.
Factories that regularly use different material types may also struggle with frequent grip changeover. Perforated metal, for example, is used in a wide range of manufacturing applications, especially automotive manufacturing, where it's commonly used in grilles, air intake screens, and heat shields. A panel of perforated metal can be of a significantly different weight than a non-perforated panel made of the same material, even if both panels are the same dimensions.
Each time a different material needs to be moved, the operator may have to manually adjust the magnetic force of the gripper. In a factory like this, where the force of the magnetic gripper needs to be changed regularly, the process of adding or removing the rubber feet can be time-consuming, significantly reducing the overall efficiency gains that the magnetic gripper robot may provide.
New magnetic grippers are easily adjustable, allowing operators to precisely manipulate the magnetic force the grippers generate. Some of these adjustable systems also come with smart sensors that help them automatically sense parts. These systems can also automatically lift sheet metal, for example, placing it in a press brake/press bending machine and removing the metal when the machine has completed its work.
Plug-and-Play Robotic Grippers
Demand instability, supply chain disruptions, and short lead-time expectations often mean modern factory workflows depend on equipment flexibility. In some cases, this means robot arms with grippers may provide a limited return on investment when grippers need to be changed out often.
If a factory needs the robot arm for multiple workflows that require different grippers or end-of-arm tools, the time necessary for changing out these tools can add up and cut into the time the facility saved by adopting the robot in the first place.
Plug-and-play grippers aim to streamline equipment setup. These grippers can be simply replaced as needed. Changeover typically requires minimal technical proficiency from the device operator, with no special tools and no special hardware, such as adapters. This makes them a good fit for collaborative robotics, as they can help further improve a robot's ease of use.
The plug-and-play design strategy can also help significantly minimize the downtime that may be necessary when one gripper is swapped out for another, or a gripper is replaced with a different end-of-arm tool.
Many modern grippers are also designed for compatibility with a wide range of robot brands. This means that even in facilities that use robots from a variety of manufacturers, the same grippers can be used for all or most factory machines. This can help to further streamline retooling and reduce hardware costs.
New Robotic Gripper Types Can Improve Factory Efficiency
Manufacturers of robots and robot grippers are adapting their design strategies. New robot grippers are increasingly designed with collaboration, ease of use, and flexibility in mind. These grippers include smart technology that enables more effective collaboration with human workers and part design that streamlines operations, including retooling and end-of-arm tool replacement.
In practice, these new grippers can help factories manage manufacturing's growing labor gap without sacrificing facility adaptability.
Comments (0)
This post does not have any comments. Be the first to leave a comment below.
---
Post A Comment
You must be logged in before you can post a comment. Login now.
Featured Product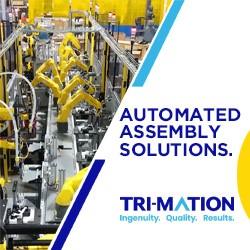 Tri-Mation reduces labor costs, improves accuracy, and production speed. Our integrators specialize in building automated assembly manufacturing systems for part production in any required volume or level of complexity.